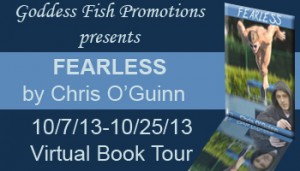 This post is part of a virtual book tour organized by
Goddess Fish Promotions
. Chris will be awarding a $100 Amazon gift card to a randomly drawn commenter during the tour. You can see the other stops on the tour here:
http://goddessfishpromotions.blogspot.com/2013/09/virtual-book-tour-fearless-by-chris.html
In general, I take little bits and pieces of my own experience as the foundation for my stories and my characters. Collin, in Exiled to Iowa. Send Help. And Couture. was inspired by a guy I was friends with in high school. In the upcoming Hybrids: Arrival, the main character Joaquin is coping with the recent death of his father. I myself lost my mother when I was 20, so I pulled heavily on those memories.
I only use little bits and pieces though, because otherwise my stories would start to get repetitive. I mean, I only had so many teenage years to make stories out of. And I was a pretty reclusive teen who didn't get much involved in, well, anything really.
This made Fearless a very different and sort of scary (ironic, no?) experience for me. I found myself pouring my teen self into Justin—all of the insecurities, the worries, the way I kind of sabotaged myself, the way I had kind of given up on people. Even his love of swimming comes from me.
His big crush in the book, Zach, was based on a guy I knew in my Freshman year. He was this impossibly sweet, cool senior guy who was actually nice to the awkward, sullen nerd he had been stuck with in science class.
Liam was initially inspired by yet another guy I knew in high school. He was this shaven-head, punk rocking, cigarette smoking tough guy who had a great smile and seemed nice in spite of his appearance. Not trying to be friends with him is one of my high school regrets.
But the character of Liam was also heavily influenced by the amazing, fighting spirit of my late wife. Though shy and introverted in so many ways, Kelly was a force of nature who changed lives the world over.
In fact, Fearless borrowed so heavily from my life that I was uneasy about releasing it. I felt exposed, which I didn't enjoy. However, the reception has been amazing. Fearless has really resonated with people. A lot of people have commented that the experiences in the book mirror their own difficult teen years. I'm very proud of Fearless for that.
But while we're on the subject of what I take from my experience, I feel I should mention that there's one thing which I don't feel comfortable doing and that's writing characters who are aspiring writers themselves. I think Stephan King has gone to that well enough times for all authors for all time.
To me, that's just a little too much self-indulgence. I know the old adage, "write what you know" but I think that goes a step too far. But hey, King's the millionaire, not me, so what do I know?
At fifteen, Justin is already a cynic. He's experienced too many betrayals, too many disappointments. He doesn't want to be involved in anything. He doesn't want to be popular. He doesn't even want friends anymore, since they only ever let you down. He just wants to get through high school and the best way he can come up with to accomplish that goal is to simply be invisible.

His self-imposed exile from high school life is threatened when Liam, the scary stoner, reaches out to him. What starts out as a strange and unsettling encounter with the unnerving, pot-smoking teenager evolves into the sort of friendship that changes the course of a person's life.

But as Liam drags the reluctant Justin out of his shell, Liam's own secret is revealed.

Fearless is the story of the myriad shades of love, how to find one's courage and the transformative power of friendship.
Enjoy this excerpt:
"Is that you, Liam?" a woman's voice called.
"It's me, mom. And I brought my friend Justin with me."
Liam's mom was one of the most beautiful women I'd ever seen in real life. I guess I mean that she was obviously a beautiful woman, underneath the signs of exhaustion. Her green eyes were soft and kind, but under them were dark rings that hinted at many sleepless nights. Her face was flawless, but it was also gaunt.
She cleaned her hands with a towel and smiled at the both of us. "Justin, it's nice to meet you. You can just call me Anna."
"Um, hi." I looked sidelong at Liam. "Uh, nice to meet you too."
"We're going to take Sully out to the park, okay?"
A brief squall of worry passed over Anna's face, and when it was gone her warm smile was back. "All right. Dinner's at five."
"Hot dogs and potato salad?" Liam asked, and even I could tell that his hopeful look was sarcastic.
"Very funny. The store had a good sale on cabbage and spinach, so it's Brown Rice Bake tonight."
"Joy," Liam sighed.
"Are you staying for dinner?"
"Uh," I looked at Liam and I could see he didn't want to face this mysterious rice dish alone. My mom was going to be working late anyway. "If it's not any trouble."
"Of course not, there's plenty."
"In fact, you can have mine," Liam muttered.
"Liam…."
He affected an innocent look, which made his mom roll her eyes and head into the kitchen.
About the Author: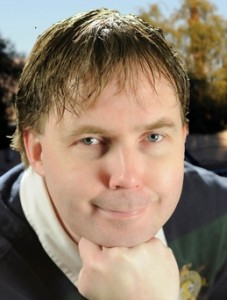 I've been writing since I was fifteen, not that those stories will ever be allowed out of the dark hole I buried them in. I focused primarily on the Fantasy genre for the first two decades, occasionally diverting into modern fiction. In 2010, I embarked in a self-publishing career, focusing on the young adult novel genre. When I'm not writing, I am contributing to TheBacklot.com, a gay entertainment website.
You can follow me on Facebook and you can keep up to date with my works via Lightbane.com.