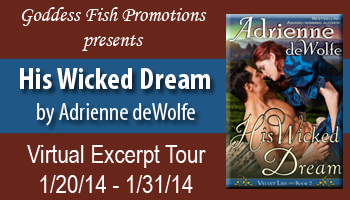 This post is part of a virtual book tour organized by
Goddess Fish Promotions
. Adrienne will be awarding a $20 Amazon Gift Card to one randomly drawn commenter during the tour, a $15 Amazon Gift Card to another randomly drawn commenter during the tour, a TIN-STARS AND TROUBLEMAKERS (4 full-length ebooks in a box set by best-selling Western Historical Romance authors Adrienne deWolfe, Patricia Rice, Sharon Ihle, and Patricia Hagan) will be awarded to one randomly commenter during the tour, another randomly drawn commenter will win the best-selling WILD TEXAS NIGHTS series by Adrienne deWolfe (3 books, total) during the tour, and last but not least, the award-winning VELVET LIES series by Adrienne deWolfe (ebooks 1-3) will be awarded to one randomly drawn commenter during the tour. Click the banner to see the other stops on the tour.
Haunted by scandal, Eden Mallory is determined to start over in a small Kentucky town. But she won't soon forget the sexy, rugged doctor who rescued her from an outlaw, then rode off into the storm.

After losing his kid-brother to consumption, Dr. Michael Jones is obsessed with saving lives. He has no room for love or a wife. But the nights are lonely, and Eden haunts his dreams.

When Eden becomes his backdoor neighbor, she turns his world upside-down with her unconventional healing skills and sweet temptations. Then outlaws return, forcing Michael to confront his past if he is to save the most precious life of all.
Enjoy this excerpt: "The Picnic Hamper"
Suddenly, a towering shadow darkened the Kissing Booth. Eden glanced up in time to see Michael eclipse the sun. Striding out of the crowd, he hoisted a bulging picnic hamper and banged it down on the counter with a challenging thud.
"Forgive the intrusion, ladies," he said, deceptively pleasant, "but there's been a slight change in Eden's plans. This afternoon, she'll be picnicking with me."
Eden was so stunned, she could only blink.
Sera gazed up at her older brother as if he had just committed some heinous crime. "Michael, take Eden's basket back to the auction block. If you disqualify her, she'll be ruined in this county!"
"I'm sure Eden's reputation will survive."
"But you can't just steal her basket—"
"I don't consider a one-hundred-dollar investment to be a steal."
One hundred dollars? Eden gulped a shallow breath. She hadn't thought it possible for a corset to grow so tight.
"But the auction hasn't even started," Sera protested. "Can you do that?"
"I just did. Coming, Eden?" He stretched out his hand. "I believe you owe me the pleasure of your company."
Sera giggled.
Eden pressed her lips together. If Michael Jones wasn't the fantasy she'd been dreaming of every restless night for a month, she would have told him to go choke on her picnic lunch.
Sweeping past his insufferable hand, she took some small satisfaction in the fact that he'd now have to haul her twenty-pound hamper to some distant spot of shade. To watch him fall into step beside her, the wicker swinging effortlessly from his arm, proved disconcerting. She tried not to appreciate the way his tailored suitcoat accentuated the broad planes of his shoulders, or the way the late morning sun struck flinty shades of blue from his hair.
"Well, you've impressed your authority once more on your sister," she said tartly. "Now that Sera's out of sight, you can return my basket to the auction so some serious-minded beau can offer for it."
"I'm afraid I can't do that."
His drawl, like Kentucky's finest bourbon, was golden smooth, intoxicating. She did her best to ignore the nuance, even though it melted her nerves.
"Why not?" she demanded.
"Certain factions in this county would find a cure for Cupid cramps… inconvenient."
She stumbled at his jest.
A dimple creased his cheek, which only heightened her aggravation.
"You are a pirate of hearts, Michael Jones. If my cherry pie did indeed have curative powers, every female in this town would be lined up for a slice."
"And that is precisely why your cherry pie shall never see the light of day."
She glared at him, refusing to laugh at this disarming humor. "Your diabolical plot is doomed to fail. Because while I was perfecting my recipe, I tasted plenty of cherry pie, which has made me immune to the charm of irksome male neighbors who prefer to mind my business instead of their own."
He arched a coal-black eyebrow. "Selling kisses to outlaws, in broad daylight, does not connote a sound business sense."
"That is your opinion, sir. Contrary to your belief, I think the orphanage would be enormously grateful for any donation it receives. Chance McCoy can't be all bad, if he is willing to commit a charitable act."
"Charity was the farthest thing from McCoy's mind."
"So you're a mind reader now?"
"Eden." He gentled his voice. "Your willingness to see goodness in the blackest of hearts is one of your most endearing qualities. But it can be a peculiar blindness. Men wear guns for a reason. Don't put yourself in the crossfire."
About the Author: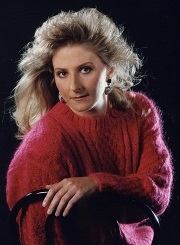 Adrienne deWolfe is a #1 best-selling author and the recipient of 48 writing awards, including the Best Historical Romance of the Year for Texas Wildcat (Book 3, Wild Texas Nights) and Doubleday's Book of the Month Selection for His Wicked Dream (Book 2, Velvet Lies.) Adrienne is excited to announce that she will be donating a portion of her royalties from the Velvet Lies Series to urban reforestation efforts.
Fascinated by all things mystical, Adrienne writes a weekly blog about dragons, magic, and the paranormal at http://MagicMayhemBlog.com to help her research her upcoming paranormal romance series. She also writes a weekly blog featuring tips about the business of writing at http://WritingNovelsThatSell.com. She enjoys mentoring aspiring authors and offers professional story critiques with her book coaching services.
Follow Adrienne deWolfe
• Facebook
http://facebook.com/Writing.Novels
• Good Reads
http://www.goodreads.com/Adrienne_deWolfe
• Pinterest
pinterest.com/AdriennedeWolfe/boards/
• Twitter (Fantasy Fiction)
http://Twitter.com/SolMage
• Twitter (Writing News)
http://twitter.com/AdriennedeWolfe
Purchase Adrienne deWolfe's Books: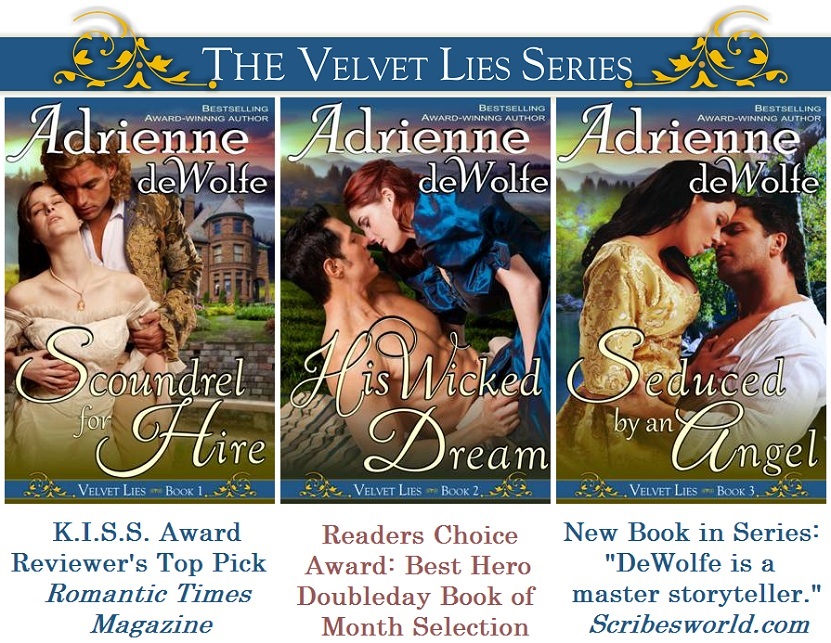 Velvet Lies Series
http://ebookdiscovery.com.p8.hostingprod.com/AdrienneDeWolfe.html
Wild Texas Nights Series
http://ebookdiscovery.com.p8.hostingprod.com/AdrienneDeWolfe.html
The Secrets to Getting Your Romance Novel Published (Series)
http://writingnovelsthatsell.com/the-secrets-to-getting-your-romance-published/
Tin-Stars and Troublemakers
Amazon:
http://www.amazon.com/gp/product/B00CBMZT10/ref=as_li_qf_sp_asin_tl?ie=UTF8&camp=1789&creative=9325&creativeASIN=B00CBMZT10&linkCode=as2&tag=writincom01-20
Barnes & Noble:
http://www.barnesandnoble.com/w/tin-stars-and-troublemakers-box-set-patricia-rice/1115105000?ean=9781614174110
a Rafflecopter giveaway