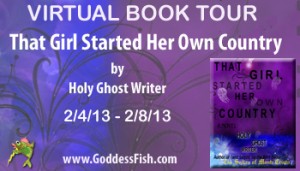 This post is part of a virtual book tour organized by Goddess Fish Promotions. Holy Ghost Writer will be awarding one $15 Amazon GC to a randomly drawn commenter during the tour. Please click on the banner to see the other stops on the tour.
A thrilling tale of wrongful-imprisonment, international intrigue and one brave young woman's fight to free herself from injustice. Meet the beautiful, witty and intelligent Zaydee, aka Princess Jane Doe, as she plays an increasingly complex game of cat and mouse with her captors to free herself from their shackles.
READ AN EXCERPT
She turned her radio on to the number one Miami hip-hop channel FM 99.1 and heard Beyonce's new song, 'Who Rules the World, Mother-F*king Girls Rule the World.'

She realized how true that was; especially since women produce and raise all of the men. The time for women to rule the world politically and directly was long overdue.

She changed the channel to AM 61 and heard a guy named Glenn Beck praise the new Spider-Man song sung by Bono, 'Rise Above' with a line sung by a giant female spider, 'And the gift you have will give you eyes to see.'

She decided she liked the right-wing zealot and remembered hearing that the Bilderbergers were not very happy about these types of loose cannons.

The night before, she had stumbled onto AM 88 and heard the voice most dreaded by the Bilderbergers, the inimitable Alex Jones. She liked his raspy voice and feisty spirit, yet was bored by his ranting. At least he caught himself when his rants went too far off the deep end.

She was tempted to call and feed Jones and his listeners an earful, yet she knew she would give herself away, not to mention spoiling the effect of Larson's soon-to-be-released expose of the world's most powerful secret society.
About the Author: Who is The Holy Ghost Writer?
The mystery of the identity of the author is part of an international contest. The first person to discover the identity of the HG Writer, from the clues found in the Count of Monte Cristo sequels, will receive a reward of $1000. Write to prize@sultanofmontecristo.com in order to win this reward along with letting us know the clues that led you to discovering the identity of the author. Should you wish your discovery to be known in the press, that opportunity will also be afforded. Those that already know the author or have worked with him/her will not qualify. Good luck.
website http://www.thatgirlstartedherowncountry.com
twitter: www.twitter.com/sultanofsalem
facebook: www.facebook.com/sultanofsalem
pinterest: www.pinterest.com/sultanofsalem