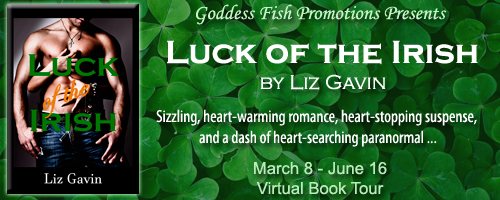 This post is part of a virtual book tour organized by
Goddess Fish Promotions
. The author will award a $50 Amazon/BN GC to one randomly drawn winner via rafflecopter. Click on the tour banner to see the other stops on the tour.
Useful tips on Formatting eBooks
By Liz Gavin
First of all, I'd like to thank the awesome team at Goddess Fish Promotions for putting together this blog tour. YOU ROCK!!
Second of all – and equally important – thanks to the host for having me and Luck of the Irish on your blog today. You're much appreciated.
Now let's move on to the actual post. LOL
FORMATTING EBOOKS
So you spend countless hours researching for your book. After all, it doesn't matter if you write fiction or non-fiction – you research information before putting pen to paper. Or cursor to screen, nowadays. You pour your heart and soul into the story. You upload it to the online stores and cross your fingers. Readers like it and post positive reviews. One day, somebody points out the story is great but they were giving your ebook three starts because there are too many blank spaces. The next reviewer states he wasn't going to mention the formatting issues but since another customer did, he agrees on that. You start getting one-star reviews based solely on the formatting issues. Before you know it, the online store freezes sales of your book and sends you a friendly email asking you to fix said issues before they put your book back on sale at their store. *PANIC*.
Do you think I exaggerate? I can't say how frequently such cases happen but I know at least one did. Not to me though. A dear friend and fellow author went through this ordeal over Christmas and New Year. He ended up missing on a good period of sales for his brilliant, non-fiction book because the major online store froze the book's sales until he fixed the formatting issues. Namely – a few words that got jammed together and extra spaces between some paragraphs. Bottom line is we never know when a small issue will amount to a huge one. Besides, I believe delivering the best quality product possible is the least a supplier can do. In the business of publishing indie books, writers are the suppliers. We must do our best to offer our readers a good-looking, easy-to-navigate eBook for their enjoyment.
So the key question is – is formatting eBooks a difficult task? Well… yes and no.
It took me a while to figure out how to do it. I wasted a lot of time downloading apps, reading instructions, and proceeding to create eBooks that looked awful. You see, I would set up the fonts, margins, and headings on the Word® documents as I pleased before uploading them. I didn't know I needed to set the files in a specific way before writing. Almost by accident I stumbled on a comprehensive guide on formatting ebooks called 'Building Your Book for Kindle'. I downloaded it free of charge at the 'Help' section on my KDP Account Dashboard. It is a step-by-step text with screenshots to guide you through the whole process – from setting up your .doc file to uploading it to the automated converter on Amazon KDP. Once I created a compatible file, I used it as template for the following ones.
Although most of my titles are published exclusively on Amazon, I have a handful of books published elsewhere. Smashwords also offer good guides to formatting and publishing with them. If you want to sell your books on Barnes & Noble and Apple, I recommend Draft2Digital. They offer excellent service for free plus attractive royalty payment plans.
Hope I've helped you guys!! Thanks for stopping by today! Enjoy the tour and remember to check out the other blog stops for more chances at winning the giveaway!!
Keira Ashe's parents are great but her mother has overprotected her for years. Now, this twenty-two-year-old Bostonian has graduated from college and can go on a trip she has been planning for years. She fears her shyness may get in the way of her enjoying what could be a life-altering adventure. However, Keira feels her luck is about to change when she meets gorgeous bartender Declan Slane.

Declan Slane is twenty-six and works at a hotel bar in Dublin. He hasn't been very lucky in his love life so far. Also, he has got a troubled past he has chosen not to revisit in order to keep his sanity. Because he isn't looking for a girlfriend, Declan isn't very pleased to meet a certain breathtaking American who walks into his bar one afternoon.

Get a taste of adventure and heartache as Keira spreads her wings and matures while she gets to know her great-grandparents' home country – Ireland. Hold your breath when she faces tough decisions and dangers. Root for Keira while she weighs up the consequences of making love for the first time. Bite your nails when she comes across unforeseen threats.

Liz Gavin's second full-length novel is hard to put down just as it is hard to pinpoint its genre. She has woven an intricate web around her characters that will leave readers breathless. In the sizzling concoction, this talented new author poured heart-warming romance, heart-stopping suspense, and a dash of heart-searching paranormal. Take your pick. Regardless of the literary genre you might favor, Liz Gavin's writing will take you to a whole different side of it.
Enjoy an Excerpt:
He was responsible for her withdrawal, which made him feel like an asshole. He shouldn't have gone bi-polar on her. He should have managed his emotions better. It wasn't her fault he'd had a shitty love life. And it was not her fault if he couldn't keep his damn lustful body in check.
Those thoughts didn't help Declan, but caused new graphic scenes to invade his mind. For a while, he let himself indulge in them. If Keira were to stay, he would find a way to know her better.
I'd love to spend hours getting to know her—every little inch of her.
He closed his eyes imagining her perfect body under his—felt her silken skin under his fingertips. He wanted to kiss her until they were both breathless, discover her secret spots: what made her tick, moan, and shout his name.
"Declan!" her clear voice yanked him from the daydream. He looked at Keira, still in a daze, and she smiled. "The check please."
He was mortified at the bulge in his pants, which prevented him from going to the table without making a bigger fool of himself than he had already made. So he pretended to study some papers instead.
"What's your room number? I'll add the check to your room bill."
"Don't I have to sign it?"
"Not necessary," he lied, I'll have to sign it myself because there's no way in hell I can stand up right now, you little bewitching thing.
About the Author: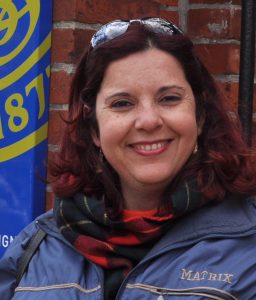 When Liz Gavin was in Second Grade – just a couple of years ago, really – her teacher told her mother the little girl should start a diary because she needed an outlet for her active and vivid imagination. She was a talkative child who would disrupt the class by engaging her colleagues in endless conversations. She loved telling them the stories her grandfather used to tell her.
Apparently, the teacher wasn't a big fan of those stories, and Liz's mother bought her a diary. She happily wrote on it for a couple of months. Unable to see the appeal of writing for her own enjoyment only, she gave up on it. She missed the audience her friends provided her in class. She went back to disturbing her dear teacher's class.
Since then, she has become a hungry reader. She will read anything and everything she can get her hands on – from the classics to erotica. That's how she has become a writer of erotica and romance, as well.
As a young adult, she participated in a student exchange program and lived in New Orleans for six months. She fell in love with the city and its wonderful inhabitants. NOLA will always hold a special spot in Liz Gavin's heart. Nowadays, living in Brazil, Liz's creativity has improved many times because it's such a vibrant, gorgeous and sexy country.
Welcome to her world of hot Alpha males and naughty, independent women. Add a touch of the paranormal in the presence of some wicked souls and you'll get the picture.
Blog | Facebook | Twitter | Goodreads | Amazon Author Page | Barnes and Noble Author Page
Buy the book at Amazon.