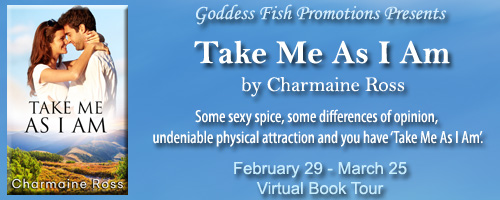 This post is part of a virtual book tour organized by
Goddess Fish Promotions
. Charmaine Ross will be awarding a copy of the e-book Take Me As I Am (international) to three randomly drawn winners via rafflecopter during the tour. Click on the tour banner to see the other stops on the tour.
Is sex in a romance novel filling young minds with unrealistic approaches to love?
In my understanding of the nature of a romance novel, the characters do not just jump into long term relationships at the start of the novel. There is much soul-searching, much change, angst and anxiety, as well as the discovery of happiness, joy and, of course finding the type of love that will last a life time, or at least provide a 'Happily For Now.' It is a journey of discovery, an exploration of life's lessons and challenges and an understanding of what constitutes a lifetime of love.
Romance novels are written by the mature of mind, with an in depth understanding of how people feel and think and react, and of course what they want and ultimately do not want in a partner. What motivates people and what is able to change them.
Situations are difficult as they run to the emotional. In my mind, it's quite easy to stop an international drug cartel, requiring little to no emotional sacrifice, but try to keep your hands off your hot boss on that travel trip and you're in for all sorts of trouble! Seriously though, examining the emotional things in life are the hardest to do. So hard, in fact, that some people refuse to do it!
The most important things in life are emotional. Your husband/wife/partner. Family. Children. Aunts/Uncles/Cousins. Friends. Every one of these people have an emotional attachment to you and they will reflect in your life as you struggle through it. I'm sure everyone knows of an overpowering mother who wants her daughter to marry the boy next door she only thinks of as a brother, when she's really attracted to her father's new boss. Then sparks start to fly, and when they do, people have to react. And change. And grow. That's the way life is. That's when readers can learn what it might be like if they were ever in that situation themselves.
Romance books are an exploration about life. They are there for the reader to discover something about themselves and to explore in a safe environment, what life is all about. They save time and grief reading in the safety and comfort of your own home, rather than living the real life version which may let you end up with VD. I'd much rather my daughter to have her first 'paper' boyfriend, rather than the real life version. She can do that right up until the age of thirty. LOL.
In romance novels, women explore what type of man they really want, and not to settle for the rest. The longest running argument is that romance novels gives woman an unrealistic expectation about love. (which probably stems from the comments of an insecure man anyway and they'd never be the hero in any romance novel.) Maybe if more men read romance novels, they'd learn what women really want! No more 'Woman are from Venus, Men are from Mars'. The answer is there on book shelves in retail outlets throughout the world. In a collective title called 'What Women Want'.
Romance novels also give a reader a chance to explore the sex they've never had, yet to experience, or have been too shy to talk about. Romance books come in a range of heat level. It's up to the reader to choose what they feel comfortable with. This is another thing I'd rather my daughter explore in the safety of her own home, rather than leaving it up to the real-life versions of teenage boys. Realistic romance novels shows how boys/men will treat a woman they like/love. Girls learn what to expect and when there's any shoddy treatment from the real life version, they also know what to do. Walk away, because those boys are just not worth their self-esteem to be battered.
Romance novels are an ideal way for people to experience, learn, grow and life in situations they may or may never come up against. They can range from pure fantasy to whisk you away for a little while, to real and gritty for a more realistic exploration of life.
Thank you so much for having me here and I hope you've enjoyed reading a bit about me. As a thank you to your readers I'm offering two free fun and flirty novellas on my web site when you subscribe to my very sporadic email. I also have free sample chapters on my web site. It's worth a look@ www.charmaineross.com.
Forget the whole billionaire tycoon thing: Kate Moore is a billionaire's daughter, and she knows first-hand that they're not all romance novel worthy. Her father is brilliant, inflexible, and brutal – and nothing she's ever done has been good enough for him. Her one chance to take over the massive Moore's Hotel Corporation is restoring the run-down Burnham Beeches in beautiful Sassafras to its former glory. To that end, she hires David Wright, a talented landscaper with an unparalleled eye for beauty and an unparalleled talent for distracting her from her goal.

David really needs this job. He needs the contract, the Moore's name on his portfolio, and the money to pay for his ailing father's health. Everything he's worked for is now within his grasp, and he's going to reach for it with both hands. What he doesn't need is the diversion, or the temptation, presented by his new boss.

Neither David nor Kate are free to follow their own desires, but they're powerless to fight their growing attraction. But they come from very different places; perceptions will have to crash, misconceptions will have to collapse, and they will have to face their own personal challenges before they find their space to meet in the middle.
Enjoy an excerpt:
Kate peeked out from her office window. David had done a lot in the past few hours, having marked out the skeleton of the garden. Unfortunately, the piece of ground he'd decided on meant he was all she could see when she looked out of the window.
She would catch herself, lost in thought as she watched his lithe movements outside. Every so often he would call out an order to his brother, Jack, as he'd introduced him, who would follow the instruction. Kate studied them both, comparing brothers. Jack was as lean as David, but he wasn't as tall. David a little darker with hair and skin tones. They looked similar, had distinct physical family traits, but he hadn't captivated her as much as David had.
Captivated. Was that what she was? As much as she pulled her attention back to the computer screen, her eyes kept returning to the window, as though they had a mind of their own. Each time she did, she'd notice something new about David. The way his calf muscles contracted when he bent, and the way his biceps seemed to burst when he carried something heavy. The way his skin glowed with sweat in the midday heat. His brother wasn't as fit, or as lean. Or as tanned. Or half as masculine. Kate bit her lower lip until it hurt.
Kate wondered if he would feel as hard as he looked. Would his skin be warm to the touch? Hot? Would each ripple of muscle undulate as smoothly beneath his skin as they looked?
Would she burn if they touched just skin to skin?
Kate sank her chin into the palm of her hand, feeling her lower belly melt. As she watched, David reached to the hem of his fitted T-Shirt and pulled it over his head.
She stopped breathing.
She didn't have to imagine his muscles any more. They were superbly on display. He was lean. Fit. And had a six pack to prove it. He had the perfect frame, broad shoulders, a clean chest that showcased perfectly sculpted muscle. Not the type that was designed in a gym, but the kind that was created from daily physical labour. His chest tapered into a trim, flat stomach. A hollowed line ran from the centre of his torso beneath his waist-band to much lower parts of his anatomy. A fiery thrill ran up Kate's spine.
'Who's the hunk?'
About the Author: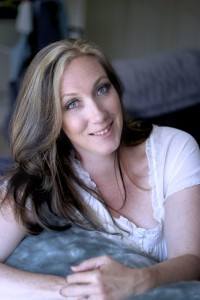 My first foray into romance was as a fourteen year old where I fell hopelessly and eternally in love with my hero as only a teenager can. Instead of watching movies and staying up late, I would go to bed at eight thirty and continue my very romantic, very safe, love affair.

Since then, I have fallen in love with many heroes, some less safe than what my teenage brain could possibly imagine. After earning a Fine Art's Degree, a Diploma of Secondary Education and a Diploma of Marketing, I worked as a Graphic Designer in various advertising agencies as well as in-house marketing roles and am currently involved with digital marketing and everything web in my current position. But I always return to writing.

Although I have travelled, I always return to my home town of Melbourne and live with my husband, two children and two cats in the ferny-greens of the Dandenongs. If I'm not working on my latest romance and falling in love with yet another hero, you'll find me reading, watching and basically indulging in my addiction to any story on any media type I can get my fingers on.
Check out my web site to download and read two fun, flirty novellas – the best news is they're free – plus free chapter downloads from all of my books, as well as updates on my latest news @ www.charmaineross.com.
Website | Twitter | Facebook | Pinterest
Buy the book at
Amazon
.