This post is part of a virtual book tour organized by the publisher. Click on the tour banner for the giveaway.
Good morning! Or afternoon or evening, depending on when you read this. I hope you're having a fantastic day.
I'm Bailey and I've got a new book out, Unexpected Moments. It's a follow-up to the short story, Unexpected Places, that debuted in Totally Bound's new What's His Passion? imprint. It continues the story of Eddie and Carter, along with new developments in their relationship. I don't want to give too much away 😀   I had great fun writing this book.
It continues the story of Carter and Eddie, and their quest to find the man they need to complete their relationship. It will take someone very special, and when they meet him, they hope to convince him to give them a chance.
Nothing in life or love comes easy, at least not often. The relationship between the three men is no exception. Between the condemnation from family members, an act of violence that leaves them all scared and one of them hurt, and their own insecurities, navigating a successful and loving path to the future is tricky, dangerous, and very hot.
In fact, the guys do some of their best communicating in the bedroom…or whichever room they happen to be in when the need for each other becomes too great to resist. That's not to say there isn't talking, because there is. There's also bonding over beer, nature, and family issues. These guys are into communicating, because they know that can be sexy, and also because they want to make their relationship work. They've got big hearts, with room for one another, if they can just figure out how to do it.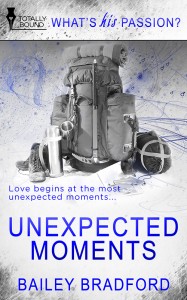 So, if you want to read a sexy ménage story, please consider giving Unexpected Moments a chance. I'd advise reading the short, Unexpected Places, first. For Moments, if you purchase the book at Totallybound.com, you'll receive bonus content, such as a very special scene I wrote that occurs after the epilogue. There's also an author Q&A—those things always scare me, then they turn out to be so much fun!
And there's an autograph in my chicken-scratch handwriting. I'm sorry for the sloppiness, that' really is the best I can do. My handwriting has always been atrocious. It's safe to say I never earned a good grade in that subject. Writing, as in stories and papers? That I did just fine in. Yes, I was the English teachers' pet. Well, there was one who said I'd never amount to much. I think I turned out all right 😀
I hope you'll check out all of the offerings in the What's His Passion? imprint. There are incredible authors participating in it. I'm a lucky person to have been asked to be a part of it. I can't wait to see what other authors come on board to share in the adventure! It's been such a rush, and I've met so many incredible people through these releases.
I'll let y'all get back to your day, or night. Take care, relax, enjoy, and be happy. 😀
Thank you for stopping by!
Blurb for Unexpected Moments:
Love begins at the most unexpected moment…
Carter Hausemann and Eddie Canales are embarking on a new romance. They know they're compatible sexually. Now it's time to find out if they're meant for each other—and a third man, because Carter has always known what he's needed. He'd just been afraid to reach for it.
Eddie will do whatever it takes to make Carter happy, and since he's not the jealous type as long as he's included, he's more than willing to see if a relationship can work between three men. But first he and Carter need to concentrate on them.
Dare Habrock has the microbrew everyone's talking about. He also has a secret that has kept him from having a lover in far too long.
When these three meet, they begin to understand that love flourishes in the most unexpected moments.
But someone is determined to destroy every bit of joy they have.
Reader Advisory: This books contains scenes of multiple male ménage, light BDSM and references to fisting.
Like the sound of Unexpected Moments? Buy it here.
About Bailey Bradford:
A native Texan, Bailey spends her days spinning stories around in her head, which has contributed to more than one incident of tripping over her own feet. Evenings are reserved for pounding away at the keyboard, as are early morning hours. Sleep? Doesn't happen much. Writing is too much fun, and there are too many characters bouncing about, tapping on Bailey's brain demanding to be let out.
Caffeine and chocolate are permanent fixtures in Bailey's office and are never far from hand at any given time. Removing either of those necessities from Bailey's presence can result in what is known as A Very, Very Scary Bailey and is not advised under any circumstances.
Enter our competition for the chance to win a copy of Unexpected Moments and three more eBooks from Bailey Bradford's backlist: