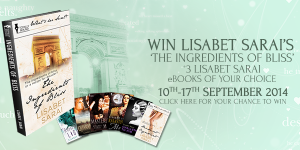 This post is part of a virtual book tour organized by the publisher. Click the tour banner for a chance to win The Ingredients of Bliss as well as three other ebooks of the winner's choice.  The other stops on the tour are shown at the end of the post.
Unconscious Craft
By Lisabet Sarai
 No one ever taught me how to write a novel. Still, the very first one I wrote (Raw Silk, back in 1999) was accepted immediately by the publisher to whom I sent it (and has been reprinted to two publishers since). It's not great literature, perhaps, but it has all the required features called out by texts on the writer's craft: conflict, a plot arc, a climax, a resolution. The characters develop and change over the course of the book. There's some nice symmetry from one chapter to the next. The ending leaves no serious loose ends.
I didn't think about any of this while I was writing. However, I've been reading novels for as long as I can remember – lots and lots of novels. I assume that I've unconsciously absorbed quite a lot of knowledge about the typical structure of long fiction.
Since then, depending on your definitions, I've written seven or eight more novels – largely on instinct. I do make some conscious choices about novel structure, but to a large extent I'm going by what feels right.
Sometimes a critic will point out and praise stylistic or structural features after the fact. For instance, I had a reviewer comment on the Shakespearean allusions and parallels in Incognito. Aside from deliberately naming my heroine Miranda because her father was a Shakespearean scholar, I didn't do any of that deliberately. However, I found the reviewer's arguments persuasive.
The subconscious is a marvelous thing.
I was thinking about my latest novel The Ingredients of Bliss and realized it has a rather nice structural characteristic that I didn't really plan. The book is simultaneously propelled by both an inner and an outer conflict. Although they are not directly related, the resolution of the outer conflict triggers or influences the inner conflict in a rather satisfying way.
The outer conflict is the heroine Emily's quest to rescue her lovers Harry and Etienne from the clutches of a Chinese criminal gang. She hatches a multi-step plan that takes multiple chapters to execute. She encounters setbacks but pushes forward in her determination to save the two men.
The inner conflict revolves around Emily's confusion about her feelings for Harry and Etienne. At the start of the book, she is sexually involved with both men, but is unsure about what role they might play in her future. Does she love Harry? Etienne? Both of them? Should she extricate herself from both relationships before someone gets hurt? The situation is complicated by the variability in her sexual role. Is she submissive? Dominant? Both? Neither?
As she perseveres in her efforts to resolve the outer conflict by freeing her lovers, answers to these questions become clear. I don't want to tell you what she decides – I'd much rather have you read the book! However, I'm impressed by the way my subconscious managed to make it all work!
Blurb for The Ingredients of Bliss:

One sexy French chef. One kinky American TV producer. One ambitious Chinese gal who thinks she wants them both. The ingredients of bliss? Or a recipe for disaster?

Accomplished cook Mei Lee 'Emily' Wong knows exactly what she wants—her own show on the Tastes of France food channel. But life is full of complications. First, her deceptively nerdy producer, Harry Sanborne, initiates Emily into the delights of submission. Then her boss, legendary chef Etienne Duvalier, begs her to dominate him. Emily just can't resist—especially when Harry orders her to explore her inner Mistress. Suave and sexy Etienne will do whatever she asks—in the bedroom if not in the kitchen. And Harry, her lovingly diabolical Dom, adores pushing Emily's limits.

When the network sends the trio to France to shoot a series of cooking shows on location, Emily knows her career is on the upswing. Her plans fall apart in Marseille as a Hong Kong drug syndicate kidnaps both Etienne and Harry. The Iron Hammer Triad mistakes Etienne for notorious gangster Jean Le Requin, who has stolen their drug shipment, worth millions. Emily realizes she must find the real Le Requin, retrieve the purloined dope, and bargain it for Harry's and Etienne's lives. The secret she's been keeping from Harry might prove useful. Still, what chance does one woman whose knife skills are limited to chopping vegetables, have against the ruthless cruelty of two criminal organisations?
Like the sound of The Ingredients of Bliss?
Buy it now at https://www.totallybound.com/the-ingredients-of-bliss?utm_source=longandshortreviews&utm_medium=blogtour&utm_campaign=theingredientsofblissblogtour
About Lisabet Sarai:
I started both writing and cooking at an early age, and I've continued to indulge both passions as I've matured. Usually I'm an improvisational cook; I'm not all that fond of following recipes, and when I do, I almost always introduce my own variations. My philosophy tends to be the more spice, the better.
You could say the same about my writing. Since the release of my debut novel Raw Silk in 1999, I've published lots of erotica and erotic romance in almost every sub-genre– more than fifty single author titles, plus dozens of short stories in various erotic anthologies, including the Lambda winner Where the Girls Are and the IPPIE Best Erotic Book of 2011, Carnal Machines. My gay scifi erotic romance Quarantine won a Rainbow Awards 2012 Honorable Mention.
I have more degrees than anyone would ever need, from prestigious educational institutions who would no doubt be deeply embarrassed by my chosen genre. Widely traveled but still with a long bucket list of places to go, I currently live in Southeast Asia with my indulgent husband and two exceptional felines, where I pursue an alternative career that is completely unrelated to my creative writing.
Website: http://www.lisabetsarai.com
Blog: http://lisabetsarai.blogspot.com
Goodreads page: http://www.goodreads.com/author/show/83387.Lisabet_Sarai
Amazon page: https://www.amazon.com/author/lisabetsarai