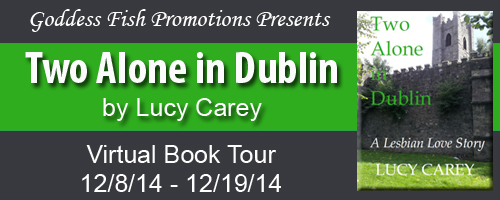 This post is part of a virtual book tour organized by Goddess Fish Promotions. Lucy will be awarding a $25 Amazon or B/N GC to a randomly drawn winner via rafflecopter during the tour. Click on the tour banner to see the other stops on the tour.

Thanks for stopping by Long and Short Reviews. Where does your inspiration come from?

It's hard to point to one thing and say, "That's where my inspiration comes from." Usually, it's a blend of things—an interesting place I've been, a funny, unusual person, a quirky fact I've heard. This book, "Two Alone in Dublin: A Lesbian Love Story" was partly inspired by an all-too-brief interaction with a Latina barista in a Dublin café. (One of my two main characters in the story is a Brazilian bombshell who has moved to Dublin for a new life.)

Would you ever want to change genres and if so what would you like to experiment with?

I do enjoy reading and writing in a variety of genres: literary, sci-fi and horror, in addition to lesbian romance. As a bisexual woman, I would also like to expand into straight and bisexual romance, as well as lesbian romance. In the near future, I'll also be adding some erotic romance into the mix, so keep your eyes peeled for those!

Are your characters/ideas drawn from people that you know personally in any way?

Absolutely. I find people endlessly fascinating—what makes them tick, what makes them act the way they do—so I study and pay attention to what is going on around me. All of my characters are an amalgamation of what I observe in those real-life people, a hodge-podge of their best and worst qualities and personality traits.

Where would you like to be in 10 years with life or career?

I would like to be happy, whatever that might mean. I hope that means that I am a full-time author and am able to work for the love of writing rather than for the need of money. But as long as I'm content in life and doing something I enjoy, I'll be satisfied.

What book or books are you reading now?

I am trying to read more fiction and non-fiction by female authors. That includes a book on "Anonymous", as well as "Astray", a collection of short stories by Emma Donoghue.

What do you do with your free-time when you are not writing or brain-storming?

I like to travel when I can and if I can bring my camera with me, all the better. I'm also a music nut; rock music of just about every genre is what I like best.

What is your fondest memory from childhood that left an impact on your life?

I have a really strong memory of sitting in a hallway in school, with a notebook in my hand, writing a story while I was waiting for my dad to pick me up to take me somewhere. I was quite young—I think eight or nine at most—but I remember thinking, "This is something I could do forever." I still hope it is…!
Surrounded by one million people in Dublin city, two women feel very alone. One a university student from a small town in the Irish countryside, the other an adventurous spirit from a city in Brazil, they've both been searching for the other among the irritations and noise of everyday life…
Enjoy an excerpt:
Mariana hadn't worn this shade of lipstick in an age. She painted the brash, bright-red gloss around her full lips, rubbed her lips together and pouted. This was her going-out colour, a colour guaranteed to make her feel sexy and confident and womanly.
Had it really been so long since she had been on a date? she wondered. Despite this being her go-to colour for dates, it had been buried in the bottom of her makeup bag.
She checked her teeth for lipstick and, finding none, stepped back to look at her full reflection in the mirror.
She had chosen a form-fitting dress in a colour to match the shade of her lipstick and she adjusted the cups of her bra, to push her cleavage higher in its V-neck.
This, she thought to herself, must be what Susie had described as "putting your best foot forward."
About the Author: Lucy Carey, Lesbian and Bisexual Romance and Erotic-Fiction Writer
I am a 30-year-old bisexual author who writes the kind of fiction I think other LGBTQ women want to read.
As someone born and raised in Ireland, let me assure you: our country is beautiful…and so are its women.
I aim to introduce you to the best of both—the stunning scenery of the Emerald Isle and its funny, complex, gorgeous, lesbian and bisexual women. I hope you enjoy it.
Goodreads
Facebook>
Buy the book at Amazon.