Take a look at this amazing cover for Rebecca Zanetti's newest book Twisted Truth, part of the Blood Brother series, which is scheduled to release on November 14. Enter the giveaway at the end of the post for a chance to win one of five galleys of the book.
One year ago, Denver Jones blew up his life and left everything behind. To stay alive, he had no other choice. But now, when video footage of the woman he could never forget goes viral, begging for his help, he has no choice but to go to her. Her niece has been kidnapped and Denver and his blood brothers are the only people she can trust.

But Denver isn't the only one watching that video. The deadly forces from his past see it too-and they'll use anything–and anyone–they can to lure Denver out of hiding to exact their revenge.
Enjoy an Excerpt
Slowly, numbly, she shrugged. "I knew you were dangerous and relentless in pursuing somebody," she whispered. But a killer? Her search for him had held a romantic element, and she knew it. This guy was all edge—no romance. "Am I in danger?" Her voice quivered, but she had to know.
"Yes." He didn't move. Didn't even seem to breathe.
She blinked. Rapidly. "From you?"
His eyes darkened. "No. The only thing I'm capable of breaking is your heart."
Cold swam through her. The arrogance. "You think you broke my heart?"
His lip twisted. "I know I did." His tone was low with what seemed like self-hatred. Dark and raw. "I'm sorry."
Those words. She'd needed those words and hadn't realized how badly. "Thank you," she said, going on instinct. "Then how am I in danger?"
"I'm in danger, and anybody close to me is free game for an enemy who will keep coming until I'm dead. Until everything I care about, everything I dream about, is taken away and I want death." He looked back down at the computer, intensity pouring from him.
Whoa. Okay. Denver didn't have one bit of hysteria in him. His words scared her, but curiosity still rose up. "Who?"
"Irrelevant. As soon as we get Talia back, you have to forget me. Now. Back to Richie."
She could live forever, and she'd never forget him. Not for one second had she been able to pretend he didn't exist. But he was right. They had to find Talia, but he still needed to explain more. She had a right to know everything. "I have files on everything." She threw her pack at Denver, and he easily caught it before it smashed him in the face.
He didn't so much as frown. "Thank you."
She swallowed. They were in the same room. After a year of hurting for him, he was right there in solid form. More than solid. She hadn't imagined his hard body or intense charisma. He owned every room he walked into with no effort. She'd never met anybody like him, and here he was. Her body tingled, her heart ached, and her mind spun. Yeah. Denver was definitely there. "What now?" she asked, her eyes gritty and her throat scratchy.
"I'll do some research."
About the Author: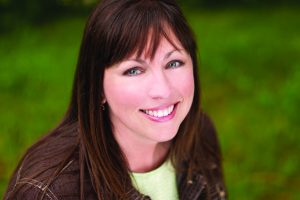 Rebecca Zanetti is the author of over twenty-five romantic suspense, dark paranormal, and contemporary romances, and her books have appeared multiple times on the New York Times, USA Today, and Amazon bestseller lists. She has received a Publisher's Weekly Starred Review for Wicked Edge, Romantic Times Reviewer Choice Nominations for Forgotten Sins and Sweet Revenge, and RT Top Picks for several of her novels. She lives in the wilds of the Pacific Northwest with her own alpha hero, two kids, a couple of dogs, a crazy cat…and a huge extended family. She believes strongly in luck, karma, and working her butt off…and she thinks one of the best things about being an author, unlike the lawyer she used to be, is that she can let the crazy out.
Website
Buy the book at Amazon, Barnes and Noble, Books-a-Million, Google Play, iBooks, IndieBound, or Kobo.