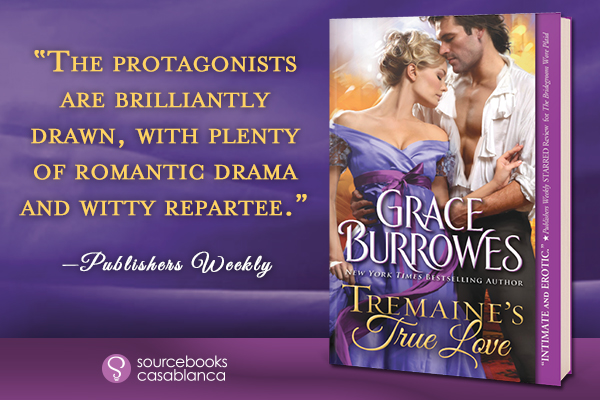 This post is part of a virtual book tour organized by
Goddess Fish Promotions
. Enter the Raffleocpter at the end of the post to win a bundle of Grace Burrowe's books.
He's had everything he could ever want…until now

Wealthy wool magnate Tremaine St. Michael is half French, half Scottish, and all business. He prowls the world in search of more profits, rarely settling in one place for long. When he meets practical, reserved Lady Nita Haddonfield, he sees an opportunity to mix business with pleasure by making the lady his own.

Nita Haddonfield has a meaningful life tending to others, though nobody is dedicated to caring for Nita. She insists the limitations of marriage aren't for her, then Tremaine St. Michael arrives-protective, passionate, and very, very determined to win Nita's heart.
Enjoy an exclusive excerpt:
Tremaine St. Michael is enjoying a late night raid on the larder with Lady Nita when he gets news that his prize herd of young rams has taken ill. He's all ready to charge off into the winter night, when Nita takes matters in hand.
"Mr. St. Michael, please sit," Nita said.
"I don't want to blasted sit. When I've taken every precaution, fed them extra rations, added hot water to their icy buckets at considerable effort—"
She put a ginger biscuit in his hand. "Are these extra rations from the same hay you normally feed?"
"I had the steward buy some particularly good hay," Mr. St. Michael informed his biscuit. "We've saved it back to feed on the coldest nights. That hay is beautiful, soft, green. It's quite dear, but worth the expense."
"We can send a pigeon for you in the morning," Nita said. "Tell your men to switch back to your usual hay."
Mr. St. Michael half-rose, then sat back down, heavily, if strong drink had caught up with him.
"Pretty hay isn't always the best quality," he murmured. "Noxious weeds can spring up in any field." Mr. St. Michael broke the biscuit in half and offered Nita the larger portion.
"Unless you've moved your herd, or recently added to it," she said, "a sudden illness affecting many of the flock isn't likely. If it's not contagion, then a problem with their fodder is the next most likely culprit."
Mr. St. Michael dispatched his sweet in silence, as Nita took a place beside him before the fire.
"May we send the pigeon tonight, Lady Nita?" Worry and the Aberdeershire hills still laced Mr. St. Michael's voice.
"Certainly. A good bird will be in Oxfordshire before your lads are at their morning chores. Alfrydd manages the dovecote."
The apple went next, in a few crunchy bites, while Mr. St. Michael remained quiet, and Nita's feet grew chilly.
"You truly think it's the hay?" Mr. St. Michael asked, rising. He took his mug to the sink, tossed the apple core into the slop bucket, and wiped his hands on the towel kept for that purpose near the bread box.
"I'm nearly sure of it," Nita said, though no medical situation was ever certain. "You'll also want to scrub out the water buckets. If all you're doing is adding hot water to icy buckets, then the buckets haven't been truly cleaned for some time."
"Excellent advice," he said, draping the towel over its hook exactly as he'd found it. "I might have come to the same conclusions by the time I reached London—provided I hadn't landed on my arse in the ditch at the foot of your lane."
Mr. St. Michael offered Nita his hand, and Nita let him draw her to her feet. They were in the kitchen, she was wearing two thicknesses of wool stockings, and front parlor manners were the farthest thing from her—
Tremaine St. Michael hugged her. The sensation was rather like being enveloped in a blanket left to warm on a brass fender, all comfort and ease, a hint of heather and lavender, and an irresistible temptation to relax.
"I worry over those young fellows," he murmured. "I am in your debt, my lady." He stroked her hair, another invitation to relax, to be safe and warm. "One doesn't admit to praying for sheep."
One just had, perhaps even two.
Nita stepped back and Mr. St. Michael let her go.
"Take the biscuits to the stable lads," she said. "Your horse will benefit. You'll probably have word back from Oxfordshire by sunset tomorrow."
Mr. St. Michael picked up the entire crock of biscuits, kissed Nita's cheek, then lingered for a moment, near enough that she caught ginger and cinnamon on his breath.
Near enough that she had one instant to consider turning her head.
About the Author: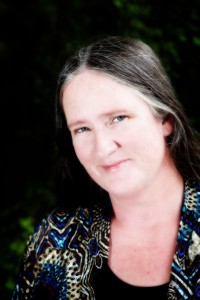 New York Times and USA Today bestselling author Grace Burrowes' bestsellers include The Heir, The Soldier, Lady Maggie's Secret Scandal, Lady Sophie's Christmas Wish and Lady Eve's Indiscretion. Her Regency romances have received extensive praise, including starred reviews from Publishers Weekly and Booklist. Grace is branching out into short stories and Scotland-set Victorian romance with Sourcebooks. She is a practicing family law attorney and lives in rural Maryland.
Website | Facebook | Twitter | Goodreads
Buy the book at Amazon, Barnes and Noble, iBooks, or IndieBound.