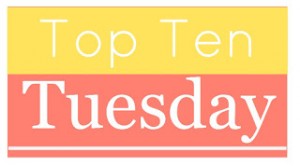 Today, our reviewer Astilbe (see some of her reviews here) has offered up her list of Top Ten Books I'd Give To Readers Who Have Never Read Horror.  Welcome, Astilbe!
Thank you for having me.  I've been a horror fan since elementary school. It always surprises me to meet people who haven't give this genre a try yet because so many memorable stories have been told through it.
I strongly prefer to read horror that's been mixed with other genres or that also serves as a commentary on real-world issues. Not all of my suggestions have paranormal origins, but all of them did keep up at night shuddering at the thought of their ghastly conclusions.
1. M.R. Carey's The Girl With All the Gifts – It's hard to discuss much about the plot of this one without giving away major spoilers, but I loved the way the author drops seemingly insignificant clues about the real identity of the narrator as the story progresses. She's such a sweet, innocent little girl that it took me a long time to figure out what it is that her teacher is working so hard to hide from her and the rest of the class.
2. Ninni Holmqvist's The Unit – I've always found institutional living to be nearly as frightening as it is sad because of how little control the people in them have over their daily lives. My elderly relatives who spent their last years in them had regular visitors to keep a friendly eye on things, but many of the other patients did not. When I read this story I could all but smell the antiseptic odor of those hallways again.
3. Arthur Phillips' Angelica: A Novel – There's a razor thin line between protecting your child and smothering her. I'll admit to not particularly liking the mother in this story due to her antics, but I did sympathize with her paralyzing fear that something is after her only living child. This is a great example of gothic horror in particular.
4. Stewart Felkel's Carrier – This is one of the most creative takes on surviving in a post-apocalyptic world I've ever read. The main character has been on his own for so long that he's beginning to forget what it used to be like to have companionship. His character development is excellent, and what makes it even better is how the author uses the plot to dig so deeply into the troubled thoughts of one man.
5. Henry James' The Turn of the Screw – Not everything that goes bump in the night reveals its true face right away. This classic has only gotten better every time I've reread it. There is definitely something to be said for acknowledging the stories that have stood the test of time, and there's no better place to start than with a governess whose charges seem to possess the ability to see and speak with the dead.
6. Octavia E. Butler's Fledgling – Imagine waking up as a malnourished child who is naked, alone, and severely injured in the middle of the woods. I'm a big fan of Ms. Butler's work, but the imagery in this specific novel is almost as fantastic as the biting social commentary she weaves into the most unlikely of places.
7. Susan Hill's The Woman in Black – If you're in the mood for a violent, vengeful ghost, look no further. I've never really understood why haunted houses are so common in the horror genre, but there's no way I'd ever want to visit the former home of this particular spirit. It's not the presence of antique toys or the thick layer of dust over what was once a stately manor that's so deeply unsettling, it's what happens when these things are disturbed.
8. Richard Matheson's I Am Legend – Even the most deadly virus is bound to leave a few survivors. Or, in this case, just one. As much as I love spending time alone, it's horrifying to think about never being able to hug or talk to another human being again. The loneliness would be crushing, and I don't blame this protagonist one bit for being driven to the limits of his sanity after a few years of it. I like Will Smith's other movies, but his remake of this story pales in comparison to the real thing.
9. Doris Lessing's The Fifth Child – At first I thought this was a twentieth century fairy tale due to the charming descriptions of the Lovatt family and their quickly-growing brood. Their first four children are smart, cheerful, and healthy, so they have no reason to assume that baby number five will be any different from his siblings. My sympathies wavered from one chapter to the next as the parents alternated between blaming themselves and their son for his behavioural challenges, and I still can't quite decide who I feel the most sorry for.
10. Mira Grant's Feed – I really like how this tale begins many years after the zombiepocalypse first started and society has had a chance to make reasonable (and not so reasonable) adjustments to this threat. Surviving a day or week in this kind of environment is no guarantee that you have what it takes to make it longterm. The opening scene is especially terrifying, and I'm not embarrassed to admit that I once had a nightmare about it!