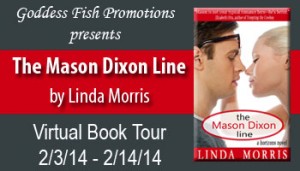 This post is part of a virtual book tour organized by
Goddess Fish Promotions
.
Thanks for having me on LASR today, and happy Valentine's Day! I'm here with my Top Ten Tips for a New Writer, or, what I desperately wish someone had told me when I first started writing:
1. Find a critique partner you trust who will tell it to you straight.
No matter how self-critical you are (and I'm very self-critical), you won't be able to spot some of the flaws in your story that a sharp CP will. You're too close to it. You know what you meant to convey and aren't the best person to judge whether you've actually succeeded.
2. Remember a critique partner (or editor, or agent) is one person with one opinion.
People disagree. You'll discover this quickly when you start sending your work to a bunch of different people. What one editor hates, another adores. The scene that brings one CP to tears, another thinks is hokey. You can't be crushed by criticism you receive because it's just one person's opinion.
3. On the other hand, if multiple people are telling you the same thing about your writing, listen!
Before I started writing romance, I belonged to a general critique group with different genres represented. (I don't recommend it, by the way. Stick with CPs who are knowledgeable about the genre you want to write.) One of the authors had talent, but he always took his stories in a million crazy illogical directions that made no sense, and then got angry when other group members pointed it out. He would call group members the next day after our meetings and yell at them about how wrong they were! Needless to say, everyone disliked critiquing his work, and I doubt he learned much of anything. He was too busy defending his work to listen to the truth people were trying to tell him.
4. Carve out time to write every day, or at least as close to it as you can.
If you're not willing to sit down and write every day, or close to it, your book will not get done.
5. Focus on quality, not quantity.
With authors on Twitter every day bragging about how they wrote a zillion, bazillion words each day, it's easy to feel like a failure if you're "only" logging 500 or 1000 words a day. But if you log totals like that consistently, you'll be fine. If you write 500 words a day and only write 2 or 3 days a month, however, you won't get much done.
6. Don't be a slave to trends, but don't be oblivious to them either.
You absolutely don't have to write erotica because that's what's selling now, any more than you had to write paranormal when that was huge. Any trend that you jump on will be over in a year or two, and then what are you going to do? Completely change your writing style to jump onto the next bandwagon, thereby alienating all your former readers in the process? But you can find ways to tip your cap to those trends without really going for them, say, by increasing the heat level as far as you feel comfortable with, or by adding a unique paranormal twist to an otherwise straight contemporary story.
7. Try not to compete with other writers.
You're only competing with yourself, to write the best story that you're capable of. Any other yardstick is a waste of time.
8. On a related note, don't waste a lot of time hating on other author's work.
A lot of people are going to like stuff that you don't, and not everyone likes what you do. I can't tell you how many author rants I've heard about E. L. James. They always smack of sour grapes. Does James write lyrical, eloquent prose? No, but there's something in her stories that many people respond to. A neighbor told me that when she was reading FSOG, she carried her Kindle in her car so she could read at stoplights. Safety aside, every author I know would like to hear that from a reader!
9. Have fun.
Writing is not fun every day, when it's not going well, or when it seems that everyone but you is having success. But overall, it should be fun. If it's not, why are you doing it?
10. Realize that getting published is the first step of the journey, not the end of it.
In many ways, staying published is harder than getting published initially. You have to keep working hard and sustain your energy and intensity regardless of whether your books are flying off shelves and getting rave reviews or not. It's a cliché, but like many clichés, it became one because it's true: A writing career is truly a marathon, not a sprint.
About the Author: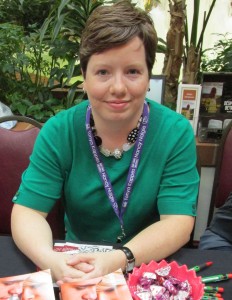 Linda Morris is a writer of contemporary romance. She writes stories with heart and heat, along with a joke or two thrown in. Her book Melting the Millionaire's Heart was an Amazon Top 100 Series Romance bestseller.
When she's not writing, working, or mommying, she's doing yoga, reading, working in her flower garden, or baking delicious things she probably shouldn't eat. She believes that there are two kinds of people: pie people and cake people, and she is definitely one of the former. Her years of Cubs fandom prove she has a soft spot for a lost cause. A beat-up old copy of Kathleen Woodiwiss's Ashes in the Wind was her gateway drug into the world of romance novels, and she's never looked back.
Linda loves to hear from readers. You can tweet at her , visit her on Facebook, or swing by her website.
Carolyn Hart has excelled at one thing her whole life: looking good. She's always had the beauty, the style, and the attitude to turn heads. But making her own way in the world turns out to be a lot tougher than getting electing homecoming queen. She has no idea what she wants to do with her life, her credit card balance is becoming self-aware, and her love life is DOA. And now her boss at Horizons, a school for kids with special needs, has given her an unwelcome assignment: to work with a cartoonist to create a kids' book as a fundraiser for the school.

Former troubled kid Mason Dixon would do anything for the aunt who took him in after his parents gave up on him. But when he offers to illustrate a kids' book as a fundraiser for her pet cause, he winds up taking on way more than he bargained for. The gorgeous teacher's aide he's assigned to work with challenges him at every turn and makes him wonder if there's any line he won't cross for her.