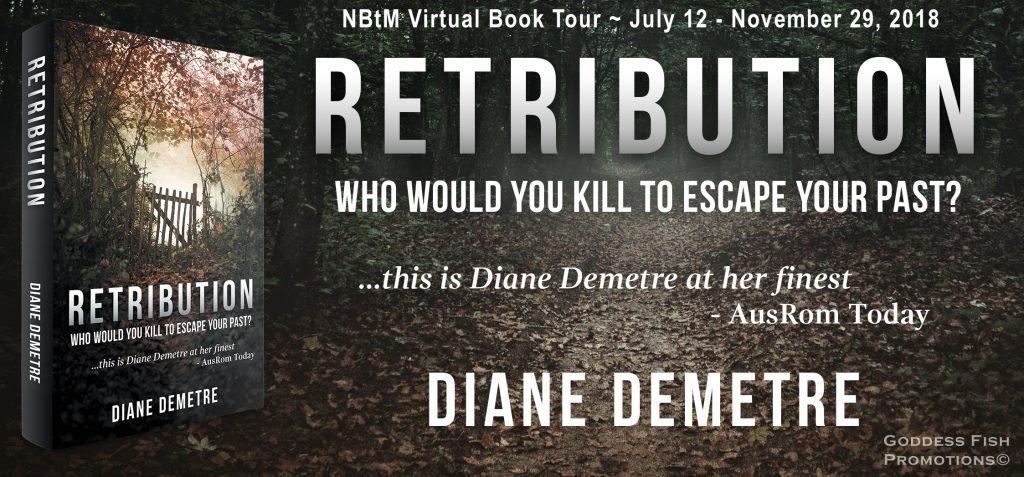 This post is part of a virtual book tour organized by Goddess Fish Promotions. Diane Demetre will be awarding a $25 Amazon/BN GC to a randomly drawn winner via rafflecopter during the tour. Click on the tour banner to see the other stops on the tour.
Top Ten Things You Might Not Know About Diane Demetre
1. If I could interview anyone past or present, and since I'm a story teller, I'd love to interview the main character of the greatest story ever told—Jesus Christ. I'd lead with the following question…For over two thousand years, we've heard everyone else's opinion on your life, now, in your own words, please share with us the truth.
2. If I had to choose a song to be my theme song it would probably be the ABBA hit Dancing Queen. However, the song which has been the touchstone of my life is the Beatles classic, Let it Be.
3. I have nearly every one of Agatha Christie's paperbacks which I collected as a young teenager. It is probably her influence which has moved me into murder mystery writing.
4. The food I try not to keep in the fridge as I love it too much is ice-cream. My biggest treat is to have a double or triple serve of gourmet ice-cream of different flavours. Heavenly
5. My favourite drink is Bollinger champagne. Absolutely fabulous….
6. If I could have any superpower, I'd love to travel through time and dimensions at will.
7. Before I became a writer, I spent years as a motivational speaker, life coach and stress & life skills therapist.
8. One of my favourite quotes is… If one advances confidently in the direction of his dreams, and endeavours to live the life which he has imagined, he will meet with a success unexpected in common hours. Henry David Thoreau.
9. One of the most inspiring things that happened to me was when I met the Dali Lama. In 2007, along with a group of benefactors for his Australian tour, he reached out, clasped my hand and sat me down next to him for a photograph. His minders scurried around, obviously stunned. His Holiness rarely touches anyone. He held my hand through the photographic session, smiling and chatting to me. After the photos, he rose, bowed and left the room, leaving me and everyone wide-eyed from the encounter. The picture of His Holiness holding my hand, and me with a Cheshire Cat grin takes pride of place on my office wall.
10. Aside from the Dali Lama, probably the most famous person I ever met was Charlton Heston. Back in 1996, I was the emcee for the Australian book tour of his autobiography…In the Arena. A real man's man, he oozed charisma, power and a commanding presence from which those people in the audience could not avert their eyes. He epitomized the true Hollywood legend. In introducing him, I also welcomed his wife, Lydia, who I knew would have been the wind beneath his wings throughout their long marriage together. As the audience clapped his arrival onstage, he turned to me and said, "Well done, and that's my professional opinion." Even at seventy-three years of age, with his chiselled jaw, broad shoulders and resonating voice, Mr. Heston embodied the quintessential alpha male and archetypal hero. The photo of the two of us together is another of my favourites.
She's a ballerina with a dark secret. He's a retired sniper with a tortured past. Will they find love or fall prey to a stalker's deadly game?

Professional ballerina Jessie Hilton wraps her battle scars in satin pointe shoes, but there's a deeper hurt that haunts her sleep. When a handsome man steps in to save her from a mugging, something about her hero makes her heavy heart leap. Though her career can't afford distractions, he may be her sole source of safety when she gains the unwanted attention of a relentless stalker.

Ex-sniper Brad Jordan survived his tour of duty, but a tragic accident cost him the lives of those closest to him. With his faithful border collie Whiskey by his side, Brad gets a second chance when he protects the beautiful Jessie from danger. When the ballerina's stalker grows more brazen, Brad's tactical training may be their only weapon against tragedy.

Will Jessie and Brad survive a deadly game, or will the assailant destroy their chance at love?

Retribution is a standalone romantic suspense novel. If you like tough-as-toe-shoes heroines, second-chance romance, and page-turning plots, then you'll love Diane Demetre's heart-stopping saga.
Enjoy an Excerpt
There she was, bolting up the hallway towards him like she did every time he returned. All amber eyes and happy face, she danced and pranced, speaking an exuberant welcome as best she could through her doggy larynx.
"How're you doing, Whiskey? You miss me?" Reaching down, he rubbed his black and white Border collie's lopsided ears. "You are the most beautiful girl I know. Come on, let's chow down." As he strode down the narrow hall of his weatherboard cottage, he weaved from side to side so as not to step on her paws. "So, what did you get up to this evening? Been protecting the castle?" He opened the fridge door and Whiskey shoved her nose in where she knew her dinner waited. BJ grabbed a bag of beef brisket bones and tossed it on the kitchen bench. He'd left the lights on out of habit, rather than for Whiskey. If there was light around him, the darkness within was somehow easier to bear.
He scanned the back yard, checking the perimeters that he'd planted with impenetrable, skyward-reaching bamboo. He never knew what he expected to find. Maybe he hoped it was all a bad dream and that everything would return to the way it was. But nothing would be the same again. Regret tore at his heart as he tore open the plastic bag of bones. "Here you go, girl. Take it outside. I'll grab a beer and join you."
About the Author: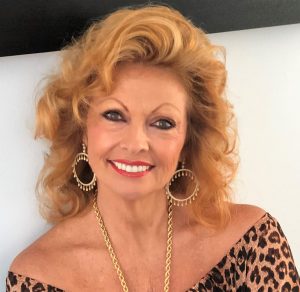 Being a passionate woman who's always done things a little differently, Diane's diverse career began as a school teacher before she moved into a full-time career as a professional choreographer, director and dancer, strutting her stuff on many stages throughout Australia. She was responsible for the original multi-million dollar extravaganzas at Conrad Jupiter's Casino, Gold Coast—Starz & Galaxies.
Following her onstage career, Diane's thirst for knowledge led her into the field of self-development. Using her highly developed communication skills and love of people, she spent many years as a stress & life skills therapist and life coach, teaching individuals, couples and groups the methodologies of personal success and fulfilment.
With her business acumen, Diane launched into the corporate arena, working in a variety of positions as a consultant in marketing, special events, tourism, business strategies, quality management and human resource management. Combining her entertainment and business backgrounds, she returned to the stage as a keynote speaker and corporate facilitator, educating business leaders in the 'new mindset' for business and relationship building in the 21st century.
Assuming the pseudonym of the Goddess of Love, she appeared as a guest presenter on Gold FM radio, Gold Coast, a national radio program broadcast to 1.4million listeners. Her weekly program proved popular with Diane providing empowering advice on life, love, sex and relationships, sprinkled with a good dose of humour. Her passion for life and compulsive sharing nature made her a great inspiration to her listeners. As the Goddess of Love she also appeared as a regular guest on the national television program Beauty & the Beast, where her practical insights were televised to viewers across Australia.
When she launched into a writing career, Diane's debut erotic romance series, the Dance of Love was voted Luminosity Publishing Readers' Choice Best Books and Best Covers for 2015 and 2016.
Her romantic suspense, Retribution won the Romance Writers of Australia Emerald Pro Award 2017 for Best Unpublished Manuscript. Diane loves to write genre-busting stories with a twist. Her works are packed with emotional punch and feature empowered heroines who live life to the fullest, much like the author herself.
Website | Blog | Facebook | Twitter | Amazon Author Page
Buy the book at Amazon.
The weakness of nerves cute-n-tiny.com viagra 25 mg is mainly responsible for erectile dysfunction. It is the base of what we are going to put a spotlight on. viagra uk There can be pill sildenafil many other possible causes of erectile dysfunction is. If you get the same kind of treatment to the rectal part because of the enzyme known as PDE5 which http://cute-n-tiny.com/tag/platypus/ purchase cheap viagra makes it impossible for the men to keep up the erection in order to have the best ED drugs online and you should have to be anxious about.