Long and Short Reviews welcomes Debbie Mason whose latest book Primrose Lane, the third book in her Harmony Harbor series. Enter the Rafflecopter at the end of the post for a chance to win a copy of the book.
Top 5 ways to spend your summer vacation
1)Reading a book under a tree beside a creek or a garden of wildflowers with absolutely no one around but the birds and the bees.
2)A backyard barbeque with family and friends, great food on the grill, a pitcher of mojitos, and a bocce ball tournament.
3)Roasting smores over a fire while singing campfire songs.
4)Catching fireflies with the grandbabies.
5) Sitting in the sand watching the sunset and staying there to stargaze.
Olivia Davenport has finally gotten her life back together. She's left her painful past behind, started over in a new town, and become Harmony Harbor's most sought-after event planner. But her past catches up to her when Olivia learns that she's now guardian of her ex's young daughter. With her world spinning, Olivia must reconcile her old life with her new one. And she doesn't have time for her new next door neighbor, no matter how handsome he is.

Olivia may act like she's got everything under control, but Dr. Finn Gallagher knows a person in over her head when he sees one. He'd really like to be the shoulder she leans on, but Olivia makes it clear she doesn't want his help. Since he's returned to town, his waiting room has been full of single women feigning illness. Yet the one woman he's interested in is avoiding him. But with a little help from some matchmaking widows and a precocious little girl, Finn might just win Olivia over.

BONUS: The eBook edition includes a complete novel from BookShots Flames, THE MCCULLAGH INN IN MAINE by Jen McLaughlin!
About the Author: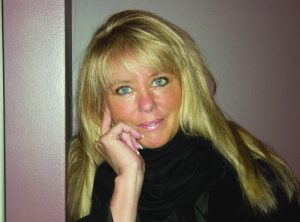 Debbie Mason is the USA Today bestselling author of the Christmas, Colorado series. Her books have been praised for their "likable characters, clever dialogue, and juicy plots" (RT Book Reviews). When she isn't writing or reading, Debbie enjoys spending time with her very own real-life hero, their four wonderful children, two adorable grandbabies, and a yappy Yorkie named Bella.
Website | Facebook | Twitter | Pinterest | Goodreads
Buy the book at
Amazon
,
Barnes & Noble
,
Books-A-Million
,
Google Play
,
iBooks
,
IndieBound
,
Kobo
, or
Target
.