This post is part of a virtual book tour organized by the publisher to celebrate tomorrow's release of
Too Scot to Handle
, the second book in Grace Burrowes'
Windham Bride
series. Enter the Rafflecopter to win a Windham Brides Prize Pack.
Top 5 Favorite Places to Visit
I honestly enjoy time spent in my little house, which sits on two rural acres complete with barn, stream, livestock for neighbors, and a mountain rising from the fields next door.
I love to visit the UK—any part, whenever I can. From country houses and museums to B&Bs, to rural wonders. It's all lovely, though the Scottish Highlands would my best of the best choice.
I'm a great fan of the trans-American road trip. All of my family is west of the Mississippi, while I live in Maryland. I've lost count of my cross-country road trips, and the route I choose depends on the time of year. If I had to pick, I'd say I-90, in addition to being the longest interstate in the US, is also the most interesting, though I-70 is a close second, particularly out west.
Libraries. Any kind of library, anywhere.
Museums. Same—any kind, anywhere. There's always something to learn, always something I'll be glad I experienced.
As a captain in the army, Colin MacHugh led men, fixed what was broken, and fought hard. Now that he's a titled gentleman, he's still fighting—this time to keep his bachelorhood safe from all the marriage-minded debutantes. Then he meets the intriguing Miss Anwen Windham, whose demure nature masks a bonfire waiting to roar to life. When she asks for his help to raise money for the local orphanage, he's happy to oblige.

Anwen is amazed at how quickly Lord Colin takes in hand a pack of rambunctious orphan boys. Amazed at how he actually listens to her ideas. Amazed at the thrill she gets from the rumble of his Scottish burr and the heat of his touch. But not everyone enjoys the success of an upstart. And Colin has enemies who will stop at nothing to ruin him and anybody he holds dear.
About the Author: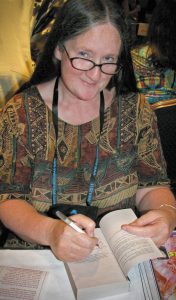 New York Times and USA Today bestselling author Grace Burrowes has written over thirty-five books in the romance genre and has garnered numerous awards and STARRED Reviews. Grace is a practicing family law attorney and lives in rural Maryland.
Website | Facebook | Twitter | Goodreads
Buy the book at Amazon, Barnes & Noble, Books-A-Million, Google Play, iBooks, IndieBound, or Kobo.