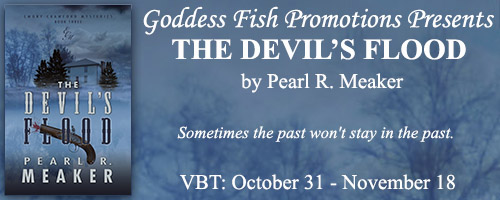 This post is part of a virtual book tour organized by
Goddess Fish Promotions
. Pearl R. Meaker will award a randomly drawn commenter a $25 Amazon/BN GC. Click on the tour banner to see the other stops on the tour.
Hi, I'm Pearl R. Meaker and these are my Top Five Memorable or Strange Experiences – in no particular order.
1 – A trail in Pennsylvania.
My parents had a camper when I was in my teens. On one vacation we were in a woods-surrounded campground in Pennsylvania. It had a hiking trail that was clearly marked with yellow arrows, so after helping setup I told my parents I was going to check out the trail. It was marked, but not as well as I'd expected. Soon the trail I was following faded and the grass and underbrush increased.
I was lost.
I was angry, scared and cried a bit, but slowly realized getting upset wasn't going to do me any good. I calmed down and remembered I had occasionally seen the road we'd come into the camp on down the hillside to my left. I also remembered there was a right-of-way with large power lines running down the hill and that the lines crossed the road. I walked through the brush keeping the road to my left, came to the right-of-way, walked down it to the road and took the road back into the camp.
I was proud of myself for being able to settle down, think my situation through and get back to my folks. I like to think part of my deductive process came from reading all the cozy mysteries I read growing up. 😉
2 – Hide and seek on horses.
Have you ever tried to hide a horse?
When I was in my teens I played hide and seek on horseback.
When not on trips our trailer was at a park on a lake and we would spend the summer there. My parents were teachers and had the summers off. One year, my mother decided since I spent so much of my time – and her money – at the nearby riding stable, she may as well buy one of the stable's horses for me. He was an Appaloosa named Salty Dog. He didn't have the big spots; he was greyish with little flecks of brown; what's known as a "flea-bitten grey."
Every summer all us teens who helped out at the stable would ride over to a huge pasture with a good mix of trees, bushes and tall grass after work and play hide and seek on our horses. It was great fun and I managed to never fall off while playing.
3 – A cabbie in Glasgow.
Many people in the world when they find out you live in Illinois say something about Chicago.
My daughter and I took a trip to England and Scotland in 2005 for the Tolkien Society's conference celebrating the 50th anniversary of The Lord of the Rings. We also spent a week in London and a week in Glasgow, Scotland.
When we said we were from Illinois, one of our cabbies in Glasgow said, "Oh yes! Big farming state is Illinois, lots of corn and soybeans. Do you live on a farm?"
It took us a moment to answer him. We were in shock – he hadn't mentioned Chicago.
4 – Fiddling and Writing.
I play bluegrass fiddle. Not like you hear on recordings and such, I'm nowhere near that good, but good enough to have fun jamming.
I also have three books published and for sale to the public.
I never thought I'd play fiddle or be an author. Every time I play my fiddle, every time I do something connected to my books, the amazement of it all washes over me again. As one of my grandsons said:
"Not everyone can say their Grandma has three books for sale on Amazon."
5 – The concert I wasn't at.
This is actually one of those strange sorts of experiences.
When I was in high school, a friend, PB, called me one Saturday and asked if I'd been at a certain concert the night before. I told her I hadn't. She refused to believe me at first because she had seen a girl there with my color, length and style of hair, same height and build, and whose face looked exactly like mine with the same glasses.
PB had even seen her fairly close up as this other girl had been at the same pizza place she and her friends had gone to after the concert. But PB said she didn't have a chance to walk over and say hi, so she called to let me know she hadn't meant to be rude.
The part that gave me the shivers was when she said she was sure it was me because the girl even had a spit-curl in the middle of her forehead just like mine.
Early in my freshman year I'd woke up with an untidy curl in the middle of my forehead. It wouldn't comb over to either side so I made it look neater and went to school. It was unique and most of my friends thought it was fun, so I kept it. But it certainly wasn't what was in style at the time. There wasn't another person in my school that had one, and my school had close to 2,100 students in it.
But I hadn't been to that concert.
Can a house vanish without a trace? What is the "super booze" that's available at clandestine drinking parties in Golden County? When mummified bodies show up at an archeological dig and a young man gets shot in a duel at a party, can Emory and Madison find the answers in the midst of a flood year?
Enjoy an Excerpt:
No one ever found out what happened to Melvin Sutton. Like the house that had been provided to the Sutton family by the man he sharecropped for, Melvin had disappeared. What remained wasa legend and a lake bearing his name … and a very angry young descendent.
"What was that?"
The cry brought me out of my reverie to see Ronnie McLaren leap to her feet.
A second later we all felt a tremor.
Jumping up, we all clumped together as if that would help against … whatever was happening.
"Look!" Nancy pointed toward the shoreline a few yards away from the pavilion. She then started clicking away at it with her Canon. The water's edge twitched.
I'd never seen water twitch like that. It did it again …
… And then it started to slide away from the shore. With an explosive roar and a huge plume of spray, the water ripped through the levee a hundred or more yards due south of where we stood.
Within moments the water's edge was ten feet lower and twenty feet further away.
About the Author: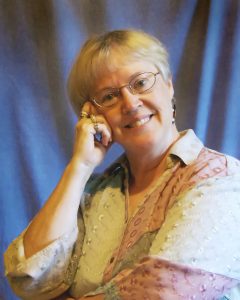 Slightly quirky, always creative, Pearl R. Meaker has been an artist, singer and craftsperson her whole life. Although she's always had stories in her head, they didn't come out to play with others until the advent of home computers with their ease of making corrections and moving bits around.
After several years of writing fanfiction in the world of Tolkien's Middle-Earth, she took a couple of writing courses and dove into writing original works of fiction, and The Emory Crawford Mysteries were born.
When not playing with story ideas you can find Pearl playing with yarn either knitting or crocheting, doing other arts and crafts, bird watching and photographing nature, playing bluegrass fiddle (her husband plays banjo) or relaxing with her hubby on the sofa watching mystery shows on Netflix.
Oh – and reading all sorts of books, but especially cozy and other types of mysteries!
The books in The Emory Crawford Mysteries Series are reminiscent of Agatha Christie's Miss Marple mysteries, which is why Pearl has chosen to characterize her stories as "murder genteel."
Website | Blog | Facebook | Twitter | Pinterest
Buy the book at Amazon, Barnes and Noble, or Indigo.