Long and Short Reviews welcomes Roe Horvat who is celebrating the recent release of The Layover.
Top 5 Favorite Vacation Destinations
#1 My Backyard, Gothenburg, Sweden
Seriously. When the house is empty and the weather reasonable, I'm stretched out on the recliner under the blue sky, reading, drinking coffee, eating chocolate, listening to the neighbor's kids screeching, and thinking: mhmm, somebody else's problem.
#2 Sarek National Park, North of Sweden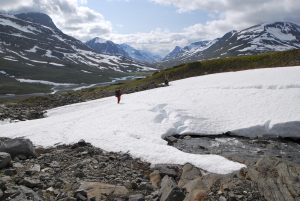 …is the most beautiful place I've ever seen in my life (see pic). It took us eight days to hike through the Park. You'd need to carry the food on your back, of course, but the water from the glaciers is drinkable without chemicals. Be careful while wading through the streams; it's easy to underestimate the force and temperature of the water. You won't know you broke your toe until you're on the other side trying to put your boots back on.
#3 Brno, Czech Republic
My home town. I'm rarely there since I moved away from Central Europe ten years ago. There's beer, baked pork and sauerkraut, delicious white wine, medieval castles, gothic churches, cobblestoned streets, and, most importantly, friends and family.
#4 My Office
I'm not a workaholic. Erm…hopefully not. Besides writing, I freelance as a graphic designer, so working during vacation time is a common occurrence. My cave is my safe space. We have a pub next door that serves some of the best burgers in Gothenburg, and there's a bakery around the corner. If only the main entrance to the gym were somewhere else—it's like working by the gate to Mordor.
#5 Provence
Seen the movies? A Good Year? French Kiss? It looks exactly like that, I swear, no filter. Stay in Aix-en-Provence, visit The Gorges Du Verdon (take three times more drinking water than what you think you'd need), Marseille (preferably when the fog creeps up from the harbor), and Calanques National Park. Use copious amounts of olive oil on your salads, drink wine with every meal, and ignore the rudeness of the staff because life's good.
Eight years ago, Ondro Smrek fled Slovakia and the bigotry that drove his first lover to take his own life. The demons proved impossible to outrun, though, and now, desperate for somewhere to belong, Ondro is returning to start over. During a layover in Basel, Switzerland, he meets Jamie, an American living in Scotland who is as brilliant as he is beautiful.

Jaded Ondro never would have guessed he could fall in love during a brief layover—until now. When he is put in a position to offer Jamie comfort without hope of recompense, Ondro doesn't hesitate. Soon, he catches a glimpse of the home he longs for. But with their separation looming, confessing his feelings would only lead to pain and humiliation. Life has taught Ondro not to hope, but then, he never believed in love at first sight either.
About the Author: Queer author, storyteller & graphic designer
Roe was born in former Czechoslovakia and endured a miserable adolescence in the post-communist wasteland. Equipped with a dark sense of sarcasm, they left for Germany and later, Spain.
Finally, they settled in Sweden, where the weather is nasty but the freedom great. Roe works as a motion graphics artist, loves Jane Austen, Douglas Adams and everything in between, preferably by the fireplace with a strawberry daiquiri in hand.
Roe writes contemporary romantic fiction – it conveniently balances out their real-life pragmatism.
When not hiding in the studio doing graphics, Roe can be found trolling cafés in Gothenburg, writing, and people-watching.
Facebook | Website
Buy the book at Amazon, Dreamspinner Press, or Kobo.