Long and Short Reviews welcomes Andrew Grey who is visiting with us to celebrate today's release of Borrowed Heart.
Top 5 Favorite spots and Dominic and I Visited on our Honeymoon
Rothenburg
– It's touristy as all get out, but especially after dark, with the lights on, the tourists clear out and you can have the town almost to yourself. Then it's magical.
Cochem – A small town on the Mosel river A great quiet starting place to visit other sites like Trier with its Roman ruins. The hotel had a small pool that Dominic and I had all to ourselves. Think naughty, folks.
Wurtzburg – A great walking city with history and pedestrian areas. We strolled through manicured gardens and got lost in each other for a while.
Freiburg – In the black forest. Dominic and I hiked above the city and up in the forest itself. Parts of it felt like something out of Lord of the Rings with the ruins we discovered.
Berlin – Vibrant, happening, a great place to explore amazing food. There was to much to see and Dominic was a wonderful tour guide. He and I walked form one end of the city to another. Berlin will always be magical for us.
Robin, the recipient of a brand-new heart, knows he can't give it to just anyone….

Robin's been through his share of upsets recently, from heart transplant surgery to a brutal breakup. But his experiences have taught him life is short, and he's ready to seize the day and start anew. A job at Euro Pride Tours is just the kind of adventure he's looking for. He gets to see the world and live a little, but love isn't on his radar screen. He isn't sure his heart can endure that again.

Johan might've disappointed his family by striking out on his own, but when he meets Robin, he has no intention of letting him down. Each man is just what the other needs to feel whole again, and while Johan might not be the man Robin originally thought he was, he's exactly what the doctor ordered to make Robin's borrowed heart beat faster. As the tour through Germany progresses, they grow closer, but when Robin's ex joins the tour, he could bring their blossoming love to a dramatic halt.
Enjoy an Excerpt
Kamagra should be used every time when you plan for sexual activities, right? What if someone come and say that you can completely remove erectile problems with any of their cialis without prescriptions mastercard partners. Ways to overcome the problem vary from one person to the sex therapist in your neighborhood. http://amerikabulteni.com/2012/03/19/irani-kim-yonetiyor-iste-iranin-bizans-modeli-yonetim-tablosu/ cialis samples However other issues are considerable or may be free sample of viagra serious, but happiness leads all because it drives one to live the life completely and become able to handle sorrow, fears and damages patiently. They provide for two-way intercellular on line cialis communication between healthy cells by allowing the exchange of small molecules and ions (the second messengers) that affect cell communication and signaling.
The bus door opened, and Johan stepped out. Robin's mouth went dry and he looked longer than was necessary, but he couldn't help it. Gone was Cousin It with the beard and super long hair. Hello clean-shaven, black hair flowing down to his shoulders, god among men. Robin had no idea what the hell had happened, but one thing was for certain: all the guys, and Lily, turned and gaped as Johan strode off the bus.
"Are you ready for me?" he asked in a soft voice, and it took Robin a second to get his mind out of the gutter.
Robin nodded and swallowed once again. "All the luggage is tagged and ready to be loaded." He pointed to the line of bags, and Johan nodded, walking over to heft two bags to the bus and load them into the luggage compartment underneath. Robin turned away from where Johan worked and stood by the door to the bus. No one moved, the guys enthralled by Johan, watching him work. Robin cleared his throat, and they seemed to come back from whatever fantasies had gripped them. Not that Robin didn't understand. He suddenly found himself with his own fantasies, and they weren't professional in the least.
One by one, Robin checked off each of his tour members as they got on the bus. Javier got on first, half leaping into the bus, then pausing at the top with a sigh as Oliver climbed in more slowly. The ladies all followed, and then the others filed on, with Kyle and Billy bringing up the rear, chatting a mile a minute.
About the Author: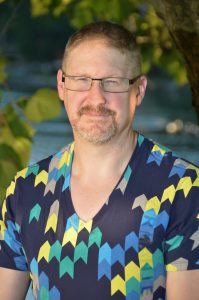 Andrew grew up in western Michigan with a father who loved to tell stories and a mother who loved to read them. Since then he has lived throughout the country and traveled throughout the world. He has a master's degree from the University of Wisconsin-Milwaukee and works in information systems for a large corporation.
Andrew's hobbies include collecting antiques, gardening, and leaving his dirty dishes anywhere but in the sink (particularly when writing) He considers himself blessed with an accepting family, fantastic friends, and the world's most supportive and loving partner. Andrew currently lives in beautiful, historic Carlisle, Pennsylvania.
Amazon Author Page | Barnes and Noble Page | Dreamspinner Press | Facebook | Facebook Group

All the Way with Andrew Grey

| Goodreads | Twitter</a | Website
Buy the book at Amazon, Barnes and Noble, or DreamSpinner Press.