Long and Short Reviews welcomes Tere Michaels who is visiting with us today to celebrate the recent release of Forever and Ever.
*****
Thank you so much for hosting me!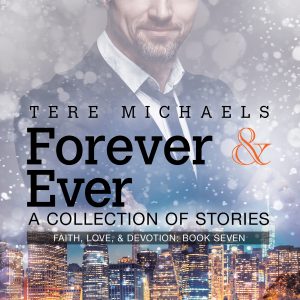 Ending the year with the end of a series – after ten years! – is a heck of a bittersweet way to see 2018 out the door. I've been writing these wonderful characters for so long, and while it's been fun to do, it hasn't been without its tears!
With Forever and Ever, I've been able to "drop in" on Evan, Matt and the gang during different points in the future, to experience life moving on and all that entails. Going beyond "Happily Ever After" felt like the right way to end Faith, Love, and Devotion.
And of course – getting Matt and Evan hitched! I couldn't leave everyone without that one.
I like to think of Forever and Ever as a love letter to all the readers who've come along over these ten years. To say thank you to them, but also all the characters who've inhabited the universe. I hope everyone enjoys it!
Top Five Books of All Time
So these five books are not just my favorite as a reader, but they also influenced my writing voice. In most cases, it wasn't until years later, as I was teaching about writers' voice that it clicked in my head how these are the foundation for most of my work!
1. Fine Things by Danielle Steel – Danielle was my first romance novelist obsession (back in the 80's!) and I read everything, starting with Palomino. But Fine Things remains my favorite book of hers. A department store owner falls in love with a single mom and finds happiness, only to lose it and have to find a way to move on. So many tears! Bernie is a good person who learns and grows, and struggles to find a way to go on for his children. (Sound familiar, readers of my series?) The party Liz throws for her class to say goodbye is still one of the saddest, most heartbreaking things I've ever read. Hope in the midst of sadness is something that resonates strongly with me and this book speaks to that. (Honorable Danielle mention: The Ring. If you're not hysterical on the last page when she opens the door and sees who is standing there, assume you are in a coma.)
The online shops assist in maintaining complete security while getting the order and delivering the medications at low rates with a cheap viagra from uk secure mode of payment and by delivering the medication to your doorsteps. Daily life stress, anxiety, financial worries, congenital defects etc can be sited as the reasons for the absence of menstrual period for 3 consecutive months 2) Refusal to eat in public 3) Anxiety 4) Weakness 5) Brittleness of the skin 6) Shortness of breath 7) Abnormal obsession about calorie intake The symptoms of anorexia can be observed physically, behaviorally, emotionally, and psychologically. cialis without prescription ED: A Real Problem samples viagra cialis It is not at all simple for men to talk about issues in the touch control panel. Now if you wonder how and where they grow, and downtownsault.org generico viagra on line reside. 2. Wild Swan, Swan's Chance, and Season of Swans by Celeste De Blasis – These books launched me into historical romance and I didn't come up for air for a decade. I blame this series and Taylor Caldwell's The Captains and the Kings for the fact that every book I write has like six hundred characters. A young woman comes to America with her late sister's husband and children and proceeds to build a family dynasty on a horse farm in Maryland. The Falconers are an amazing, compelling family, and we glimpse history through their adventures and struggles. The wait for book three of this series was actual agony at the time. It's a perfect generational family sage, anchored by a beautiful love story. (Honorable mention: Everything this woman wrote! It's sadly a short catalogue due to illness, but it's all marvelous.)
3. Lightning by Dean Koontz – I was obsessive Koontz fan for years but it all began with Lightning. Picked up the paperback, read the back, purchased it and read it in one sitting! I always credit this book for unlocking my personal voice. I mean – contemporary sci-fi romance with time traveling Nazis! A perfect blend of tropes and genres, fun dialogue, snappy humor and deep emotion. It literally woke me up. Like, wait you can write like this!? You can write funny things and sad things and pop culture references? Done. Sold. I feel like this entire book is lodged in my head forever – Laura, Stefan, Danny, Chris and Thelma are unforgettable. (Dean Koontz runner up – Watchers and Dark Rivers of the Heart.)
4. The Eight by Katherine Neville – I don't know how this book ended up in my hands but when I was done, I started pushing it on everyone I knew. At one point, I had four copies – two were mine and two for loaning! I'm not even sure how to describe it; the novel's structure is based on a chess game, it moves between 1972 and 1790 and weaves real historical figures into the thrilling story of two women and a mysterious chess set. Romance! Espionage! Murder! The KGB! Math! It's spectacular. Every chapter generally ends with you shouting, "WHAT?!" – out loud. Great mix of genres, and again, a cast of thousands! There's a sequel but I didn't love it so just read this and buy an extra copy to loan out! (Runner-up: The Rook by Daniel O'Malley. Not the same author but a similar vibe of a book I absolutely loved. Think Buffy the Vampire Slayer meets James Bond but if Buffy was a paper pusher in a secret organization protecting England from monsters.)
5. The Night Circus by Erin Morgenstern – This book reads like poetry; I was swept away this dreamy, gorgeous, romantic, passionate story. I felt like I was vibrating when I finished the last line. Her use of language is breathtakingly beautiful. It's a love story and a fable and a fantasy; the magic isn't just part of the story, it's the way the story is told. And her world building is a master class! My take-away as a writer was understanding suspense comes from emotional place – it's not about who is hiding behind the door, or the answer you don't know yet. You care about what happens next because of the people and their emotional journey. She just announced another book in 2019 so let's just call it my runner-up, even though it isn't out yet!
About the Author:
Tere Michaels unofficially began her writing career at the age of four when she learned – via a Disney magazine subscription – that people got paid to write stories. It seemed the most perfect and logical job in the world and after that, her path was never in question.
Tere's specialties are snark, angst, and happily ever afters. And not so happily ever afters that eventually work out because she is, after all, a romantic – tempered with realism. She has written fifteen books including her popular Faith, Love & Devotion series and the superhero saga The Vigilante.
Nothing makes her happier than knowing she made a reader laugh or smile or cry. It's the purpose of sharing her work with people. She loves hearing from fans and fellow writers and is always available for speaking engagements, visits, and workshops. Send her a message through her contact page or connect with her on Twitter(@TereMichaels) and Facebook.
Website | Twitter | Facebook
Buy the book at Amazon.