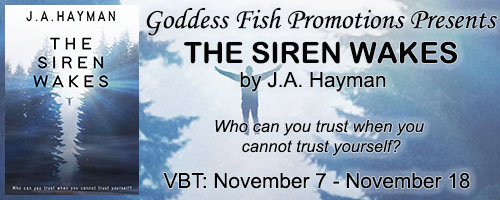 This post is part of a virtual book tour organized by
Goddess Fish Promotions
. J.A.Hayman will be awarding a $50 Amazon or Barnes and Noble GC to a randomly drawn winner via rafflecopter during the tour. Click on the tour banner to see the other stops on the tour.
Top Five Books of all Time!
Here are my Top Five Books of all Time! I wanted to share with you my favorite books to give you a real sense of what inspired me to become a writer… and also so you can read some of these awesome books on my list for yourselves! They are all must reads and have impacted me as a writer (and a reader) in various ways!
5. Ancillary Justice/ Ancillary Sword/ Ancillary Mercy. (Imperial Radch trilogy)
For number five on the list I am going to kind of cheat and put a trilogy of books; Ancillary Justice/ Ancillary Sword/ Ancillary Mercy.
Ann Leckie's Imperial Radch series follows the journey of Breq: Once, she was the Justice of Toren- a colossal starship with an artificial intelligence linking thousands of soldiers in the service of the Radch, the empire that conquered the galaxy. Now, an act of treachery has ripped it all away, leaving her with one fragile human body, unanswered questions, and a burning desire for vengeance.
Ann Leckie is delightful in her creation of this very believable universe, it is a series filled with political intrigue, action and suspense. It surprised me with its story and kept me guessing! Definitely worth the read.
4. The Machine by James Smythe
For number four on the list I have chosen The Machine by James Smythe, I was torn whether to include this book on the list or not… the ending of the novel left me with an unsatisfied feeling but overall I think it is a well thought out novel and has a clever use of perspective.
Beth lives alone on a desolate housing estate near the sea. She came here to rebuild her life following her husband's return from the war. His memories haunted him but a machine promised salvation. It could record memories, preserving a life that existed before the nightmares. Now the machines are gone. The government declared them too controversial, the side-effects too harmful. But within Beth's flat is an ever-whirring black box. She knows that memories can be put back, that she can rebuild her husband piece by piece.
This is an incredible novel by James Smythe, his narrative keeps you guessing and the revelations at the end of the novel are a big surprise you wouldn't see coming. His vision of the future is both captivating and scary. He does a great job of capturing memories and his disturbing view of what could happen to the world gave me chills!
3. The Devotion of Suspect X by Keigo Higashino
I couldn't write a "best books of all time" list without Keigo Higashino on it! The Japanese Crime Author smashed it out of the park with this thrill ride of a novel.
Yasuko Hanaoka is a divorced, single mother who thought she had finally escaped her abusive ex-husband Togashi. When he shows up one day to extort money from her, threatening both her and her teenaged daughter Misato, the situation quickly escalates into violence and Togashi ends up dead on her apartment floor. Overhearing the commotion, Yasuko's next door neighbor, middle-aged high school mathematics teacher Ishigami, offers his help, disposing not only of the body but plotting the cover-up step-by-step.
I loved this novel as unlike many other crime novels, it starts from the perspective of the perpetrators of the crime… then leaves you mystified as to why the detectives cannot figure out who committed the crime. The twist at the end is a shocker, it is a very clever piece of writing which needs to be experienced.
2. Nod by Adrian Barnes
Nod definitely deserves the number two spot on my list, it is a refreshing breath of fresh air in the Science Fiction genre and I was heartbroken to find the note at the end of the novel telling you that the writer has cancer, his letter at the end of the novel is almost better than the novel itself.
Dawn breaks and no one in the world has slept the night before. Or almost no one. A few people, perhaps one in ten thousand, can still sleep, and they've all shared the same mysterious dream. A handful of silent children can still sleep as well, but what they're dreaming remains a mystery. Global panic ensues. A medical fact: after six days of absolute sleep deprivation, psychosis sets in. After four weeks, the body dies. In the interim, a bizarre new world arises and swallows the old one whole. A world called Nod.
Nod is an eerie view of the human psyche and how something we take for granted: Sleep, is what holds us all together. It is a very interesting concept and kept me eagerly turning the pages to find out what happened next. It is a very bitter sweet novel in multiple aspects, Adrian Barnes is a literary great who will be sorely missed.
1.Fahrenheit 451 by Ray Bradbury
My number one pick for the "Best Book of all Time" is Fahrenheit 451 by Ray Bradbury. Ray delivers a haunting view of the future which is chillingly close to our own future.
Guy Montag is a fireman. His job is to burn books, which are forbidden, being the source of all discord and unhappiness. Even so, Montag is unhappy; there is discord in his marriage. Are books hidden in his house? The Mechanical Hound of the Fire Department, armed with a lethal hypodermic, escorted by helicopters, is ready to track down those dissidents who defy society to preserve and read books.
Fahrenheit 451 is an important book in showing the dangers of censorship and freedom of information. In his dark world the populace are ignorant and unseeing of the real issues of the world "The War" that goes on in the background and they are only concerned with their social circles and screens they stare into. Sound familiar? As we become more and more dependent on social media and our devices we are drawn closer to Ray's haunting view of the future. Fahrenheit 451 should definitely be on your must read list. Go read it now!
Alex Nicholls wakes in a field with no recollection of how he got there. With his identity pulled into question he is forced on the run from the corrupt government who believes he is sick. He is led on a journey to discover the truth behind his identity and the truth behind the sickness which haunts him.
Enjoy an Excerpt:
"Adversity makes men, prosperity makes monsters." —Victor
Hugo
A deep crimson washed across the steel. The shattered glass glinted in the light. So much blood. I just remember the incredible amount of blood. My eyes were wide in horror, but I couldn't drag myself away. I stood transfixed, the screech of the wheels ingrained in my mind and his bugged-out eyes as he reached for me. It wasn't my fault; how was I to know what would happen? Anyone else could have tried to help. I thought it over again and again, but if it wasn't my fault, why couldn't I shake the heavy guilt weighing down my shoulders?
Five minutes earlier
The station was bustling with people. Not a surprise. I shuffled through the crowd to my platform and waited with as much patience as I could muster; I could feel my morning coffee giving a much-needed boost to my system. I knew it was a bad habit, but I didn't want to fix it. I looked at my watch, a gift from my father. The train was never on time so I always headed out to work early. So in spite of any delays I could still arrive on time. The chatter of the station did nothing to help my dawning headache; I clutched at my head and saw a businessman looking at me without sympathy. Jerk. No one actually wanted to be here, but it wasn't by choice, more by necessity.
About the Author: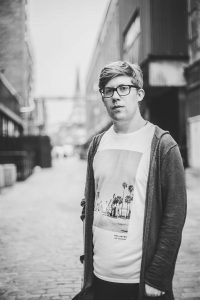 Native to the UK, I was born in the Garden of England in the early 90s.
I was creative from a young age, always wrapped up in my own world and fantasies. I was a big reader from a young age, reading Les Miserables and Lord of the Rings while I was still in primary school.
I was fortunate enough to be able to travel a lot in my youth, from Hong Kong to Houston I experienced the world and gained a greater perspective of the world outside my small woodland village I grew up in.
In secondary school I was told I was too cynical to be a writer and was put off writing for many years. Instead I pursued a degree in Physical Geography, gaining my Masters degree in late 2015. University gave me time to really discover myself as a person. Allowing me to pursue my passions and dreams to their fullest. I want to share my stories and ideas with the world. As a child I hungrily devoured fiction and now I will help feed the minds of others.
Website | Twitter | Facebook
Buy the book at Amazon, Barnes and Noble, or Smashwords.