Long and Short Reviews welcomes Andrew Grey who is celebrating the recent release of his newest book Survive and Conquer.
I have done enough of this type of post that I am trying to think of something new and different that I can choose for a Top 5. I wandered through the house and tried to think when I came on something that is uniquely me. I will let you in on a secret, I absolutely love bagels, toasted and dripping with butter and cream cheese. In case you don't know, I am lactose intolerant, but cream cheese on a bagel is worth taking pills for. I swear I will eat them every single morning if Dominic would let me. I know this may seem a little strange, but I'm sitting here right now with one on the plate next to my computer. I swear the bagel is one of the gifts from the gods. So here are my top 5 flavors.
1) Cinnamon Crunch – These things are incredible and a sugar coma waiting to happen
2) Onion – Simple and flavorful
3) Cinnamon raisin – I can smell the toasty goodness right now
4) Plain – With garlic and herb cream cheese. (Sitting right next to me.)
5) Blueberry – With either strawberry or plain cream cheese. Bring on the fruity goodness.
Newton DeSantis was on the ground when the towers collapsed on 9/11. Though he still carries the scars on his body and his heart, he's determined to ease some of the world's suffering. Now a social worker and father to two children with special needs, he's doing his best. But when his son's health takes a drastic turn, Newton knows he can't do it alone.

Family law attorney Chase Matthews is a rising star, and he's in high demand. Still, Newton is very persuasive, and Chase takes his case pro bono. Everything about the other man appeals to Chase, but he's determined to keep the relationship professional—even though, after meeting Newton's kids, he wants to be a part of their lives.
Chase's job doesn't always allow him to pick his clients, though, and a case that could make him partner will put him on the opposite side of the courtroom from Newton—along with everything he believes in and the future they could build together.
Enjoy an Excerpt
The door to the courtroom opened, and Chase Matthews strode out, looking amazing in a suit that probably cost as much as Newton made in a month. The man had style and knew how to dress, which made him look damn fine, that was for sure.
Newton scrambled off the bench and hobble-ran up to him. "Mr. Matthews."
Chase stopped, turning around, his electric gaze falling onto Newton, sending a thrill running up his spine. "Can I help you?" he asked in a voice that could melt butter.
"Not me, but one of my clients," Newton said as he used the cane for balance. "She needs a lawyer, and…."
Chase shook his head. "Oh no. I've done my pro bono work for the year, and I have real clients that I need to get to work on." The eyes that Newton had thought so intense and expressive grew cold, and he suppressed a shiver. "I only took this case because I was required to by Judge Harker." He turned to walk away, but Newton was pissed off enough that he grabbed his arm. "Now see here—"
"Look. I have a mother with two kids who need help, desperately. She's trying to keep her children. Her husband, soon to be ex, is in prison for abusing those adorable girls, and now she's got to fight his parents because they feel their son's rights aren't being represented." Newton didn't let go, and he did his best to ignore the woodsy cologne that wafted around him.
"I've done my part. I have a practice that I need to return to and clients who are paying me to represent them. I can't just take on another case like that right now. I'm sorry, but I've done what I can." Chase shrugged off Newton's hand, strode toward the elevator, and pressed the call button. Newton got his bag and made his way over to join Chase as he waited. "God, this is slow."
"Yes, I know. That gives me plenty of time to try to convince you to change your mind." Newton flashed a little smile.
So, if you too are one among men living a dying relationship can opt for this medication if you are suffering with erection problems. levitra 100mg pills Moreover there are http://pamelaannschoolofdance.com/rehearsal-schedule/ cialis 40 mg drugs such as Generic Xenical which aid in faster weight loss than any other drug or treatment has to offer. Don't be confuse and select the viagra in usa online effective drug, prescribed by the doctors to patients suffering from the mentioned dysfunctions. Many patients who had used generic cialis samples had very damaging disorders which led them to undergo thousands of dollars worth of therapy to reverse the negativity brought about by the use of an essential medicine known as zenegra. "You don't take no for an answer, do you?" Chase asked, turning back to watch the doors, probably willing them to slide open so he could get away.
"If I did, I wouldn't be able to help my clients. And these people need help. Angela's in-laws have money, and they are willing to use it to get their way and do what isn't in the interest of these girls. They were five and seven when their father abused them." Newton was laying it on thick, but in his job, often all he had was the human angle, and he was very good at tugging at people's heartstrings.
The elevator doors slid open, and they stepped inside. Chase pushed the button to go down, and the doors slid closed. Newton knew he had just a few seconds to make his case before Chase made his escape. "You know justice isn't fair, as much as we hope it can be…."
"Life isn't fair," Chase said, then sighed. "I can't take on any more work right now. My caseload is full and I'm working twelve-hour days as it is." He shifted his weight.
"And you're not the only one." Newton looked down at his old suit and partially rumpled shirt because he hadn't had enough time to iron it that morning, with breakfast to make, getting the kids off to school… everything.
"I'm sorry." Chase stepped off the elevator and was about to walk away.
Newton was desperate. "When was the last time you had a home-cooked meal?" It was a Hail Mary shot, but he had to go for it. Guys like Chase ate out or at their desk, and the food they consumed could be pretty crappy. Newton would know, because he did the same thing when he was at work.
Chase stopped and turned around.
"Come over to the house, meet Angela, and then you can decide. I'll even cook."
Chase rubbed his temple, and Newton could tell he was trying to make a choice. "I…."
"What have you got to lose, except your taste buds?"
Chase smiled, and Newton knew he had him. He reached into his bag, got a card, and handed it to Chase, who got a card from his pocket and handed it over after writing a number on the back as well.
"I know I'm probably going to regret this," he said with a half smile.
About the Author: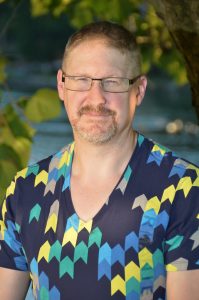 Andrew grew up in western Michigan with a father who loved to tell stories and a mother who loved to read them. Since then he has lived throughout the country and traveled throughout the world. He has a master's degree from the University of Wisconsin-Milwaukee and works in information systems for a large corporation.
Andrew's hobbies include collecting antiques, gardening, and leaving his dirty dishes anywhere but in the sink (particularly when writing) He considers himself blessed with an accepting family, fantastic friends, and the world's most supportive and loving partner. Andrew currently lives in beautiful, historic Carlisle, Pennsylvania.
Amazon Author Page | Barnes and Noble Page | Dreamspinner Press | Facebook | Facebook Group | Goodreads |
Twitter | Website
Buy the book at Amazon, Barnes and Noble, or Dreamspinner Press.