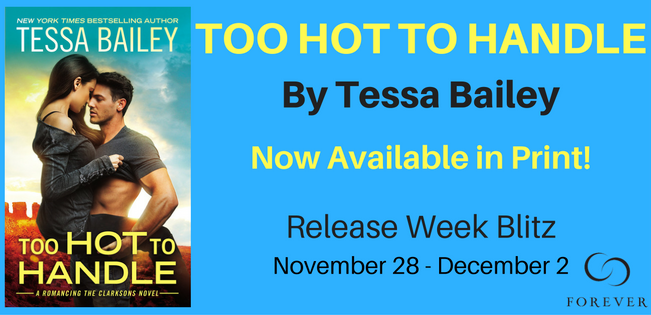 This post is part of a virtual book tour organized by the publisher to celebrate the release the first book in Tessa Bailey's
Romancing the Clarksons
series now available in print for the first time! Enter the Rafflecopter for a chance to win a copy of the book.
What did you want to be when you grew up?
A journalist. I actually have a degree in journalism, but I got older and realized the news is depressing, slanted and awful, so I decided to write happy books instead. With kissing!
How do you do research for your books?
Oh boy. The search history on my computer is wacky. It's mostly Internet research with some real life experiences to draw from. Occasionally, I will find an expert to speak with, though, and first hand experiences always give the best information.
What is your most embarrassing moment?
There are literally a million. But the first one that popped into my head was being broken up with in high school on my answering machine—and having my dad play it by accident in front of my friends.
What is your favorite food? Least favorite? Why?
My favorite food will always be Mexican food. Give me tacos, enchiladas, carne asada and salsa or give me death. I grew up in Southern California and being so close to Mexico meant the best cuisine. I miss it out here in New York. It's the one type of food we don't seem to do right. As for my least favorite, I don't understand cottage cheese. It's lumpy and sour.
What is your strangest habit?
When I get stuck while writing, like a particular scene isn't working, I'll go into the bathroom and pluck my eyebrows. It helps me think!
Previously released as an eBook in May 2016, the first book in Tessa Bailey's Romancing the Clarksons series is now available in print for the first time!

When rescue looks like a whole lot of trouble . . .

The road trip was definitely a bad idea. Having already flambéed her culinary career beyond recognition, Rita Clarkson is now stranded in God-Knows-Where, New Mexico, with a busted-ass car and her three temperamental siblings, who she hasn't seen in years. When rescue shows up—six-feet-plus of hot, charming sex on a motorcycle—Rita's pretty certain she's gone from the frying pan right into the fire . . .

Jasper Ellis has a bad boy reputation in this town, and he loathes it. The moment he sees Rita, though, Jasper knows he's about to be sorely tempted. There's something real between them. Something raw. And Jasper has only a few days to show Rita that he isn't just for tonight—he's forever.
About the Author: Tessa Bailey is originally from Carlsbad, California. The day after high school graduation, she packed her yearbook, ripped jeans, and laptop, and drove cross-country to New York City in under four days. Her most valuable life experiences were learned thereafter while waitressing at K-Dees, a Manhattan pub owned by her uncle. Inside those four walls, she met her husband, best friend, and discovered the magic of classic rock, managing to put herself through Kingsborough Community College and the English program at Pace University at the same time. Several stunted attempts to enter the work force as a journalist followed, but romance writing continued to demand her attention.
She now lives in Long Island, New York with her husband and daughter. Although she is severely sleep-deprived, she is incredibly happy to be living her dream of writing about people falling in love.
Website | Facebook | Twitter | Instagram | Goodreads
Buy the book at Amazon, Barnes & Noble, Books-A-Million, Google Play, iBooks, Indiebound,  or Kobo