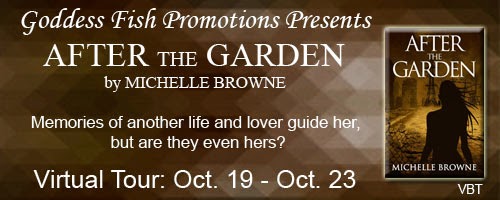 This post is part of a virtual book tour organized by
Goddess Fish Promotions
. Michelle Browne will be awarding an autographed paperback copy of
After the Garden
to a randomly drawn winner via rafflecopter during the tour. Click on the tour banner to see the other stops on the tour.
Hello hello!
A lot of people want to write a book, and dystopian or post-apocalyptic books are very popular right now. First of all, though, they're not the same thing; second, these subgenres require quite a bit more research than people think. But where do you even start?
Don't show all your work Writing is not like a math problem. It's not necessary to detail every word of the research you've done for your readers. Sure, it helps to write it up for yourself, and maybe even vent that hunger to make exposition with some blog posts. But don't interrupt action for, say, a big old block of explanatory text. It's annoying and rarely as important as it seems. Cut that stuff in editing!
Keep notes so you don't lose track of plot details or worldbuilding rules Continuity is important, and if your book is fast-paced or has a large plot, it's easy to lose track of something. In my case, there are a couple of parallel plots and a VERY large cast of characters. Without notes and a spreadsheet, I would have died.
Know your strengths and weaknesses If you're awesome at character development and bad at worldbuilding, study up on things like currencies, politics, and demographics to figure out how the world would shape your characters. In a way, you can work backwards from the characters to build the world. If you struggle with good, three-dimensional characters with layers, talk to people and watch shows and read books that depict complex characters. Figure out how the environment the characters live in, and their life circumstances, would shape them.
People in a post-apocalyptic book or dystopian book may be living in a different society It's important to remember that young adults and adults will have grown up with a different reality. Pop culture references won't disappear, but will reference the culture of the world instead. And make no mistake; in many cases, that culture will develop, no matter what. The pressures and strains will be different, too.
It's okay to write multiple drafts The biggest thing I've learned over my writing career is that it's okay to not get everything perfect in the first go-round. A lot of authors strive for perfection in the first draft, especially new authors, and that's not quite fair to said authors themselves. The key is to keep trying and keep working, and not beat oneself up if a character gets stubborn and the plot goes nuclear. After all, there's always time to rewrite things.Thanks for dropping by the nest once again. Leave your comments, rebuttals, and vehement agreements below. Don't miss any of the phuquerie–get on the mailing list. Find Michelle on Twitter, Facebook, and on Tumblr, and find her work on Amazon. Check back on the blog to see when one of the irregular posts has careened onto your feed. This is the one and only SciFiMagpie, over and out!
Memories of another life and lover guide her, but are they even hers? She is a Bearer—keeper of past lifetimes and gifted with strange talents. Ember must find her answers away from safe Longquan Village, snared instead in the sensuality and dangers of The City. Hidden among spider farmers and slaves, prostitutes and weavers, a nest of people like her are waiting.

A powerful man outside The City raises his forces, determined to hunt down the 'demons' who could taint his followers. Threatened from without and within, can the Bearers even trust each other?

Powers will rise and alliances will be forged in a dark new world. The Memory Bearers are coming.

This book includes violent and mature content. Reader discretion is advised.
Enjoy an excerpt:
She was looking in a mirror, marvelling at her powdered face. You can't even tell, she thought admiringly. She picked up a bottle of perfume and sprayed some on her wrist. She dropped it, and there was a heavy sound, a clunking noise, as the bottle connected with the tile. Not plastic, but thick glass.
Hearing the crash, he appeared from behind the bathroom door. "Are you all right, honey?" he said, resting a hand on her shoulder.
"Oh yes, I'm fine," she said, nuzzling him.
"You look exquisite. I can't believe you spend most of your time in a lab coat when you look like this."
"Believe it," she said. He twisted her around suddenly and kissed her.
"How much time do we have before dinner?" he asked.
"Enough." She took him by the hand. "Come with me."
The memory slid away to another part of her mind. She considered telling—no, wait, who could she tell? Their names eluded her. She winced, frustrated. She'd already forgotten her family's names. That was part of the deal, she told herself; she'd known what she was in for. Paranoid, she wondered if she would forget her own name next. It wouldn't be that bad, though; and after all, she knew she would remember someday. When the time was right, the lock would open again, and she'd have the things she was giving up back. And though they were frustrating and mildly debilitating, she still had the fragments. That annoyed her, but it was a comfort.
Philosophy was the path of madness, she decided, shoving the bottle in her satchel. In the meantime, she had other things to do—she had to see if there was anything of value left in this house and get out of here as quickly as possible. Something unpleasant had happened here after The Time Before had come to an end, a small disaster after the fact, and she was eager to leave.
About the Author: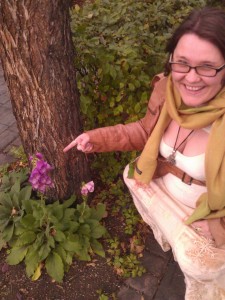 Michelle Browne is a sci fi/fantasy writer from Calgary, AB. She has a cat and a partner-in-crime. Her days revolve around freelance editing, jewelry, phuquerie, and nightmares. She is currently working on the next books in her series, other people's manuscripts, and drinking as much tea as humanly possible. 

She is all over the internet, far too often for anyone's sanity, and can be found in various places.
Other books by Michelle Browne:
(Book 1 of The Nightmare Cycle)
The Loved, The Lost, The Dreaming
(Includes The Underlighters and many other short stories)
(Book 2 of The Meaning Wars)
(Book 1 of The Meaning Wars)
Collaborations:
Cult Classics for the Modern Cult
Coming soon:
The Meaning Wars
(Book 3 of The Meaning Wars)
Monsters and Fools
(Book 2 of The Nightmare Cycle)
Within the Tempest
(Book 2 of The Memory Bearers Saga)