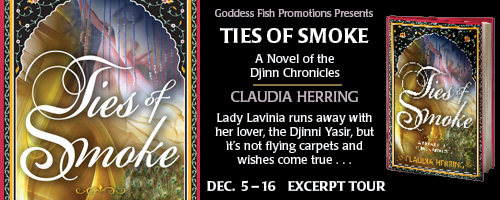 This post is part of a virtual book tour organized by
Goddess Fish Promotions
. Claudia will be awarding a $15 Amazon or B/N GC to a randomly drawn winner via rafflecopter during the tour. Click on the tour banner to see the other stops on the tour.
Lady Lavinia Bramley is master of a Djinni.

Lavinia runs away from her husband to make a life with the djinni Yasir, but it's not what she thought, not pearls and flying carpets and wishes come true . . .

Her desperate efforts to find happiness with Yasir are foiled by her husband's reappearance, murder attempts by the jealous magician who cursed Yasir to the urn, and Yasir's desire for revenge.

Lavinia finds love, and loyalty, are as ephemeral as ties of smoke.
Enjoy an Exclusive Excerpt:
The boy cocked his head and thumped the heel of his hand near his ear. He straightened and squinted at her, drops of water competing with the freckles sprinkled on his nose. "What're doing throwin' bottles in the water—then looking horrified?"
"I changed my mind." She wrung out the front of her skirt.
"Ya couldna swim in that." He looked contemptuously at the fabric clinging to her legs.
"I know," Lavinia said softly. She sat beside him in the warm sun and reached for the urn.
The boy grabbed it and pulled it out of her reach. "It's mine now."
Her face grew hot. Curse the little urchin. He could not have her urn. She stared at the vessel. "I will have it back."
He scooted away and held it to his side, away from her. "Wot's tossed away's fair game." He grinned, smug.
Lavinia held his gaze and stood slowly, shaking out her skirts. "You wouldn't steal from a lady."
The boy guffawed and rose to his feet, tottering from the weight of the urn. He looked her up and down and backed away. Lavinia followed, gaining on him. He turned, feet planted in the mud to take a running start.
"Stop, you little thief." Desperate, she leapt at him, bringing him to the soggy ground as she landed on top. For a moment, she lay stunned. What had she done? Had she hurt the child?
"Criminy! S'blood!" The boy struggled on his stomach, his leg somehow kicking her in the thigh.
"Ow!" Lavinia rolled off of him into the mud.
"Damn it to hell." He flopped upright and grabbed for the urn, clamped his hand on the base and dragged it to him. Lavinia crawled towards the vessel as he endeavored to pick it up. She threw herself on the urn, grunting as she landed half on the boy. He wriggled, trying to break free.
She clutched the urn in both hands, rolled away and staggered upright. The boy sat up, latched onto her skirt and pulled hard, ripping the cloth. With a cry, Lavinia stepped forward to regain her balance, her foot landing hard on his shin. He jerked his leg away, causing her to stumble and she pitched backwards onto her bottom, still clutching the urn.
"Cor blimey. Have mercy." He grabbed his leg and crawled a few feet, mud covering his trousers.
They both scrambled up, bits of dirt and grass flying, and faced each other. The lad's hazel eyes peered from his muddy face, shining with anger and greed. "I can get a bob, least, from the tinker fer it." He scowled.
"Ha! More like sixpence." Lavinia swayed, breathing hard. She wiped mud out of her eye and smeared it on her skirt.
"A bob." The lad held out his grimy hand and planted his bare feet in the mire.
"I don't have it here." Lavinia huffed. What a conniving little bastard—why, he had stayed around to bargain.
About the Author: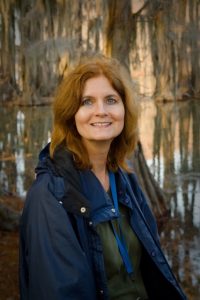 Claudia Herring aspired to be a baton twirler when she was five and an archaeologist at thirteen. When she became a graphic designer and an author of fantasy, she decided she'd hit upon the perfect compromise.
Along the way she worked as a gift wrapper, a server in a Mexican restaurant at an amusement park (where she rode the Black Dragon at midnight—an actual ride, not a sexual allusion) and an illustrator in medical graphics (where they featured videos on wound healing during lunch) at the Texas Medical Center.
Her novel, His Master's Bride, a historical fantasy with romantic elements set in Regency England, won first prize in the Houston Writer's Guild Novel Competition. Ties of Smoke is the second in the series The Djinn Chronicles.
When she's not delving into the world of the Djinn, Claudia is practicing yoga to go to that hushed space where she imagines and plots her next fantasy novel.
If you like Diana Gabaldon's Outlander series or Carol Berg's Soul Mirror series you'll love His Master's Bride and Ties of Smoke.
Website | Blog | Twitter | Facebook | Amazon Author Page
Buy
TIES OF SMOKE
and
HIS MASTER'S BRIDE
on Amazon.