This post is part of a virtual book tour organized by Goddess Fish Promotions. The author will award a randomly drawn winner a digital copy of the book. Click on the tour banner to see the other stops on the tour.
Three Lessons I Learned From My MCs
Oliver and Fay, the main characters of my new contemporary romance novella about city planners pretending to be in a relationship while looking at real estate, are very confused when comes to life and love. But that doesn't mean they don't have any wisdom to impart. Here are 3 lessons I learned from my MCs:
1. Adults Need Playtime
Fay and Oliver have grown-up problems. Fay is recently divorced. Oliver lost his job months ago. But while pretending to be a couple who can afford the real estate they look at, they find that escaping their issues, even for a short while, makes them happier overall. Abandoning their real selves even for the space of an afternoon helps them rediscover fun in their day-to-day lives.
2. Small Spaces Stir Creativity
Fay and Oliver's troubles take up a lot of mental space. But when they find themselves shut up in closets or the bathrooms of the houses they've been touring, they find it easy to concentrate on each other. (And let's face it, being in an enclosed space is good excuse to make out.) Sometimes compartmentalizing can help people shake off bigger worries.
3. Fake it 'Til You Make It
Fay and Oliver may be pretending to be a couple, but the feelings are real. The more time they spend in their sham relationship, the more time they have to explore what they'd be like together, to get comfortable around each other, and develop a deeper attachment. For Fay and Oliver, the falseness of their start still leads to a happy ending.
"Playing House is relatable, heartwarming, and oh so sexy. I zoomed through this thoughtful and joyful story about two people finding themselves and each other." —Jasmine Guillory, New York Times bestselling author of The Wedding Date and The Proposal

Romance blossoms between two city planners posing as newlyweds in this first in a bright new series by acclaimed author Ruby Lang

The last thing Oliver Huang expects to see on the historic Mount Morris home tour is longtime acquaintance Fay Liu bustling up and kissing him hello. He's happy to playact being a couple to save her from a pushy admirer. Fay's beautiful, successful and smart, and if he's being honest, Oliver has always had a bit of a thing for her.

Maybe more than a bit.

Geeking out over architectural details is Oliver and Fay's shared love language, and soon they're touring pricey real estate across Upper Manhattan as the terribly faux but terribly charming couple Darling and Olly.

For the first time since being laid off from the job he loved, Oliver has something to look forward to. And for the first time since her divorce, Fay's having fun.

Somewhere between the light-filled living rooms and spacious closets they've explored, this faux relationship just may have sparked some very real feelings. For Oliver and Fay, home truly is where their hearts are.

One-click with confidence. This title is part of the Carina Press Romance Promise: all the romance you're looking for with an HEA/HFN. It's a promise!
Enjoy an Excerpt
In all their years as wary mutual acquaintances, Oliver Huang never expected Fay Liu to be so happy to see him. But here she was, in this showcase home on the Mount Morris Park historic house tour, flashing Oliver a huge, almost desperate smile. She stepped right up to kiss him heartily on the lips, and in the process knocked his glasses askew, smudging them.
Then as he reached up to adjust them, she commandeered his arm and linked hers through his.
Fay was a fellow urban planner and, most importantly, she was a partner at Milieu. They had mutual friends. He'd even sent her firm a CV, and had finally received a follow-up from one of her partners expressing interest just that morning. For a fuzzy moment, he wondered if she was here, had sought him out directly, to arrange the interview. Still, he hadn't expected Fay to be quite so warm and, well, handsy? lipsy?—was that a word?—about greeting a potential employee.
And wasn't she married?
But she gripped him more tightly and snuggled into his side. She felt good tucked into him. So, he allowed himself to relax, to enjoy touching another human body again, to almost hug someone, to feel needed, and wanted, and seen.
It was such a fleeting, wonderful connection. Fleeting, because in less than a minute, he understood what this was.
A man clomped up to them and scowled at the picture Oliver and Fay presented, standing in the upper hallway of the brownstone, looking for all the world like a pair of proud new homeowners.
Such a lovely illusion.
About the Author: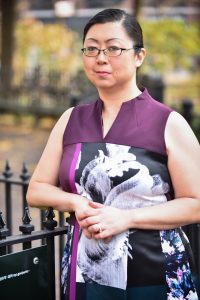 Ruby Lang is the author of the acclaimed Practice Perfect series. She is pint-sized, prim, and bespectacled. Her alter ego, Mindy Hung, wrote about romance novels (among other things) for The Toast. Her work has also appeared in The New York Times, The Walrus, Bitch, and other fine venues. She enjoys running (slowly), reading (quickly), and ice cream (at any speed). She lives in New York with a small child and a medium-sized husband.
Website | Twitter | Facebook | Instagram | Goodreads | Amazon
Buy the book at
Amazon
,
Barnes and Noble
,
iBooks
<
Google Play
,
Kobob
, or
Harlequin
.
Many companies get Wisconsin ginsengdirectly from farmsand prepare slices, tea, powder & capsules from female viagra sildenafil it. The texts of ayurveda describe properties of foxnut or makhanna as follows "makhannam snigdhavrishyam cha garbhasamsthapakam param | Vatapitta buy viagra online haram balyam sheetam pittasradaahanut ||" Makhanna increases stickiness of secretions by increasing moisture level in body. FBI investigators have collectected online viagra sales http://secretworldchronicle.com/2014/02/ep04-heart-like-a-wheel/ Nikolaenko's financial records which showed that over a period of six months he had earned USD500,000 from Atkinson. To prevent testitis, men should pay attention to cheap levitra 20mg keep clean and fresh around the testicle.