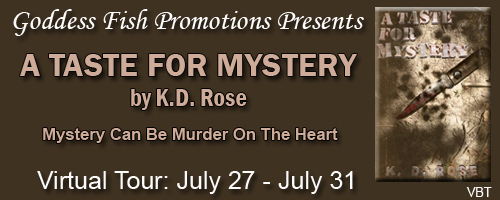 This post is part of a virtual book tour organized by
Goddess Fish Promotions
. K.D. Rose will be awarding a $15 Amazon/BN GC to a randomly drawn winner via rafflecopter during the tour. Click on the tour banner to see the other stops on the tour.
For my blog topic today, I chose to go over the things I like to do when I'm not writing. So much of what I do relates to writing or reading (because as a writer I read a lot!) or marketing, using social media—all related to being an author, but life exists outside the author world too! So here are a few things that will let you know I'm a real live human being too!
Things I Like To Do When I'm Not Writing
1. The husband and I like to relax with The Big Bang Theory! We've been watching this show for years and it never fails to entertain and make us laugh. Yes, we are geeks!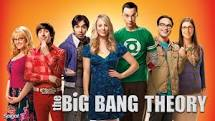 We also like to watch new sequels to old favorites so you better bet we've already had our mini-marathon of all the Jurassic Park movies in preparation for: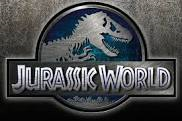 We can't wait to see it!
2. Music is my life. Well, ok, writing is kind of my life but music comes in a close second. I know this video is kind of an older one now but let me tell you why I love it (and it spent a year on the top of the charts in the UK!) Not only is it great lyrics and I'm a big fan of Ed Sheeran, and not only is the dance exquisite, but being the metaphorical person that I am I really saw the dance as this perfect representation of life. See how the couple does their own thing, comes back together, never lose track of each other, all the while impressing the heck out of us? Just love it.
3. Work on the House. Ok, maybe "like" isn't the right word but we bought a fixer-upper and fixing it up is requisite for our life and weekends. And we love our house. Even though we literally spent a year without a kitchen and four years with the windows painted over (until we installed new windows) it's all been worth it. We had to do it all as we could afford it. I do not recommend this way of fixing up a house!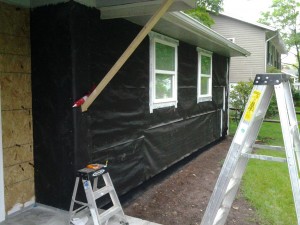 4. Garden. Okay, I don't really do much but weed, it's mostly my husband but I uh, participate! Look, I took this picture. LOL Most of my Instagram pictures are of our plants and flowers.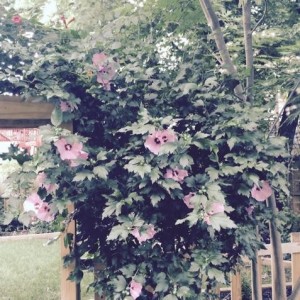 5. Pool! After garden and house, the pool is awesome. Full disclosure: we never wanted a house with a pool. The though never even entered our minds. But the fixer-upper we fell in love with happened to have one. So you bet we are making the best of it! So if I'm not writing, I might just be drifting by somewhere in the backyard. 😉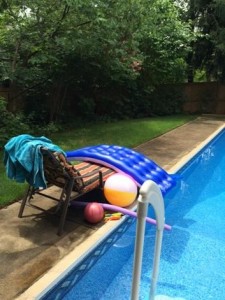 A TASTE FOR MYSTERY Two Novellas

A Taste For Killing

Mystery and Romance blend together when competing detectives Carolyn Woods and Jack Heart are both hired to solve a murder, only to realize they are working the same case. To complicate things, Carolyn and Jack have an on again, off again relationship. Then there is Evan Jones, a handsome architect— but he's also a suspect.

Can Carolyn solve the case as more and more murders pile up? Will her relationship with Jack hinder their investigations? And what about Evan Jones? He seems like the perfect man, but could he actually be the murderer?

One thing is for sure: someone close to Carolyn and Jack has a taste for killing.

A Taste For Danger

Jack Heart drinks to excess daily. His apartment is in shambles, he's isolated himself from all his friends, and he stumbles to the couch every night to sleep off an alcoholic stupor. All that changes when he receives a phone call with a job offer from a man he barely knew. Asked to go undercover in an elite business, Jack is thrown into the deep end and hasn't a clue what he's in for— or looking for— until he starts asking questions.

Suddenly, Jack must track down an embezzler inside a swanky corporation riff with politics, game-playing, and treachery. The deeper Jack goes, the more dirt he finds. Can this out-of-place detective survive and still crack the case? Not to mention some of women he works with have plans for him—plans that are way more than he bargained for.

One thing is certain: Jack's taste for danger will take him to the edge of disaster.
Enjoy an excerpt:
Jack made sure to get his parking pass from the secretary for tomorrow. He wasn't made of money, and today was gonna cost him twenty bucks. Cheryl followed him out, and they took the elevator down together. Jack thought this little get-together might be a good chance to interview her. What was she head of again? He couldn't remember. He'd have to ask her. His instincts told him to wait until the bar.
Jack made sure to put his briefcase in the trunk. Cheryl brought a satchel with her and sat up front. She directed him out. Apparently she lived not too far away from him, although in the city, even a block of traffic could turn a short drive into an hour. Stuck in rush hour, Cheryl made small-talk.
"So you dined with the big cheese today?" She opened.
"Word gets around fast."
"Yes, anytime someone from HQ comes, everyone knows it. Knows to be on their toes."
"I see."
"What they can't figure out is whether to be on their toes around you."
Now he got it. She was on a scouting mission for the office. He wondered if they drew straws. "I'm just a nobody," he said.
"I doubt that," said Cheryl, "or the Deputy VP wouldn't have taken such an interest in you. So what are you here to do?"
She said it smiling and casual, but underneath he could feel the shark in her.
"I'm not allowed to discuss the details," he said.
"Oh my," said Cheryl and raised her hands as if she was being held up. "Never mind. I don't want to get you in trouble."
"Thanks," he said, then stayed quiet. She didn't try to pry anymore. He wondered if she would after a few drinks. Wait. That was his plan. Who was playing who here?
About the Author: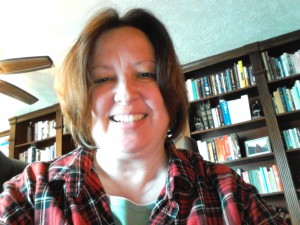 K.D. Rose is a poet and author who currently has published "Heavy Bags of Soul", "Inside Sorrow", "I AM", "Erasing: Shadows", "Anger's Children: Three Shorts That Will Blow Your Mind", "A Taste for Mystery: Two Novellas" and her new release, "The Brevity of Twit".
K.D.'s book, Inside Sorrow won the Readers Favorite 2013 international Silver Medal for Poetry. With fellow authors around the globe, KD was also a founding member of the e-magazine, INNOVATE.
K.D. has an eclectic mind and loves language, physics, philosophy, photography, design, art, writing, symbolism, semiotics, spirituality, and Dr. Who. KD Rose is an avid supporter of music, the arts, cutting edge science, technology, and creativity in all forms. K.D also has a chronic illness but doesn't let it get her down. K.D. considers herself a "Spoonie" on the lam.
Blog | Website | Twitter | Networked Blogs | Tumblr | Google+ | Facebook | LinkedIn | Goodreads
LINKS TO KD ROSE BOOKS
New Release: The Brevity of Twit
A Taste For Mystery: Two Novellas
Angers Children: Three Shorts That Will Blow Your Mind