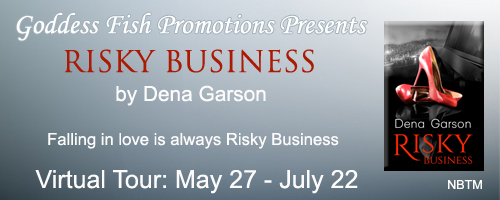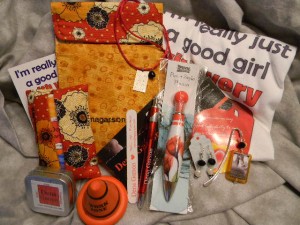 This post is part of a virtual book tour organized by
Goddess Fish Promotions
. Dena will be awarding a Gift Basket that includes: a handmade tablet cover, tissue cover & tissues, handmade earrings, handmade stamped necklace ("We're All Mad Here"), decorative pen, beaded bookmark, Dena swag (pen, nail file, sticker, magnet, key ring), and a Dena tee-shirt, to a randomly drawn winner (International) via Rafflecopter during the tour. Click on the tour banner to see the other stops on the tour.
Things I like doing when I'm not writing
• Making jewelry/playing with beads. My beads keep me sane. If the words aren't coming, I can spend some time playing with colors and textures and eventually the words bubble back to the surface. And it has the added bonus of keeping me and my BFF in sparkly pretties!
• Reading. Sadly, my reading time has gone waaay down since I started writing. I need to make more time for it.
• Hanging out with my boys – sometimes they even talk me into playing on the xbox with them. I can be pretty mean with a shotgun. But just for the record, I do NOT like zombies.
• Watching football – both of my boys play so we spend a lot of time on the practice fields during the fall. I'm a big fan of the Dallas Cowboys and we follow one of the local college teams too.
• Walk. I sit so much with my day job and then again when I get home and work on my computer that my back gets a little kinked up. Walking helps those muscles and it clears my head. Not to mention the sunshine and fresh air soothe the soul!
Two coworkers are brought together when an embarrassing bet is brought to light at the annual office party. Mia worries her trust in Jake, the company playboy, may place her heart and reputation at risk.
Enjoy an excerpt:
"And off they go," Mia mumbled as she watched her traitorous friends weave their way across the room, leaving her alone with Jake. She turned and looked up into his eyes. Even though the lights were too low to see the exact shade, she knew they were the color of well-worn denim. "I hope you're aware of what you unleashed on your pals."
She considered the man standing before her. He was tall with broad, strong-looking shoulders. She knew he played ball with some of the guys in the office because she'd often heard them talking about the games over coffee in the break room. The way his shirts fit indicated he worked out. Add that to his classic blond hair and blue eyes and he was definitely drool-worthy, as Mandy would say.
The biggest question in Mia's mind was whether or not he would ever see her as anything but an analyst with more opinions than boobs. Thankfully she had the data to back those opinions up.
"They may thank me in the morning," Jake said with a twinkle in his eye.
"They might," she conceded.
He stepped closer to Mia. Close enough that she could feel the warmth of his body radiating to her already flushed skin.
"Besides," he lowered his voice and held Mia's gaze, "it served its purpose."
"What purpose is that?"
"To get you to myself."
About the Author: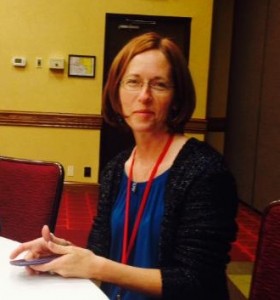 Dena Garson loves to read romance—the hotter the better. When one of her BFFs said "one of us should be writing this stuff", she took up the challenge. If she isn't writing, she's designing jewelry but somehow she still manages to make it into the office on a regular basis.
Website | Blog | Facebook | Twitter | Goodreads | YouTube | Google+ | Pinterest
Buy the book at Amazon.