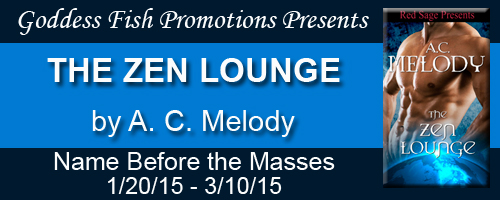 This post is part of a virtual book tour organized by
Goddess Fish Promotions
. The author will be awarding $10 Amazon or B/N GC to one randomly drawn winner and a digital copy of THE ZEN LOUNGE to another randomly drawn winner via rafflecopter during the tour. Click on the tour banner to see the other stops on the tour.
5 Tips for Researching That I Always Use
1. Cross-Reference
I never trust the first result to pop up online when I'm researching something. If I can find the same answer on multiple sites, than I'll use it. If I can't, than I sick my sister after it, because she can find anything online! I've run into the problem of having the wrong result too many times to trust researching any other way, especially with foreign words, but I'll cover that part in a little bit.
2. Do the Research Yourself
I know… it's tedious, it's time-consuming, you want to poke your eye out with a pencil, but it really is imperative. Not only are you getting every detail another might miss, but as an added bonus, researching can become your treasured muse – or, your security plan. Every time I research, I either find more about my subject that helps expand my storyline, giving me ideas I never would have thought of myself – or, has saved me from using the wrong subject by discovering it was not at all what I thought it was.
3. Dig Deeper
Okay, if you're anything like me, you were raised speaking one language: improper English. So, when it comes to incorporating foreign words or names into our books, we don't always think about things like masculine and feminine rules. We just expect there to be one word exchanged for our English word and that's typically not the case. Here's an example of one everyone might be familiar with:
"My Dear" translated into French is Mon Cher (masculine) or Ma Chère (feminine). It is not Mon Cher vs. Ma Chérie, because the latter is actually the feminine translation of "My Darling." Mon Chéri would be the proper usage for that masculine variation.
Names can also be tricky, depending on which foreign heritage your character has. If your main protagonist is the son of a Russian immigrant and named Aleksandr, you might want to consider that culturally, his family is going to call him Sasha, instead. Yet, he will never be addressed as Sasha by a stranger, that would actually be off-putting.
A neat little feature that Wikipedia has on some of their foreign words is a table that shows the differences between genitive, nominative, plural, singular, etc. This is very handy, if you're thinking about using foreign nouns as a thing, rather than a person. For example:
Wolf, translated into Old Norse is úlfr (singular): "That úlfr/wolf/ is hungry." úlfar (plural): "Those úlfar/wolves/ over there." úlfrinn (nominative singular): "They are úlfrinn/of the wolf species/." úlfarnir (nominative plural): "The úlfarnir/wolf species as a whole/ have gone extinct."
This is very important to know if you're planning on using your foreign word in different contexts throughout your story.
4. Everything Goes
Research everything you're not 100% sure of. Research everything you think you made up, too, because it probably already exists and could possibly be copyrighted or trademarked. Here's the cool thing, though. It used to be that the number one rule was "write what you know," but that was before the world wide web. I spent an entire day walking around Downtown Minneapolis, yet I've never been to Minnesota. Thanks to Google Earth, I can describe everything I saw in explicit detail. Right now, you have every shred of information you could ever need at your fingertips. All you have to do is find it, and then you will be writing what you know.
5. Take Advantage
Wikipedia has another feature that I absolutely love. At the bottom of their pages are lists of their resources, as well as any time that subject has ever been used in literature, movies, etc. So, let's say you want one of your characters to be a fallen angel that was actually mentioned in biblical scripture, but not necessarily one of the angels that people have already over-used. That little list on Wikipedia will show you every reference of when, where and how often your angel's name has ever been mentioned, with a link you can follow to get even more information.
In short (Ha! Just kidding), readers might not know why your story is so great or even think about how many hours you put into researching, but they do notice when it's missing. They do appreciate the fullness, the depth and believe it or not, the learning they get by reading a well-researched book. Or, I'm really just a nerd. That's always a possibility, too! Thanks for reading!
Welcome to the Zen Lounge, twenty-one floors of customizable carnal pleasures to fulfill your wildest fantasies. Even in the year 2192, it shouldn't exist but Voryk Kade simply couldn't ignore the urge to take a closer look. What he finds is a woman bent on ruining everything he'd ever believed to be true. She holds the key to all of Voryk's darkest, neediest desires and despite her silence, provides the proof behind his belief that there is something far seedier going on under the high-end gloss of professional eroticism.

Enlisting the help of his closest friends, Voryk's only goal is to keep Nexlana safe, naked and his. Unfortunately, she was already someone's favorite pet and when Master comes calling, it's with a vengeance and the intent of never letting her slip away again. Haunted pasts continue to resurface, only Nexlana's might be far deadlier than any of them could have guessed—connections between her, arson, an assassination and a cold case no one ever wanted to delve into again. To stop the worst case scenario from taking place, they must finally figure out just who in the hell the Master really is.
Enjoy an excerpt:
Closing her eyes for a moment, she shuddered, and then grabbed Voryk's hand and placed it on her throat, running it down toward her chest.
"Yes, it's warm," he said aloud what she could not.
When her eyes opened on his, Voryk noted that his blood was also very warm. Under the palm of his hand, her heart beat a little faster. In her ethereal eyes, a familiar beckoning called out to him, igniting his own need. Taking the wine from her, Voryk leaned forward and returned it to the table. This time, he didn't sit back. Her pulse throbbed beneath his fingertips, as he turned his head just so and buried his face in the silky texture of her hair, in the scent of it. Slowly, he ran just the tip of his nose over the soft flesh of her throat, his fingers curling around the nape of her neck before he grazed the same line of flesh with his lips.
Her pulse skittered and raced, stirring his blood even more, kicking his desire into a sizzling temperature. He loitered at her jaw, using lips, tongue and teeth. Though she was silent, her breath was warm and choppy in his ear. Leaving a trail of kisses across the hollow of her cheek, Voryk found her mouth. That mouth, he thought again. God, that mouth.
About the Author: A.C. Melody lives in Washington State, is the proud mom of two amazing sons – okay, so they're typical boys and always keep her on her toes! Stemming from a family of artists and musicians, she thrives in all things creative and would call a day without her MP3 player and coffee a day of reckoning. When she's not writing, reading, drawing or cheering on the sidelines at football games, A.C. Also enjoys gardening, which has honed her ability to dodge raindrops into an enviable skill.
Blog | Twitter | Facebook
Buy the book at Red Sage Publishing, Barnes and Noble, or Amazon.