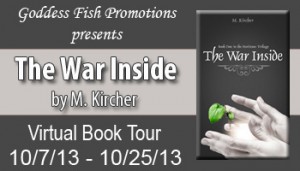 This post is part of a virtual book tour organized by Goddess Fish Promotions. The author will be awarding a $25 Amazon GC to one randomly chosen commenter during the tour.  Click on the tour banner to see the other stops on the tour.
Advice for Writers: Don't Quit
by M. Kircher author of The War Inside: Book One in the Horizons Trilogy
The world we live in today tells us that things should be easy. We're taught from an early age that if we dream big and work hard enough, success will inevitably follow. The problem with this theory is that it's completely untrue. Big dreams and hard work do not necessarily mean your goals will simply fall into place. Things that are worth doing are usually difficult; and when the work is tough and when failure begins to become part of your daily life, the easiest thing to do is quit.
Don't quit.
Whether you're a writer, painter, entrepreneur, small business owner, dancer, web designer, or any type of person trying to follow your gut and do work that you're passionate about, I guarantee you'll hit a point where things aren't going according to plan. But if you give up, you'll never know what amazing opportunity or success could be just around the next corner.
Bestselling author Ray Bradbury once said, "You fail only if you stop writing." When I hit those hard days, I gulp this advice down like a runner gulping Gatorade at the end of a marathon – Bradbury's words keep me energized and working when I feel like I have nothing left to give. So many times we define failure in terms of the micro stuff. Like, if your novel is turned down by a literary agent, it's easy to call that a failure. But who knows, perhaps there's an even better agent out there who's going to say "yes" to your project fifteen "no's" down the line. The real failure is if you give up, not all the disappointments and smaller failures you'll experience along the way.
It's definitely a mental battle to keep writing when you want to quit. Here are a few things that I'm learning right now about how to start winning these battles.
1. Talk to another person who is a writer (painter, dancer, entrepreneur, etc.) – Carve an hour out of your day and talk with someone else who really gets it. Another writer can truly commiserate about the trials and triumphs of the every day writing grind. They can share advice, tell you how they worked through a certain issue, or simply be an empathetic ear. It's even better if you can somehow finagle a successful writer into being your mentor and spending time with you as you shape your career.
2. Work on a different project – Don't completely abandon the manuscript (or project), simply take time away from it and work on something else. Creative people need to be inspired and sometimes grinding away at one thing to make it perfect, can actually kill the piece. Taking a break and then coming back to your work with fresh eyes can breathe new life into a struggling book, novel, article, blog, etc.
3. Learn from smaller failures – Turn a negative into a positive by learning from it. If someone has criticized your work, pick out certain points they've made and try to incorporate those points in your next piece. If a book has been turned down, use that as an opportunity to analyze any feedback you've received so that you can submit more successfully in the future. Use failure to help you become a stronger writer.
4. Grit your teeth, and keep writing – Sometimes the only way to keep from quitting is to literally sit your butt down in a chair and force yourself to write. Allow it to be total crap, but just do it. The more you write, the more you'll become inspired again, and the more inspired you are, the less you'll feel like quitting.
The end of the world is only just the beginning. So eighteen-year-old Thea discovers when her solitary life on a dying Earth is shattered by a mysterious dream, a devastating choice, and a strange gift that propels her on a journey towards the restoration of all mankind.

Thea is bitter and alone; eking out her miserable life on the sunless, cloud-covered Earth she inhabits. A terrifying dream convinces her to save the life of an injured girl, and despite her misgivings, Thea decides to rescue sixteen-year-old Viviana. She soon learns that gentle Viv has a life-threatening infection, as well as a freakish patch of glowing skin over her heart. When this light spreads to Thea, causing her palms to glow, she is forced to trust Caden, an arrogant, lazy, and annoyingly handsome boy she despises. Caden has a map to the last city on Earth, and the only place that might have a cure for both Viv's infection and the strange light on Thea's hands. As the trio embark on a journey through the barren wilderness, Thea and Caden discover, and try to fight, their mounting attraction to each other. Along the way they are joined by Rain, Naomi, and Enoch who explain that the light is not a curse, but a powerful gift meant to heal the polluted Earth and reconnect the remnants of humanity. When the group learns that Viv is the key to this planet-wide redemption, and that there are deadly shadows who will do anything to keep humans in the darkness forever, they each must make the difficult decision to help Viv fulfill her destiny…and save the world.

Don't miss THE WAR INSIDE, an exciting young adult dystopian/fantasy novel by debut author M. Kircher.
Enjoy an excerpt:
Thea sucked a breath in through her teeth, trying to settle the distinctly uneasy feeling that was clawing at her stomach. She glanced back down at the injured girl and jumped back in surprise. She was gone! The girl had just…disappeared. Vanished into thin air. Thea blinked and ground the palms of her hands into her eyelids. What the hell was happening to her?
And that's when the voice spoke for the first time.
"Keep her alive," it whispered softly from the empty space behind Thea's right ear.
Her muscles tensed, and the hairs on the back of her neck prickled. Thea whirled around, ready to face this unknown assailant, but as she did she noticed for the first time that her staff was clenched tightly in both hands. Had it been there a moment ago? For the life of her, Thea couldn't remember. Either way, its familiar presence felt reassuring. She flipped the weapon around and shoved its rusty metal tip out into the darkness.
"Who said that?" Thea demanded, her tone hard and threatening.
"Keep her alive," the voice repeated, like the edges of a cold wind. The words wrapped around her and sent a chill straight down her spine. The voice had moved. Now it spoke from somewhere just beside her left shoulder. She pivoted toward the sound, the thick treads of her boots grinding into the dirt and her staff poised to strike. But no one was there. – Page 7, The War Inside
M. KIRCHER graduated with a B.A. in Fine Arts from Gordon College and is currently an author and artist. "The War Inside" is her first novel, but there are more to come including the second book in The Horizons Trilogy, "The Gray Horizon" and "Dreamcatchers", a futuristic twist on the legend of Rip Van Winkle. She devours YA, science fiction, fantasy, and romance on a regular basis and is immensely happy to pour her time and energy into creating stories for other people to enjoy. Bob Ross and J.R.R. Tolkien tie for her two favorite people of all time.

She and her husband write regularly for Relevant Magazine (www.relevantmagazine.com) and Simply Youth Ministry (www.youthministry.com). They also just had their first book published called "99 Thoughts on Marriage and Ministry", by Group Publishing.

M. Kircher lives in Connecticut with her husband, one energetic son, and a new baby girl.

Buy Link:

Amazon:  http://www.amazon.com/War-Inside-Horizons-Trilogy/dp/1491092033/ref=sr_1_1?s=books&ie=UTF8&qid=1377127035&sr=1-1

Website: www.mkircher.com

Blog: http://mkircher.com/blog/

Twitter: @MKircher83

Facebook: https://www.facebook.com/mkircher83

Goodreads: http://www.goodreads.com/author/show/7202354.M_Kircher

Amazon Author Profile: http://www.amazon.com/M.-Kircher/e/B00E8AKEGI