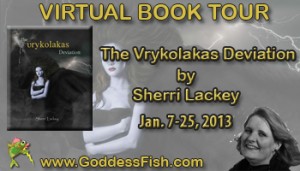 This post is part of a Virtual Book Tour organized by Goddess Fish Promotions. Sherri Lackey will award a $25 Amazon GC at the end of her tour to one randomly drawn commenter.
Welcome, Sherri!
NaNoWriMo: Past and Present
I have participated in National Novel Writing Month on four occasions. I don't always finish on time and I think the reason for that is because I often like to use NaNoWriMo as a springboard for new ideas in storytelling which I have never tried before.
The story I wrote for the first NaNoWriMo that I participated in was titled The Curtain. I would like to revisit that tale one day and publish it. I think it might make a good series. The basic premise of that book was this: What if an alien entity from another dimension crashed into a planet, splitting that planet into two sections? What if that other dimension was what split the planet into two sections? What if that alien entity was the last of its kind and it was slowly dying? What would it do? My answer to that question stretched my mind into a variety of shapes and patterns to say the least.
The next NaNoWriMo I participated in was a few years later. I began writing Tundra. I didn't finish NaNoWriMo that year as a severe case of writer's block set in. I didn't give up the idea of finishing it. I hope to publish Tundra as a novella in the near future. It is my take on the zombie apocalypse issue that is so popular of late. My main character is a survivor by the name of Imogene. Her only concern has been self-preservation as my tale unfolds, but of late she seems to think there has to be more to life than merely surviving day by day. So, on a bitterly cold night, she sets out on a rescue mission to find a child she had seen being led away a few nights earlier. Things get more complicated for her after that. The sharp distinctions she has made in the past between herself and the zombies become blurred as she realizes what she has become and what she was before.
In 2011, I planned on writing The Vrykolakas Deviation as my NaNoWriMo entry. I outlined the story, but NaNoWriMo was still two months away. I felt like if I didn't start writing the story immediately that I would lose or forget something important in the meantime as I waited. So, I began writing The Vrykolakas Deviation, finishing my rough draft a couple of weeks before NaNoWriMo began in November.
With the rough draft out of the way, I decided to do something altogether different. I chose to write a science fiction novel called The Architects of Paradise. I hope to publish that novel after I finish my Narcissus Legacy series which includes The Vrykolakas Deviation as the first book.
In The Architects of Paradise I wanted to explore the idea of a little girl named Adina who is fascinated with the subject of alien abduction. She watches every movie and documentary she can get her hands on, and she watches them in secret as her widowed father thinks they will give her nightmares. What he doesn't tell her is that he is an alien invader who works for an alien government known as the Architects.
Adina's fear of being abducted by aliens comes true as her father takes her, kicking and screaming, to a planet called Paradise. She is told that she is the first non-Paradesian to ever be allowed to live on that planet. Moreover, as she reaches adulthood, she learns that the Architects have specific plans regarding her destiny among them, plans laid out before she was ever conceived.
This year I decided to go all Twilight Zone-ish in my NaNoWriMo entry titled The Long Road. My main character, Haley, is running from a mistake she has made in her recent past. She has left her adopted state of Arizona and is headed back to Montana where she grew up. On the long road spread out before her, she has a lot of time to think and ponder the choices she has made. Then, strange and nightmarish things start happening to her. Soon, she wonders if she will ever reach home and be able to leave the long road she is travelling on.
I think this year's entry has been the most challenging entry for me so far. It is difficult to carry a story to the goal of obtaining 50,000 words when much of Haley's time in the story is spent in isolation. I'm behind on my daily word count but I haven't given up. This is a tale I want to tell, and if I don't meet my deadline by November 30th I don't plan on scrapping the story. Like Tundra, it may just take a little more time and thought before I can get my ideas down in print.
Thanks for having me here today!
Keeva lives her life on the run, changing identities and personas. She is running from monsters she has never seen – vrykolakes, vampire creatures her father, Sandor, has told her stories about all her life. She had almost convinced herself that these monsters had all died in a volcano eruption on the island of Strongili long ago.

But when a vrykolakas named Severin kills Mandy, her best friend, she discovers the vrykolakes are alive and well. Keeva knows about Severin from her father's stories, and her first impulse is to kill him and rid the world of the evil vrykolakas. She feels drawn to him however, and takes him prisoner. She hopes to better understand the vrykolakes and perhaps better understand herself. She is over two thousand years old. She doesn't know who or what she is, but she wants to find out. In order to do that, she has to discover her past. Severin might be the place to start looking for a connection to the past. Or, he could be the worst mistake Keeva has ever made.
I answered, "Hello again, Sweets. What important detail did you forget to tell me about in our previous conversation?"
A familiar voice said, "Where are you, Keeva? I need to see you, and Sweets here won't give me your address."
I sat up, heart racing. "Severin?" Had he returned to kill her – again? "Why do you have Mandy's phone? Where is she?"
"She's sitting on the couch across from me. I took her phone and found your number because she wouldn't just give it to me when I politely asked for it. I'm in her house."
"What are you doing there? I told you to stay away from Caldwell."
"I told you already; keep up with the conversation. I'm trying to find you!"
"You'd better not hurt her, Severin. Or I swear, I will hunt you down and kill you!"
"I didn't hurt her and I have no intension of doing so. I just want to see you. I need to see you. Tell me where you are and I'll come to you. That's all I want."
His silken voice caused my stomach to flutter despite my panic. "Why do you want to see me?"
This is what I had wanted, right? I wanted him to come back to me, except I wasn't there when he finally returned. Was I getting what I deserved by being so foolish to fall for him in the first place? Sickening dread fell over me because I had left Mandy alone in Caldwell.
Sherri Lackey, born in Carlsbad, New Mexico, now lives in Montana where the cold northern climate inspires her to write. She writes science fiction and fantasy with dashes of speculative fiction, a pinch of steampunk, and a touch of urban fantasy. She lives with her husband, Paul, and their three children. She also has a faithful dog named Raymond who likes to sit by her side while she writes.

Links:

http://www.amazon.com/Vrykolakas-Deviation-Narcissus-Legacy-ebook/dp/B009CKDYAM/ref=sr_1_2?ie=UTF8&qid=1350336721&sr=8-2&keywords=the+vrykolakas+deviation

http://www.amazon.com/The-Vrykolakas-Deviation/dp/1300210699/ref=sr_1_1?ie=UTF8&qid=1350336721&sr=8-1&keywords=the+vrykolakas+deviation

https://twitter.com/sherrijots