This post is part of a virtual book tour organized by
Goddess Fish Promotions
. Elsa Winckler will be awarding a copy of one of the ebooks to a randomly drawn winner via rafflecopter during the tour. Click on the tour banner to see the other stops on the tour.
Thanks for stopping by Long and Short Reviews to answer a few questions. If your book were made into a movie, who would you want to play your main characters?
Touched to the heart – Don and Caitlin – Henry Cavill and Emma Watson
Touched to the soul – Dale and Zoe – Travis Fimmel and Daisy Ridley
Touched to the core – David and Dana – Ryan Renolds and Ellie Kemper
Touched to the depth – Darryn and Hannah – Jake Gyllenhaal and Katherine Mcnamara
How do you come up with the titles of your books?
I seldom have a title when I start, the title only 'reveals' itself later in the story. In Touched to the heart, Caitlin, the heroine of the stories, is a physiotherapist. She massages Don's sore muscles and he only later realizes that that was the moment she also touched his heart.
What does your writing space look like?
Our bedroom is quite big and has a bay window. I've had a desk made specially for the one wall with a bookcases for my favourite stories on the one side and a place for dictionaries, how-to books, etc. on the other side.
What do you enjoy doing when you're not writing?
I love to cook and I knit. And I can't go a day without reading.
What is your favourite color?
Green
What is your favourite pleasure food?
In Afrikaans we call it 'Melkkos', literally translated, milk food. Bring milk to the boil and add strips of dough that you've made with flour, an egg and milk. Add cinnamon sticks, butter and sugar and you have soul –food that comforts you.
What is your favourite season?
Spring.
What is your favourite television show?
Nashville – I'm a sucker for country music and sexy heroes and this series has both 
What is your favourite movie?
There are so many! Family Stone (2005) and The Holiday (2006)
Who is your favourite actor?
Colin Firth
What is your favourite song?
Real song – a song our son, Heinz Winckler sings https://youtu.be/8xYWaHKQUkw
What is your favourite comfort clothing attire?
Jeans, socks, soft top
What books might we find on your bedside table?
At the moment one from the Afrikaans author, Michiel Heyns – Lost Ground.
Describe yourself in three words.
Passionate, introvert, mother
When it comes to men, if physiotherapist Caitlin Sutherland didn't have bad luck, she would have no luck at all. To help cope, Caitlin starts blogging in her spare time, about the types of men she meets and the bad dates she goes on.

While on duty during the annual Wines to Whales bicycle race, a gorgeous, sweaty cyclist walks in and sets her hormones dancing. But he is Don Cavallo; one of the four Cavallo brothers — hotel tycoons, famous as much for their business skills as for the number of beauties regularly seen on their arms.

Don Cavallo has his own issues with the other sex. He has yet to find one who is interested in him and not in his money or hotels. But when this sexy physio puts her hands on his back she not only touches his body, but also his heart.

They've both been burned before, but neither of them can stop themselves from playing with fire.
Enjoy an excerpt:
'Where's your girlfriend?' Was the first thing that popped out of her mouth. Caitlin nearly groaned out load. She looked away and unlocked her car. 'Sorry, none of my business,' she mumbled and opened the door.
'She's just a friend.'
'Did you enjoy your date?' she asked.
He shook his head. 'I was watching you the whole night.'
Stunned, she swallowed.
'And you? Did you have a nice time?' he asked.
'I…' At a complete loss for words, she frantically tried to think of a word, any word. Nothing came to mind. She shook her head. He'd been watching her all night?
He stepped around so that the car door was between them. Her hands were resting lightly on the door.
'Thought so.' His smile was devastating. 'I'd like to take you out, Caitlin.'
'As in a date?' she asked, still stunned.
'Yes, Caitlin, as in a date.' He touched her cheek. 'There is something here,' he said and motioned with his hand between them.
She didn't move, just stared at him. Was he really asking her out on a date?
'I don't know what it is, but it's keeping me awake at night. Let's try a date and see how we like it. Friday around seven?' he asked. 'I'll pick you up and we'll have dinner.'
Caitlin stared at him for another minute before she was sure she could string a few words together. 'Don, you…me…' She shook her head and grimaced. 'We live in two completely different worlds, we have nothing in common. You are…you, the papers are full of your businesses. I'm a physiotherapist from Hermanus. I don't think —'
'Then don't. Think, that is.' He smiled. 'You do know that you can't believe everything you read in the papers. And I happen to like this physiotherapist from Hermanus.'
She looked at him a moment longer. This was so not what she should be doing. Hannah's warning and her own misgivings about him swirled around in her head.
His eyes never left hers.
She was a big girl. And if she prepared herself for the worst, then surely she'd be fine.
'Where? I'll meet you —'
'I'll pick you up,' he said and lowered his head.
'You don't know where I live and I always drive myself,' she managed just before his lips touched hers lightly.
About the Author: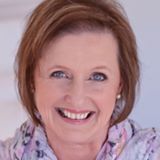 I have been reading love stories for as long as I can remember and when I 'met' the classic authors like Jane Austen, Elizabeth Gaskell, Henry James The Brontë sisters, etc. during my studies, I was hooked for life.
I married my college boyfriend and soul mate and after 39 years, 3 beautiful children and 3 grandchildren, he still makes me weak in the knees. We are fortunate to live in the picturesque little seaside village of Betty's Bay, South Africa with the ocean a block away and a beautiful mountain right behind us. And although life so far has not always been an easy ride, it has always been an exciting and interesting one!
I like the heroines in my stories to be beautiful, feisty, independent and headstrong. And the heroes must be strong but possess a generous amount of sensitivity. They are of course, also gorgeous! My stories typically incorporate the family background of the characters to better understand where they come from and who they are when we meet them in the story.
Website | Facebook |
Author Facebook Page | Twitter | Goodreads | Pinterest | Wattpad | Google+
Buy the book at Amazon, Amazon UK, iBooks, eBooks, Google Play, Kobo, Goodreads.
Buy the book at Amazon, Amazon UK, Amazon AU, All Romance eBooks, Kobo, iBooks, Barnes and Noble.
Amazon, Amazon UK, Kobo, Barnes and Noble, All Romance eBooks, iBooks, Google Play, or Etopia Press.
Buy the book at Amazon, Amazon UK, Amazon Germany, Amazon France, Kobo, Etopia Press, Barnes and Noble, or iBooks.