This post is part of a virtual book tour organized by
Goddess Fish Promotions
. Michael Phillip Cash will be awarding a $10 Amazon/BN GC to a randomly drawn winner via rafflecopter during the tour. Click on the tour banner to see the other stops on the tour.
The Top Five Musts for Writing a Best Seller
5. You must research your subject ad nauseam. If you're writing about ghosts, you have to know everything there is to know about ghosts. I mean everything. Google is my mistress (special sorry shout-out to my wife, you know I love you honey). Make Google your best friend and go deep into your subject. Buy every book you can on Amazon and read them until you know your subject like the back of your hand. I do this for every book I'm writing.
4. Develop your characters before you put your fingers to your laptop. You must know their tics, you must know their arcs. If you don't you will never finish your story. I highly recommend the book Save the Cat by Blake Snyder. He (rest in peace, Blake) has elevated my storytelling to levels beyond I never thought I could comprehend. Read from master storytellers. Success leaves clues. Tony Robbins said that. Go find these clues so you can be a success.
3. Outline your story. Outline where your characters are going to go. Know where your characters are going to end up. Don't write with a gut feeling. It doesn't work. You can never go from point A to point B without knowing the intricacies of your characters. Create a blueprint for your story that you can tweak while you are writing.
2. Write every day. Every day. Even if it's one paragraph, get it down. The minute you procrastinate, you will never finish.
1. Make a compelling protagonist and antagonist. Your protagonist wants something, and they will do everything in their power to get it. Make your bad guy, a big, BIG bad guy who wants to stop your hero from getting what they want. The bigger the obstacle it is for your hero, the bigger the reward will be. Test your hero, don't go easy on them. Wring the life out of them. Bring them to the brink of death a dozen times. Have them stare death in the face and give a big smile. Your hero has to grow and overcome everything, but make sure it isn't easy. Think Frodo in Lord of the Rings. He didn't walk to Mordor, drop the ring in Mount Doom and walked back to the Shire for lunch. Tolkien tested him. He lost a finger, he lost his soul, he got stung by a massive spider. Your hero is what represents life. Life is not easy. Life throws setbacks at you. You must throw these same setbacks at your hero, and just like you, they will overcome them. Now go write something.
Julie and Brad Evans are house flippers. They buy low, clean out the old occupants junk, and try to make a profit. Enter Hemmings House on Bedlam Street in scenic Cold Spring Harbor, Long Island. Too good a deal to pass up, but with an ominous secret. The old Victorian Mansion has dwellers that do not want to be dispossessed. As the house reveals its past, will the couple's marriage survive The Flip?
Enjoy an Excerpt
"I hate this place," Brad grumbled, as he shoved another piece of crap into the super thick black garbage bag. The basement smelled like shit, and here he was, alone on his birthday and shoveling hundred-year old junk from a dank cellar. This had to be the worst flip they'd ever attempted. He gave the creaky stairs a gimlet-eyed glance and for a nanosecond hated Julie. Really hated her and her cockamamie ideas. Where did that idea of hate come from? he wondered. He loved his wife, didn't he?
"It has so much charm," she'd cooed every time they discussed the place. And then, last night, she'd sprung it on him. "Let's keep it."
"Over my dead body," he told the decaying piles of newspaper. Once they finished this job and paid their bills, he had some thinking to do. She picked the homes, went back to her tidy little job in the city, and left him to muck around in the garbage. He couldn't see himself doing this for the next twenty years, not anymore. Not after this dump. It wasn't that he was afraid of work, or even plain old elbow grease. There was something about this project that turned him off. From the moment he entered the house, his skin crawled, and he found himself unaccountably angered by Julie and her insistence that they buy this place. It was as though his opinions didn't count, and she made him feel like a hired hand instead of her partner.
About the Author: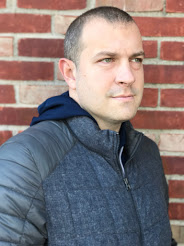 Michael Phillip Cash is an award winning and best-selling author of horror, paranormal, and science fiction novels.
He's written ten books including the best-selling "Brood X", "Stillwell", "The Flip", "The After House", "The Hanging Tree", "Witches Protection Program", "Pokergeist", "The History Major" and "Battle for Darracia" series. Michael's books are on the Amazon best-seller list and have also won numerous awards. Additionally, he is a screenwriter with 14 specs under his belt. Michael resides on the North Shore of Long Island with his wife and children.
"Stillwell: A Haunting on Long Island", "The Hanging Tree", and "Schism: The Battle for Darracia" has all been named to Foreward Reviews Book of the Year Awards. His newest book, "The History Major", has been taking readers and reviewers by storm.
Website | Blog | Facebook | Twitter | Amazon Author Page | Barnes and Noble
Buy the book at Amazon or Barnes and Noble.