Joe Wenke's THE TALK SHOW is now available at Amazon or Barnes and Noble.

THE TALK SHOW
By Joe Wenke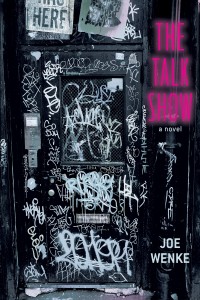 Someone is following Jack Winthrop—most likely the gunman who tried to kill America's most controversial talk show host, Abraham Lincoln Jones. Ever since that fateful night when Jones called Winthrop with his audacious proposal, life has never been the same. Winthrop, an award-winning New York Times reporter who calls the Tit for Tat strip club his second home, agreed to  collaborate on Jones' national "Emancipation Tour." The plan is to bring Jones' passion for radical change to the people and transcend television by meeting America face to face. Now Winthrop has to survive long enough to make the tour a reality in Joe Wenke's intellectual thriller, THE TALK SHOW (TransÜber, October 15, 2014, $9.99).
As the reach of his stalker spreads, so does the fear that Winthrop's unconventional family is also in danger—Rita Harvey, the gentle transgender ex-priest and LGBT activist; Slow Mo, the massive vegetarian bouncer; and Donna, stripper and entrepreneurial prodigy—as well as the woman who is claiming his heart, media expert Danielle Jackson.
Steeped in the seamy underbelly of New York City, The Talk Show by Joe Wenke is a fast-paced and mordantly funny thriller that examines how the forces of nihilism threaten our yearning for love, family and acceptance.
JOE WENKE, who is known for his seminal work on Norman Mailer, is an outspoken and articulate LGBTQ rights activist, social critic and observational satirist. He is the founder and publisher of Trans Über, a publishing company with a focus on promoting LGBTQ rights, free thought and equality for all people. Wenke is the author of MAILER'S AMERICA, FREE AIR: Poems, YOU GOT TO BE KIDDING! A Radical Satire of the Bible, PAPAL BULL: An Ex-Catholic Calls Out the Catholic Church, and THE HUMAN AGENDA: Conversations about Sexual Orientation and Gender Identity (January 2015). Wenke received a B.A. in English from the University of Notre Dame, an M.A. in English from Penn State and a Ph.D. in English from the University of Connecticut. He is a frequent contributor to the Huffington Post.