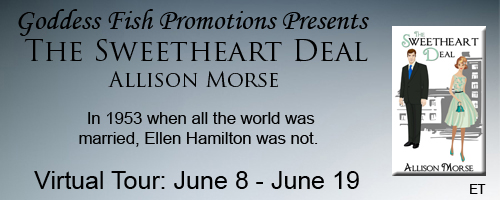 This post is part of a virtual book tour organized by
Goddess Fish Promotions
. Allison will be awarding $25 Amazon or B/N GC to a randomly drawn winner via rafflecopter during the tour. Click on the tour banner to see the other stops on the tour.
Some people in her small rural community think Ellen Hamilton, the business savvy daughter of the town's largest employer, is too big for her britches. After all it's the 1950s and women have no place in running corporations. But when the company is threatened with takeover by John Adair, the man who broke her heart and "betrayed" her family business years ago, she's determined to stop at nothing to win. Yet, when the cool Ellen turns molten in John's arms, will she discover the truth about the past in time to seal The Sweetheart Deal.
Enjoy an exclusive excerpt:
Ellen glanced at John, who was still talking to her brother in the corner of the ballroom.
How was it possible it still hurt to look at him?
Her godfather George tapped his cane and nodded toward John. "I never understood why he did it. Why he took those plans. His own designs were good. Very good. If he'd only asked, I would've helped him get another job."
Ellen gazed at the twirling couples on the dance floor, the elegant black tuxedos set off against colorful gowns.
George brushed a stray lock of hair off her cheek. "John reminds me of your father when he was young—the need to win, no matter what."
Ellen hiked an eyebrow. "Only when Dad was young?"
George smiled. "I guess that never changed for Sam, nor, I suspect, for John."
"Don't worry. I'm no longer a gullible teenager."
"I never thought you were. But some things are best left in the past, eh?"
She met his concerned gaze. "Absolutely, nothing to worry about."
"Good. Now, Ellie, how about you get on that dance floor instead of indulging an old man?"
"It's not indulging, and you know it. You're by far my favorite person here." She patted down her puffy taffeta gown and imitating the voice of an announcer for a horror movie trailer, Ellen said, "Besides, we'd all be better off without the dance of the monster Easter egg." At ease with George, Ellen no longer felt awkward in the stiff gown. She sat tall, her hands expressive.
"I know it's not what you want to hear, but you are being noticed."
Her throat tightened as she saw John looking at her. She looked around and was surprised to catch Harold's gaze on her, too.
"Now the dress suits you, and if I'm not mistaken, Harold is about to ask you to dance." George stood slowly. "And Ellie, if you don't accept, I, for one, will think you a coward."
"I'm not," she snapped, and then smiled. "George, sometimes I think you are more manipulative than my dad."
George wrinkled his nose as he started toward the refreshment table.
Harold removed his black-rimmed glasses and leaned toward her. "I'm here to collect."
"What?" A warm tingle radiated through Ellen's chest. Without his glasses, Harold was handsome, with his high cheekbones and strong jawline.
"Are favors so easily forgotten? I'll have you know I was stuck listening to Mrs. Russell lecture on the impending invasion of communists into the American heartland for over twenty agonizing minutes."
"Oh, dear." Ellen laughed. "I am so sorry. What can I do for you? Would you like me to talk to George? My dad about your place at the company?"
"No, I believe you promised me a dance."
"You're kidding. Then I'm getting off easy."
"I don't know about that," Harold said with gallant flourish of his hand. "Shall we?"
About the Author: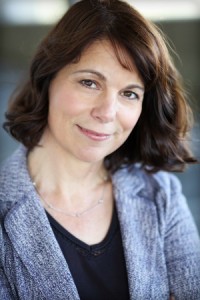 Allison Morse grew up in a family of actors in Los Angeles; before the age of five, she started acting classes, which she adored. She continued in the family business until her early twenties when her curious spirit led her to consider other interests.
After receiving a B.A. from U.C. Berkeley, she went on to earn a M.A. in Marriage and Family Therapy, and a J.D. from U.C. Hastings College of the Law.
Although she loved learning from each of her varied careers she always knew that storytelling was as essential to her as breathing. So as she pursued her professional life, she kept to a strict writing schedule, and joined the Romance Writers of America and Sisters in Crime.
She lives with her wonderful husband in a house in the hills that's filled with books.
Allison can be contacted at her website.
Buy the book at Amazon or The Wild Rose Press.