Long and Short Reviews welcomes Lynnette Austin who is celebrating the release of her newest book Picture Perfect Wedding, the third book in her Magnolia Brides series, which releases tomorrow. Leave a comment for a chance to win the first book in the series Best Laid Wedding Plans (US only).
The Space to Write
Autumn has arrived in the North Georgia Mountains, heralding some of the very best writing days. A pot of coffee and a fire snapping in the fireplace make it warm inside while it's cool outside. As I write this, I have baked apples, right from the tree, in the oven for dessert tonight. It's the perfect time for writing without guilt. There's no scraping or painting to be done and no yard work crying out for attention. Just days with my computer, my imagination, and all those people living in my head.
I confess that when I read a book I absolutely love, I have this secret desire to know what the author's writing space looks like. But then I also confess to loving Property Brothers, House Hunters and Fixer Upper. Does that make me a voyeur or just curious? I don't know, but I'll bet some of you do, too, don't you?
Since turn-about is fair play, I thought I'd share my writing space with you today. Okay, spaces. I wander around occasionally, but not often. An editor once showed me her office in New York City. As she opened the door, she said, "This is where the magic happens." I loved that! So…this is where it happens in my life.
I'm lucky enough to have a designated writing spot. It's where I go when I want to write. When I plant my butt in that chair, that's exactly what I do. I write.
My office in Georgia is on the third floor and when I'm in it (which is a lot!), I feel like I'm in a tree house. Outside my window are trees, trees, and more trees. Beyond that are the incredible Blue Ridge Mountains. Hummingbirds, cardinals, indigos, and squirrels frequent the deck outside. Distracting? Sometimes, but I love it.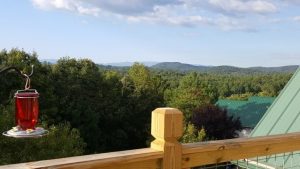 And on those days when I need some interaction with people—other than the ones running around in my head and on my computer screen—I head to my favorite Cabin Coffee Company. They actually roast their own coffee right there in the shop. Their lattes are the best!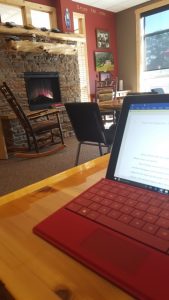 During the coldest days of winter, I admit to running away to Southwest Florida. I have my own space there, too, but it has a totally different feeling. Our home there is on one floor, so my office doesn't quite have that aura of a secret hideaway.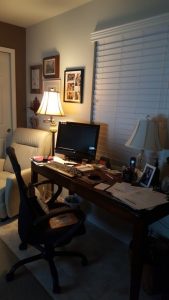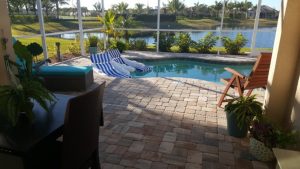 I do apologize for the mess in my office here. If I'd know y'all were coming, I'd have straightened up, but I took this photo right in the middle of a book, and it tends to get a little messy. But, I really do know right where everything is. I promise! When I've been inside too long, though, my laptop and I move outside for a little sun…and there's my Florida bonus!
I enjoy writing in my spaces, but I can write whenever I want to or need to. This summer we were in Ontario, Canada, at the Wild Swan Inn, and I managed to get several chapters written.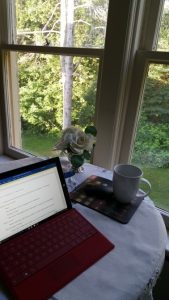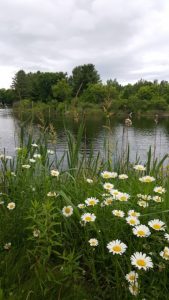 Having said that, writing doesn't mean my fingers are constantly moving over the keyboard. There's a lot of thought, daydreaming, and brainstorming involved. I have a tee-shirt that says, "I'm not staring blankly off into space. I'm writing." It's all part of the process.
Thanks for coming to visit. I've enjoyed showing you where I create my stories!
Third in the heartfelt and charming Magnolia Brides series from Lynnette Austin

One mistake can change everything…forever

Beck Elliot and Tansy Calhoun were inseparable—until Tansy left Misty Bottoms, Georgia, promising to come back after she finished school. Beck stayed behind to save the family business, dreaming of the day when Tansy would return. Instead, his trust and his heart were broken when she inexplicably married another man and bore his child.

Five years later, Tansy comes home, a sadder and wiser woman. Despite his anger, Beck finds it hard to avoid her and her adorable little daughter—especially with all the busybodies of Misty Bottoms going out of their way to throw him and Tansy together, hoping a lingering spark will reignite their enduring flame…
About the Author: LYNNETTE AUSTIN gave up the classroom to write full time. An author of eight novels, she has been a finalist in RWA's Golden Heart Contest, PASIC's Book of Your Heart Contest, and Georgia Romance Writers' Maggie Contest. She and her husband divide their time between Southwest Florida's beaches and Blairsville, GA.
Buy the book at Amazon, Books-A-Million, Barnes & Noble, Chapters, iBooks, or Indiebound.