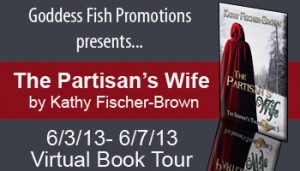 This post is part of a virtual book tour organized by
Goddess Fish Promotions
. Kathy will be awarding $20 Amazon GC to a randomly drawn commenter during the tour. Please see the Rafflecopter at the end of this post. Click on the tour banner to see the other stops on the tour.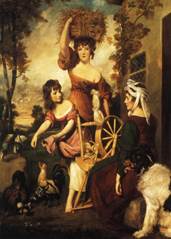 As a child at the beginning of Lord Esterleigh's Daughter, Anne lives a poor existence with her mother in rural England. Her clothes are simple, handmade from linen and/or wool that was spun and woven at home or by the local weaver.
A woman's clothes, regardless of station in life, consisted of over-the-knee stockings knit from linen or wool, and held up by garters. Her basic undergarment was the linen shift, which she also wore as a nightgown. Stays stiffened with whalebone or wood provided support. Pockets were worn suspended around the waist under her petticoats, which had slits in the side for access. Skirts were worn in a varying number of layers. Some skirts were sewn or pinned to the bodice, while others were worn interchangeably with bodices or jackets. Bodices were fastened by pinning, sewing or lacing. Women did not wear buttons. As a practical necessity, women also wore caps made of linen. Even the youngest children of the period dressed like miniature adults, with little girls squeezed into stays, or jumps, and smaller versions of the clothing her mother would have worn.
While Anne lives with her father, Lord Esterleigh, in London and at his country estate, she wears clothes and dresses her hair in a matter befitting the daughter of a marquess in the late 1760s. Fashion of the English upper class was influenced heavily by what was worn at court. Fabrics included silks, brocades, cotton, velvet, linen, and wool. In this upper crust of society, cloth was often imported and the garment was cut and sewn by dressmakers (not ready-made, hanging on a rack in a shop).
Book 2 of the trilogy, Courting the Devil, takes place in upstate New York under threat of impending war as the northern British army makes its advance from Canada toward Albany. Here, Anne lives a hard life as an indentured servant. As it was in early childhood, her clothing is homemade of linen, wool, or a combination of the two called linsey-woolsey. Cotton fabric was rare in the north. For reasons of simple economics, her skirts, like those of many poor women of the era, are worn shorter than their wealthy counterparts. Her shift is made of unbleached linen, much coarser that the same garment she wore as a member of the English aristocracy. Outer skirts, or petticoats, and jackets (with or without sleeves) are dyed with colors found in local plants, berries and tree bark. In winter, she layers her skirts for warmth. Anne wears a linen mobcap that keeps her hair as clean as possible, especially when the weather makes it impossible to bathe. A cap is also vital in helping to keep her hair from catching fire, a common cause of serious injury or death among women of the period.
Early in The Partisan's Wife, Anne and Peter are married at the American encampment during a lull between the two battles we now refer to as Saratoga. White wedding gowns didn't come into fashion until a much later date. During the colonial and Revolutionary Era, the gown a woman was married in would have been a practical, functional outfit, something she would wear a lot more than once. Anne's wedding dress is blue (with white stripes), quite old, and made of fine linen. She carries a bouquet of late blooming asters and wood marigolds that would have been found in the area. To round out her bridal attire, she wears a fichu (a neck kerchief worn around the shoulders and tucked into the bodice) of an almost gossamer muslin and a borrowed cap with ribbons embroidered with forget-me-nots.
Later in the story, while Anne and Peter are in New York, Peter commissions for her two new gowns and the red hooded cloak seen on the cover of the book.
About the Author: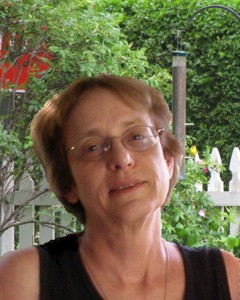 As a child Kathy wanted to be a writer when she grew up. She also wanted to act. After receiving an MFA in Acting and playing the part of starving young artist in New York, she taught theater classes at a small college in the Mid-West before returning home to the East Coast, where over the years, she and her husband raised two kids and an assortment of dogs. During stints in advertising, children's media publishing, and education reform in the former Soviet Unions, she wrote whenever she could. Her love of early American history has its roots in family vacations up and down the East Coast visiting old forts and battlefields and places such as Williamsburg, Mystic Sea Port, and Sturbridge Village. At the same time, she daydreamed in history classes, imagining the everyday people behind all the dates and conflicts and how they lived.
Claiming her best ideas are born of dreams, Kathy has written a number of stories over the years. Her first published novel, Winter Fire, a 1998 Golden Heart finalist in historical romance, was reissued in 2010 by Books We Love, Ltd.
When not writing, she enjoys reading, cooking, photography, playing "ball" with the dogs, and rooting on her favorite sports teams.
Website: http://www.kfischer-brown.com/
Blog: http:// http://illsay.wordpress.com/
Twitter: @KFischerBrown
Facebook: www.facebook.com/KathyFischerBrownAuthor
Faced with an impossible choice, Anne Marlowe is torn between her husband's love and the hope of her father's forgiveness. As American forces follow up on their tide-turning victories over the British at Freeman's Farm and Bemis Heights, Peter is drawn deeper into the shady network of espionage that could cost them both their lives.

Is his commitment to "the Cause" stronger than his hard-won love for Anne? Will her sacrifice tear them apart again…this time forever? Or will they find the peace and happiness they both seek in a new beginning?

The Partisan's Wife follows Anne and Peter through the war torn landscape of Revolutionary War America, from the Battle of Saratoga to British-occupied New York and Philadelphia, and beyond.