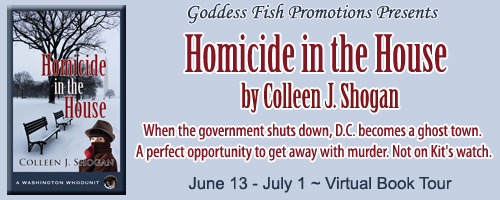 This post is part of a virtual book tour organized by
Goddess Fish Promotions
. Colleen J. Shogan will be awarding a $50 Amazon/BN GC to a randomly drawn winner via rafflecopter during the tour. Click on the tour banner to see the other stops on the tour.
The Role of Critics and Criticism
Anyone who writes, acts, or produces creative content has to deal with critics and criticism. The two are actually distinct, at least in my mind. Criticism can be quite helpful to a writer. After I'd written a draft of my first novel in my mystery series, Stabbing in the Senate, I sent it to a handful of agents. One wrote back to me and said he liked it, but there were some big flaws I needed to fix. He offered me valuable criticism. If I hadn't changed the beginning of the book to fast-forward to the action, I don't think it would have ever been picked up for representation or publication.
I've found that fellow mystery writers typically offer this type of constructive criticism. The best criticism points to examples, perhaps in other books, which can show the writer how to move forward. General comments, such as "this is bad writing" or "show, don't tell" means nothing if there isn't concrete instruction for improvement.
Critics are a different story. They often label creative enterprises as "trite" or "shallow" without providing evidence detailing why their opinions are valid. Literary critics engage in this type of behavior at times, but in this day and age, everyone has credentials to be a critic. All that's required is an Amazon or Goodreads account.
If someone writes a negative review, I don't ignore it. I read the review and oftentimes, the reviewer has a point. There's nothing wrong with those types of exchanges, because hopefully as writers, our work continues to get better as time goes on.
What is disappointing is when a critic asserts an opinion without substantiating his or her thoughts with examples or explanation. When that happens, I find it helpful to watch this scene from the Academy Award winning movie, "Birdman." In it, Michael Keaton goes off on a critic who is threatening to trash his new play. His diatribe is probably the best invective against an unhelpful and mean-spirited critic. Keaton's character also reminds creative people that we have the more difficult job because we actually produce content for other people to enjoy and consume. That task is ultimately more burdensome than reacting or opining.
Ignoring criticism isn't a viable option, especially if the goal is to write more interesting stories over time. However, ignoring critics that assign nasty labels without substantiated claims is recommended.
During a government shutdown, Kit's congresswoman boss is found standing over the dead body of a top staffer she tangled with in front of the press. The police are about to name her as the prime suspect. The weapon was the Speaker's gavel, an item entrusted to the congresswoman the previous night. The killer knows Kit is on the case. Can she solve the mystery in time to save her job and her life?
Enjoy an excerpt:
Smartphones are great time wasters. I fiddled with various apps as I waited. The next level of "Angry Birds" was within my grasp when I heard footsteps and voices across the hallway. I got up and stood in the doorway to greet my boss.
From the look on her face, she was not pleased. She charged like a linebacker to the exit of the Speaker's lair with Jack Drysdale on her heels.
"Stop, Congresswoman Dixon. You're not listening to reason!" From behind, Drysdale placed his hand on Maeve's left shoulder in an attempt to prevent her from leaving the suite.
Maeve had impressive reflexes. She turned her body toward him and grabbed his wrist with her right hand. "Don't touch me! Is this how the Speaker's staff treat members of the House?" Her voice was loud and filled with vitriol.
The gaggle of reporters who had been relaxing inside the anteroom trailed behind me. This was better than a boring pen and pad session. One of them murmured, "I think that's Dixon from North Carolina."
This was not a good development, but Maeve didn't know that the press had a front row seat to her implosion.
Maeve clutched Drysdale's wrist for several seconds until she let it go. Apparently her physical assault didn't intimidate him. He ran ahead and stopped directly in front of her.
Stretching his arms out wide to slow her down, Jack made his last stand. "I apologize. I shouldn't have done that. Please come back in the office so we can sort this out. You're a valuable part of this caucus and the Speaker wants to work with you on this deal."
Maeve shook her head. "You guys in House leadership are typical politicians. You can't take no for an answer. I'm not ready to make a decision. Now get out of my way."
Unmoving, Drysdale locked eyes with Maeve. She didn't look away and squared her shoulders. I could almost feel the tension around me as the reporters anxiously waited for the outcome. What was Maeve going to do? Knee him in the groin if he didn't back down?
After a moment that seemed like an eternity, Drysdale gave in and stepped aside. I breathed a deep sigh of relief and hurried into the hallway to catch up with her. As we exited the corridor, I glanced back to the doorway where I'd been standing. Every reporter was on his or her phone, ostensibly calling in the most salacious story of the shutdown thus far. A junior member of Congress and the Speaker's top aide had nearly come to blows in the Capitol. A high school reporter could make that story fly.
About the Author: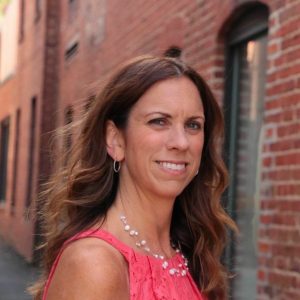 Colleen J. Shogan has been reading mysteries since the age of six. She writes the Washington Whodunit series published by Camel Press. A political scientist by training, Colleen has taught American politics at Yale, George Mason University, Georgetown, and Penn. She previously worked on Capitol Hill as a legislative staffer in the United States Senate and as the Deputy Director of the Congressional Research Service. She is currently a senior executive at the Library of Congress. Colleen lives in Arlington, Virginia with her husband Rob and their beagle mutt Conan.
Twitter | Website | Faceook | Goodreads
Buy the book at Amazon.