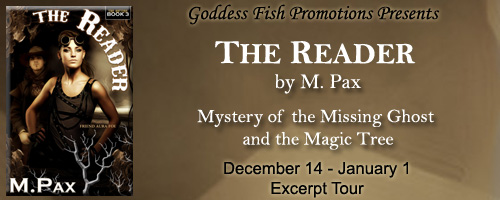 This post is part of a virtual book tour organized by
Goddess Fish Promotions
. The author will be awarding a $40 Amazon or B/N GC to a randomly drawn winner via rafflecopter during the tour. Click on the tour banner to see the other stops on the tour.
With the rift closed for the season and no more monsters to fight, Daelin Long gets bored as librarian in the podunk town of Settler, Oregon. A job interview and her brother's arrival present a tempting opportunity to escape, until her brother and her best friend, a ghost, disappear.

While Daelin searches for them, more mysteries pile up: dead people coming back to life, portraits of the town founders replaced with strange white trees, and people on the other side of the rift returning. It's impossible. The portal that allows monsters from other universes to come to Earth is sealed until next summer.

The Rifters, a secret group protecting our world, believe the troubles are nothing more than the tantrums of an offended ghost. Daelin disagrees. If she's right, the evil hell-bent on destroying Earth has new technology making the rift more deadly.

Before the monster summons the next apocalypse, Daelin must find it and destroy it.

Book 3 in the Rifter series.
Read an exclusive excerpt:
"Quiet night, Cordelia? All seems in order." Daelin Long smiled at the portrait of Cordelia Swit hanging over her desk at the library.
Cordelia's round face held onto the beginnings of age, softening her hard, blue gaze. Her nutmeg-brown hair, lightened with gray, was piled into a sweeping bun. The floral lace of her collar mocked the stories of her strength. The library and the town owed its existence to her.
Daelin drummed her fingers, wondering what to do about fetching her brother from the airport… "How am I going to get out of work? I can't call in sick. Sabina knows I'm not. We were out at the rift all night together."
The rustling of fabric foreshadowed Cordelia leaving the portrait. Her ghostly form and long skirt draped daintily over the laptop. More bizarre than reading email through a ghost, was the fact Daelin no longer considered it bizarre.
"What is the problem, my dear?" Cordelia asked.
Daelin had no room to think ill of Trinidad Cepeda's aluminum foil and flamingos, when she spent most days at the library conversing with a dead woman. Not only did Daelin confess her troubles, but she considered Cordelia her best friend.
"My brother arrives for a visit this morning, and a taxi won't bring him out here. It's too far."
"In my day, there was no obstacle to hiring a ride. The coaches traveled up and down the Dalles to Canyon City Trail regularly. A one-way trip took an entire day, however."
"Wow, it was more convenient to live in Settler a hundred years ago. What were the nearby hubs of civilization like? Mostly lumberjacks?"
"Nothing like San Francisco, but there was decent shopping in Prineville. It was a larger city than Bend then."
"Interesting." Daelin sat back in her chair. "I saw my sister this morning. She kept running away. As far as I know, she didn't come through the rift. So how did she get here, and why won't she talk to me the normal way? Why the game?" Daelin rubbed at her temples. "It's all so confusing."
"It certainly is since the rift is closed until next summer. I don't sense her or her friend Cerin."
"How do you sense them?" Daelin knew the rift operated by different laws than Earth, and she'd bet ghosts used different senses.
"Since your sister has taken up residence through the rift, she has a rhythm I can taste. The flavor has a feel to it. Bumpy and slick. The rift and its energies defy common descriptions."
"You don't have to explain any further. Please." Daelin really didn't care to hear anymore about what her sister tasted like or anyone else.
About the Author:
M. Pax is author of the space adventure series The Backworlds and the urban fantasy series The Rifters. Fantasy, science fiction, and the weird beckons to her, and she blames Oregon, a source of endless inspiration. She ghost hunts for fun with a group of curiosity seekers, docents at Pine Mountain Observatory in the summers as a star guide, has a cat with a crush on Mr. Spock, and is slightly obsessed with Jane Austen.
Website | Twitter | Facebook | Pinterest
The first two books in the Rifters series can be read for free by becoming an M. Pax Reader.
AmazonUK / AUS / CA / DE / FR / ES / IT / NL / JP / BR / MX / IN
iBook / Nook / GooglePlay / Kobo / Smashwords / inktera / Scribd