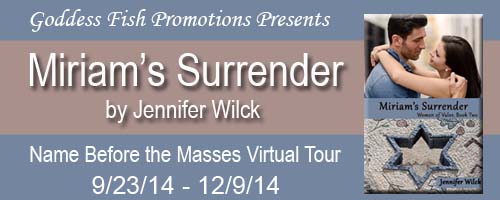 This post is part of a virtual book tour organized by
Goddess Fish Promotions
. Jennifer will be awarding a $10 Amazon gift card to a randomly drawn winner via rafflecopter during the tour. Click on the tour banner to see the other stops on the tour.
The Pros of Critique Partners
The first time I sat down at my computer to write a story, I made a decision. No one was going to see what I wrote. Not my husband, not my parents, not my friends. I was writing romance and I was too embarrassed to have anyone read what I wrote—not because of the sex, because there wasn't anything explicit, but because I was afraid of their reactions in general.
Eventually, I finished writing and editing the story and it was time to do something with it. So I submitted it to agents and editors. Many of the rejections, and there were many, came with comments. Contest submissions also offered suggestions. And I realized that in order to improve it, people other than myself had to read it. Some of the suggestions were ones I didn't agree with, but others made sense. I picked and chose which ones to listen to, and stumbled through perfecting it and finally it was published.
In the meantime, I had started writing a second story, but this time, I decided to get brave and find a critique partner. The one I found was wonderful. Her strengths were my weaknesses and vice versa. She strengthened my writing and she was someone who could relate to my writing lifestyle—in other words, the fact that there were voices in my head didn't faze her!
A few years later, she stopped writing and critiquing. At that point, I couldn't imagine not having someone to analyze my writing, so I went on a desperate hunt for someone else. I was lucky enough to find two more. One of those is great at plotting issues. The other is a grammar maven.
And then a funny thing happened to me. I was asked to join a critique group. For the first time, we were going to be meeting in person. Before this, my critique partners had been online. We'd email chapters back and forth with our comments typed in the margins. But this group, made up of some very impressive, successful authors, met in person once a month. They had a schedule for critiquing. They had rules. And they wanted me.
Not only would I get the benefits of other eyes on my work, but I'd learn from them. I'd be forced to develop a writing schedule and stick to it. And I'd have enough people critiquing me (with the online partners I already had) that I'd be able to make an actual judgment whether or not to listen to comments.
So I said yes.
I've been to two meetings so far, with one coming up in a couple of weeks. Each partner has a different style. Some focus on one area, others focus on different areas. But they all have something valuable to say. Additionally, I've become a better critique partner as well.
And I think my writing will show a vast improvement!
Josh Lowenstein is a successful architect, hired to redesign the alumni club of a posh, private school in New York. He is strong, capable and knows the best way to do everything. Except let another woman in.

Miriam Goldberg is the Assistant Director of Outreach, and is Josh's day-to-day contact for the redesign. She's taken care of everyone around her, and forgotten how to let someone else take care of her.

With a tumultuous history, neither one is prepared to work together. As they get to know each other, the animosity disappears, but Josh is hiding something from Miriam and its discovery has the possibility of destroying their relationship. Only when they are both able to let the other in, and release some of the control they exert over everything, will they be able to see if their love can survive.
Enjoy an excerpt:
"I should probably go and let you get some sleep. I'll pick you up Saturday around 11?"
"Perfect. I hope I'll be recovered by then."
He laughed, kissed her cheek and let himself out the door.
She put her hand to her cheek. His lips barely touched the skin, yet her cheek burned as if he'd branded her. They'd been warm and dry against her face. What would they be like against her lips? She leaned against the door and listened for the ding of the elevator's arrival. It was whisking away the man she grew more attached to each time she was with him. She gripped the doorknob and willed herself not to turn it, not to open the door, not to run after him.
The elevator dinged. He'd kissed her.
***
Her cheek? Did he kiss her cheek? Oh hell. What was he, fourteen?
Josh continued to berate himself in silence as he flagged a taxi outside her building. He gave his apartment address to the driver and stared out the window.
Why didn't he kiss her lips, like a man? Like a man who was attracted to a delectable woman.
He didn't have a good answer for that question, except their relationship was new and he was still working things out.
She'd asked for his assistance and he'd run to her. It's what he did. He helped people, and helping Miriam gave him a satisfaction deep in his soul. By aiding her, he established a connection between his heart and hers, except he couldn't tell her.
If he did, she'd in all likelihood run from him, especially after all the support he'd tried to give her sister. She'd think he was doing the same thing, maybe confusing the two of them, and she'd be far from the truth.
About the Author: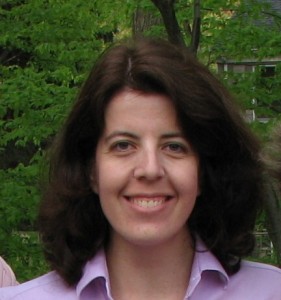 When I was a little girl and couldn't fall asleep, my mother would tell me to make up a story. Pretty soon, my head was filled with these stories and the characters that populated them. Each character had a specific personality, a list of likes and dislikes, and sometimes, even a specific accent or dialect. Even as an adult, I think about the characters and stories at night before I fall asleep, or in the car on my way to or from one of my daughters' numerous activities (hey, anything that will drown out their music is a good thing).
One day, I started writing them down (it was either that or checking into the local mental hospital—the computer was way less scary). Since then, I've published two contemporary romances with Whiskey Creek Press. The Seduction of Esther is my first book with Rebel Ink Press, and I'm excited to be part of their team.
In the real world, I'm the mother of two amazing daughters and wife of one of the smartest men I know. I enjoy spending time with my family and friends, reading, traveling and watching TV. In between chauffeuring my daughters to after-school activities that require an Excel spreadsheet to be kept straight, I serve on our Temple Board and volunteer for way more things than I have time to do. I also write freelance articles for magazines and newspapers, and edit newsletters.
When all of that gets overwhelming, I retreat to my computer, where I write stories that let me escape from reality. In my made-up world, the heroines are always smart, sassy and independent. The heroes are handsome and strong with just a touch of vulnerability. If I don't like a character, I can delete him or her; if something doesn't work, I can rewrite it. It's very satisfying to be in control of at least one part of my life.
I can be reached at www.jenniferwilck.com or http://www.facebook.com/pages/Jennifer-Wilck/201342863240160. I tweet at @JWilck. My blog (Fried Oreos) is http://jenniferwilck.blogspot.com and I contribute to Heroines With Hearts at www.heroineswithhearts.blogspot.com and to Front Porch Saturdays at http://sandrasookoo.wordpress.com.
Buy the book at Amazon or Barnes and Noble.