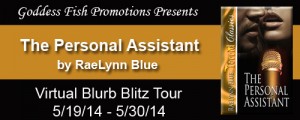 This post is part of a virtual book tour organized by
Goddess Fish Promotions
. Raelynn will be awarding $20.00 Amazon Gift card to a randomly drawn commenter during the tour. Click on the tour banner to see the other stops on the tour.
In the high stakes world of popular music, stardom and fame are commonplace. Superstar, Morgan Thomas, is a commodity to be bought and sold. Tyrone is her assistant, charged with making her insane life–manageable. But once Morgan goes missing, can Tyrone summon the courage to find her and take their relationship from platonic to passionate?
Enjoy an excerpt:
Tyrone scanned the menu. It was dinnertime and the luxury hotel's special was filet mignon with crab sauce. Morgan was allergic to seafood, so that was definitely out. He kept his cell phone in his right hand, just in case she called down to him.
God, I'm so trained! Sitting here with the freakin' phone in my hand, waiting for my precious pop princess to dial down to her lowly servant.
He silently read the entrees on the menu, but mentally, he pictured Morgan. Tall as any model with a smooth complexion that resembled creamy mocha, she stood out in a crowd. Her mixed African blood had produced a stunning beauty. Brown, natural curly hair flowed down to her shoulders and blue eyes lit up her face. When she smiled, the whiteness of her teeth made her thick, bee stung lips look even pinker. She hated her lips. He couldn't figure out why; her smile illuminated the dreariest of places.
At least to him.
She wasn't skinny like most women in the entertainment industry. With a long waist, full hips and ass, she put anyone of those cookie-cutter blondes of Beverly Hills to shame. Her ethnicity made her stand out; her beauty made her radiant
And she shined for him like the sun on a crisp, clear summer day.
He found her enchanting, and had since they were in high school. Yet, when she flirted with him—like the incident in the limo—it made him angry. She was simply toying with him, just like she did with many other men.
He didn't want to be any other man to her; he wanted to be the man—her man.
About the Author: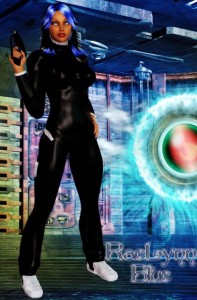 RaeLynn Blue is the author of numerous tales of erotic contemporary romance and speculative romance. With an imagination that's varied and diverse, her tales explores love in all its many shades, situations and scenarios. She fell into romance stories at the ripe age of eleven and has been writing stories ever since. A humble scribbler of tales, RaeLynn is actively writing another story of lust, love, and romance.
Blog ~ @raelynnblue ~ Facebook
Buy the book at Amazon or Barnes and Noble.