Long and Short Reviews welcomes Tory Richards who is celebrating the recent release of The Sentinels by Tory Richards.
The One That Got Away
I'm talking about thee one. The one person from your past that pops up occasionally in your mind. The one you still dream about and wake up feeling sad and lonely for. The person you hear about on and off through the years, maybe even see occasionally with their spouse, and think to yourself that that person (their spouse) is living what could have been your life. I think most of us have that one person that when you were with them at the time it just wasn't your time to be together. You go your separate ways for whatever reason but then wonder as the years go by what it would have been like if things had worked out differently.
That someone for me was a boy I'd met during the summer I spent in Maine with my dad. I'd lived in Florida at the time and my dad sent me an airline ticket. So I got to spend three months in a place that has to this day remained where my heart is. The boy I'd met that summer was a little older than me, but we were both fairly innocent. We spent a lot of time together, lying on a blanket beneath the stars, just talking, walking down to the corner ice cream stand. Every chance we got we found a way to be together. Before the end of the summer we shared one, little kiss.
Then I had to fly back to Florida, and he went into the navy. We wrote each other for two years until he met a girl and got married. That summer was forty-seven years ago, and because his family and my family come from the same small town the connection has kept him in my life in a very distant way. Yet I still have the occasional dream of him, and wake feeling as if I've lost something.
Weird, huh? Can anyone relate?
Now I'd like to move on and shamelessly plug my newest release, and gift everyone with a free short story! Here are the specifics, let me know if you have any trouble claiming "Dirty Surrender""
https://www.smashwords.com/books/view/603349
Promotional price: $0.00
Coupon Code: MS97W
Expires: August 15, 2017
As the president of the Sentinels MC Tanner his hands full. It's Daytona Beach Bike Week and Daytona is his town. Then trouble by the name of Ruby rolls in, pretty, sassy, and with enough curves to tempt a saint. Well, Tanner isn't a saint, and she's his kind of gal, except his onetime only rule isn't for girls like Ruby. But then, aren't rules made to be broken?
Enjoy an Excerpt
I heard the distant sound of what I thought was thunder, until it grew closer and I realized that it was actually the rumble of motorcycles coming our way. I expected them to ride on past us, but when they slowed and pulled up behind Pops' truck I straightened nervously. They weren't just weekend bikers, I could tell that immediately by the way they were dressed and the air of danger that they exuded. The six men belonged to an honest to goodness motorcycle club, and their worn, leather cuts were decked out in colorful patches and name tags.
They looked serious, and mean as hell. As I watched them climb off their large bikes and slowly approach us, I added big and handsome to their description. I glanced at Pops, looking for a sign that he knew these bikers. If he didn't, I was going back to my car to retrieve my baseball bat out of the back seat. He just smiled and gave me a wink.
What was I worried about, anyway? We were on a busy public highway. I took a deep breath, smiled, and said in my usual, cheery tone, "Hi, boys."
I couldn't tell where their eyes were focused, since they were all wearing dark sunglasses. The man who appeared to be the leader, the hunk wearing the president's patch, came to a stop a couple of feet away from us. I began to feel self-conscious of my clinging, wet clothes, especially when I felt my nipples turn hard against my thin tee. I crossed my arms, but the quirk of the man's lips told me that it hadn't been fast enough.
Jerk!
"You pickin' up strays now, Pops?"
Ohmygod! The deep, gravelly tone of his voice was sexy as hell, and it did something quirky to my core. The man wasn't too bad on the eyes, either. He was taller than most, his sun-tanned skin pulled taut over his super hot muscles. He oozed dominance, and the clunky silver rings on his fingers screamed that they were his backup.
"'Bout damn time you got here," Pops grumbled, pushing away from his truck. "And be nice to cutie, here, she stopped to help, and fed me, too."
"Cutie?"
Now I knew that his eyes were full on me, and I could tell by the tilt of his head that he was looking me up and down, as if he had the right to. I didn't like his intimidation tactics, even if his presence was having an unexpected affect on my lady bits, something I'm sure he was accustomed to when it came to the opposite sex. The devil in me prompted me to lower my arms and slap my hands on my curvy hips in a move that I knew was challenging. A big mistake, I knew, when his sexy mouth turned up at both corners.
"Looks like a drowned rat to me." The bikers behind him laughed.
"Flattery will get you nowhere," I responded sarcastically, meeting what I thought were his eyes. I turned my attention back to Pops, putting my hand on his thin shoulder. "Now that your boy is here, I'll be on my way. It was nice meeting you." I glanced back at the group of bikers. "Goodbye, boys." I gave them a wave, eager to be on my way.
"Baby–" The sound of his growly voice made me stop in my tracks to look back at him. "You call me a boy again, and I'll be only too happy to show you that I'm a man."
About the Author: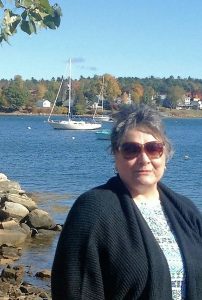 Tory Richards is a fun-loving grandma who writes smut. Born in 1955 in the small town of Milo, Maine, she's lived most of her life in Florida. Today she lives with her daughter and her family. She has her own woman-cave which she shares with four felines whose main goal in life is getting as much cat hair on everything that they can.
Penning stories by hand and then on manual typewriter at the age of thirteen, Tory was a closet writer until the encouragement of her family prompted her into submitting to a publisher. She's been published since 2005, and has since retired from Disney to focus on family and writing.
Website | Amazon Author Page | Smashwords Author Page | Barnes and Noble Author Page | iBooks Author Page | Facebook | Twitter | Goodreads