This post is part of a virtual book tour organized by Goddess Fish Promotions. Ellis Morning will be awarding a $20 Amazon or Barnes and Noble GC to a randomly drawn winner via rafflecopter during the tour. Click on the tour banner to see the other stops on the tour.
The Night I Almost Quit Writing my Novel
I remember the night I almost quit writing my novel.
It was back when I was still working full-time in the corporate world, with evening writing as my relaxing pastime—although it'd become anything but relaxing. Finishing a novel was much harder than I'd thought. After years of effort, I'd just realized I was in for another total rewrite from scratch, and I still didn't even know how the book was going to progress from A to Z. I could've pulled my hair out in frustration.
"Maybe I should just give up," I whined out loud to my husband.
The idea was so tempting. It'd be such a load off my shoulders to just walk away from this mess and start over with a new idea. Never mind that I didn't have any other ideas, this was just how it worked. I almost never finished big projects. 80-page attempts that'd sputtered out and died filled a whole folder on my hard drive. I just hadn't found the right idea yet. In fact, this latest idea sucked. And I sucked, and I'd never make it work.
My husband didn't say anything. I was looking for his permission to quit, but he didn't give it to me. Eventually, I put the whine aside and got back to work.
I'd like to say it was an easy road from there. It wasn't. But I didn't quit then, and wasn't tempted later. My efforts eventually led to 2 complete novels, and I'm not about to stop there.
I've learned there's no such thing as "the" idea that's fated to become a novel. If you're willing to devote the effort, you can make any of your ideas work, but there's definitely a boom/bust cycle to be endured. When you're at your lowest, feeling like the King Midas of Crap, you gotta dig deep and push on—just as you'd want your characters to do.
It's not just great advice for writing, but everything, really. Keep pushing, keep striving. Lean on your loved ones for support. And if you have quit, it's never too late to start back up again.
Thanks so much for reading! Please feel free to leave me comments/questions, or read more at my blog.
The Quest Continues To Stop A Killer "Curse!"

Dame Jessamine is a knight errant with a spaceship for a steed, a woman of science in a galaxy rife with superstition. Follow along as she continues her mission for truth within the barony of Nidaros!

A mysterious crop-withering blight spreads through the barony's soil. The court magicians have blamed two siblings of spawning the crisis through witchcraft. Convinced of their innocence, Jessamine has rescued and now secretly harbors Verahl Naustvik aboard her spaceship. Meanwhile, his sister Thordia flees to the Harbinger, a crashed space station from the distant and more enlightened past.

Approaching the Harbinger is an act punishable by death, but Jessamine won't let that stand in the way of a second rescue. Thordia, and the Harbinger's surviving technological secrets, may be Nidaros' only hope against the blight. Jessamine prepares to embark—only to be betrayed and set upon by vengeful court magicians.

Now, one wrong word or gesture will lead to deadly charges of witchcraft. Jessamine must protect the Naustviks and brave the Harbinger, all while striking a balance between ritual and reason. If she can't maintain the peace long enough to discover a cure for the blight, the entire barony will starve—unless its far-off masters decide to "restore order" with military action first!

Harbingers is Book Two of the Sword and Starship series of science fiction/fantasy adventure.
Enjoy an Excerpt
Outside the barracks, Ingvar, Pontus, and I stared out into the starry night. Colorful flashes pierced a single point in the sky at irregular intervals—some strong, others flickering. Some were as short-lived as fireflies, easy to miss if one weren't looking directly at them. Most were green and orange, with the occasional burst of red.
I held my breath while puzzling over the matter. Stellar phenomenon, meteor shower? No, it seemed much closer than that. Explosives? But silence reigned in their wake. Ingvar and I had found the Naustviks' house full of Shipbuilder holograms and lighting devices. Could this be more of the same, wielded by adepts or others with adequate knowledge? But usually, such objects and knowledge were rare.
There was a more mundane possibility: fireworks. Metal salts like calcium chloride, ground into a powder and introduced to fire, burned up in a dramatic display of color. My mentors at the Enduring Flame Beguinage had introduced me to tricks like that, specifically labeling them tricks. Adepts performed such stunts, too, but called them "magic."
At my side, Ingvar frowned. "They seem to hover right over the capital buildings." He referred to the three Shipbuilder structures at the core of Nidaros' capital: the Baron's estate, the adepts' keep, and the storehouse.
"Unseen. Never thought …" Pontus trailed off nervously. He stood ahead of us, his reaction invisible.
"Pontus?" Ingvar prompted. "Is there something I don't know about?"
The lieutenant faced us, fists clenched at his sides. The right one slowly ground his wishing beads into dust. "Last week, the boys on night watch whispered about a vision like this. They convinced the next night's shift to be on the lookout, but it never repeated itself. Forgot about it until now."
"Wherefore didn't anyone tell me?" Ingvar asked.
"We know not to bring you a ghost tale unless we have the ghost on a leash, sir." Pontus tossed his head over his shoulder. "Is that close enough?"
Ingvar scowled toward the flashing lights again, saying nothing.
About the Author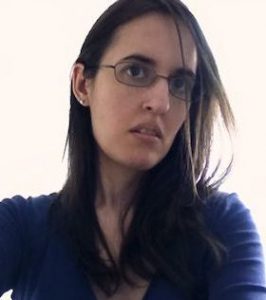 Ellis has always loved staging adventures in her head before going to sleep each night. When she was twelve, she started putting these adventures on paper.
For the next twenty years, she wrote with varying degrees of seriousness, but always as a hobby. In that time, she fell in love with Mark Twain and Kurt Vonnegut, the original Star Trek series, and Mystery Science Theater 3000. Science fiction became her favorite domain to work in, but she also enjoyed reading fantasy, horror, Western, and detective stories, and incorporating their elements into her work. One of her favorite things to do was make people laugh.
Ellis denied being a writer for decades. But then she sold articles to The Daily WTF, and a short story to Analog Science Fiction and Fact. After quitting her full-time job to finish her first novel, it was time to own up to writing as her calling. She's currently an editor at The Daily WTF, and having the time of her life penning novels and short stories.
Google+ | Twitter | Goodreads
Buy the book at Amazon, Barnes and Noble, Kobo, or iBooks.