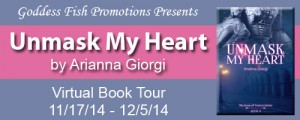 Arianna Giorgi is guest blogging with us as part of a virtual book tour organized by
Goddess Fish Promotions
. Ariana will be awarding an original handmade Venetian mask from Venice to a randomly drawn winner via rafflecopter during the tour. Click on the tour banner to see the other stops on the tour.
*****
Hello beautiful ladies, it's a pleasure to be your guest. These days here in Rome the weather is awful and I'm now under a blanket, with my cat curled up in my lap and a piping hot cup of tea next to me. And I'm alone! No husband and no girls around. Well, of course I love my family but it's nice to spend some time on my own every now and then.
I don't know if you've ever read a romance set in Italy, but if you love the Venice scenario, you will love this story.
Have you ever to the most romantic city in the world? Have you ever enjoyed a gondola trip? This is your chance to experience Venice because in Unmask My Heart the city is a true character, like the protagonists.
And if that is not enough to convince you, let me invite you to Like my Facebook author page where I posted photos of the places mentioned in the book.
I was asked what kind of writer I am. To begin with, I'm a writer who would love to have more time to write. The ones of you who are full time workers like me, wives, mothers and cats' official cuddler, can fully understand me. But I learned how to use every free minute.
I'm a writer who loves historical romance. I love when my readers can enjoy the times and places that I describe in my books. I like when they tell me they feel part of the story, do what my characters do and feel what they feel. And I like to be an honest writer, I want to write only about what I know. This is why I visit every place I write about. Because I believe that readers deserve a believable sense of space and time.
When I need inspiration or I need to collect my thoughts, I run away.
I have a beach house on the beautiful coast of Tuscany. That's my refuge. When I'm there, I look at the sea, at the Elba Island rising from the Mediterranean Sea right in front of my windows, and I let my imagination go wherever it wants.
Right in the moment when I was just looking at the Elba Island I remembered there was Napoleon's prison. Then I thought it would be a nice idea to open my book on an island.
Yes, ideas come to me when I am away from home. I wrote Unmask My Heart's plot during a road trip around Tuscany. One day here, one day there. While visiting castles, walled cities, roofless cathedrals and swords in the stone, Unmask My Heart came to life.
Tuscany gave it life, Rome gave it strength, and Venice gave it magic.
I'm waiting for you on my Facebook author page to talk about Brando and Isabella and much more. Original Venetian giveaways are waiting for you. See you soon!
When Rome's loveliest rose and Venice's fiercest lion team up to win back the love of their respective spouses-to-be, the Serene Republic may expect a hilarious romp – and perhaps the most torrid love story to have ever bedazzled its gilded canals…

Survived a pirate attack on the Isle of Lina, Venice's sturdiest outpost, Roman Princess Isabella Pamphili and Venetian war hero Brando Loredan escape from the island and arrive in Venice.

Isabella discovers her fiancé is a cheat, her bride dream a lie. Her future husband, the man she loves with all her heart is flirting in… Brando's fiancée's arms!

Shock. Disappointment. Anguish. Fear for her future. The rascal deserves a lesson he will not forget, because a princess of Rome doesn't bow out so easily. Brando Loredan will not be that hard to convince for he is jealous, angry and vindictive enough to get some brilliant idea. So she joins forces with him to get back her fiancé and put together the little dream back on track. But while trying and insisting on regaining the dream, she discovers a new path of light and love. It is not a lie, like the first dream, but it may be even harder to win.

Unmask My Heart is a story of love and sweet revenge set in sparkling, sumptuous Casanova's Venice where everything is possible and sins are concealed behind a mask.
Enjoy an excerpt:
Brando grabbed her by the arm and forced her to turn around. She struggled against him, punching her fists on his chest.
"Unhand me." The princess looked like a puppy facing a lion. Brando dragged her in a hidden corner and pinned her between his body and the wall.
"Stop running away, Isabella."
"Let me go." She panted and refused to look at him.
"No. I'll never let go."
With a deep sigh, Isabella wiped away her tears that threatened to overflow, and collapsed into his arms.
Brando's arms slid around her waist to hold her upright.
Isabella looked up at him. Brando drowned in her clear emerald pools. His knees were weak and, his desire to kiss her devoured him. He pushed her ermine soft hair from her face. That neck, that skin … his fingers tried, struggled in every possible way not to touch her. Brando wanted with all his heart to act like a friend. He sincerely wished to comfort her but his hands ached for her, his lips craved her kiss.
He wanted to scrub away the desire for her kiss. Isabella was here in his arms and he could never love her, or taste her as he wished. His face contorted with the pain in his heart.
Isabella stepped closer and wrapped her arms around his neck.
It was too much for him. Brando's hands cupped her neck and her shoulder. His fingers trailed along her neck and she leaned her head back.
Isabella was there, she wanted love, consolation and passion.
About the Author: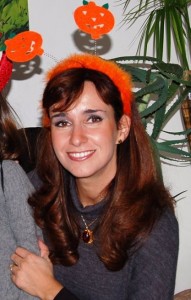 Arianna Giorgi is a historical romance author and a journalist, a college graduate and an avid reader. She makes her home halfway between the Vatican City and the picturesque old quarter of Trastevere at the heart of the city of Rome in Italy, where Julius Caesar kept an apartment as a young man about town and from where a long list of artists gave the world some of its greatest masterpieces.
She has an intrinsic appreciation of beauty and everything eccentrically romantic, including a strong affiliation to the city of Venice which she visits at least twice a year.
Independent and curious, Arianna has travelled extensively around the globe, from America to Africa and back to Europe. Frankly, she never misses a chance to pack her bags and jump on a plane. Driven by a passion for European history and art, she wanders and investigates every hidden corner of the Old Continent, armed with a camera and a notebook, and looking for intriguing stories and settings for her books.
She loves history, astrology, gourmet cooking, and cats. She lives with her husband, her beautiful daughters and her red cat, surrounded by her own cultivated flowers and the magical grandeur of the Eternal City.
Buy the book at "http://www.amazon.com/Unmask-Heart-Lions-Venice-Book-ebook/dp/B00N7AW9BS/ref=la_B00LT8GI7G_1_1?s=books&ie=UTF8&qid=1412275144&sr=1-1″>Amazon