This post is part of a virtual book tour organized by the publisher. Enter the Rafflecopter at the end of the post for a chance to win a Sourcebooks romantic suspense prize pack including M.L. Buchman's BRING ON THE DUSK.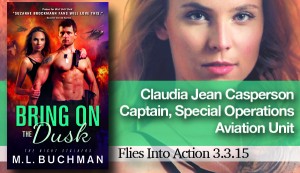 The Moment of Realization by M.L. Buchman
One of the great challenges as a writer of romantic suspense is how to escalate a relationship relatively quickly without making it unbelievable. However, in my upcoming release Bring on the Dusk, I have two characters who are very used to keeping their thoughts to themselves. That was part of the real joy of writing this book, discovering along with the characters, their own emotions and reactions—whether getting ready for a dangerous mission, or stripped bare by exhaustion.
In the following scene, Michael and Claudia have known each other less than a day and already she's considering the unique nature of the first meeting story.
*****
"No mission tonight." Michael had taken her statement at face value. "But I think you might wish to attend the briefing."
Not her first choice at all. She'd be asleep within thirty seconds of hitting the chair and end up slumped on the floor of the meeting room on her first day with the company. Hell of a first impression.
"I'll try not to be boring."
She laughed. It just burst out of her.
No one had ever been able read her like that.
Claudia had been accused of being an Ice Queen any number of times in her career, just because she liked keeping herself to herself. Of course, the guys said it because she wouldn't sleep with them, which also had made the nickname useful. She'd learned early on the advantages of nurturing the image. She would occasionally let carefully selected men through her barriers, discreet ones who had no association with the Corps, though none of them had stuck for more than a few months.
But some of the women called her that too, which made her wonder. It was exactly the sort of thing Trisha would have said, if she'd thought to.
Claudia was far too tired to try to make sense of Trisha at the moment.
She was about to decline when Michael tipped his head in a gentle "C'mon."
It was charming and she was tired enough to be charmed a little. She hadn't missed his compliment or how much it had surprised his tablemates. And she'd never met someone who might understand the attraction of her desert. But maybe, just maybe, he did.
Share her desert with Colonel Michael.
She noted that in her head, it wasn't an interrogative but rather a flat statement. Too young to be going senile, perhaps going psychotic? She'd known him for…an embrace, a meal, and a firefight.
Well, that only verified that they were both soldiers to the core. The average couple couldn't point to the obliteration of an al-Qaeda cell as their meet-cute.
Couple? She really was losing it. It was a good thing she wasn't one of those people whose brains connected directly to their mouths with no filter.
With a shrug of acceptance—which she deemed safe enough—she followed him up the steel ladders, through the ringing hangar deck where dozens of SOAR and Navy people were now scattered along a makeshift track, and on up to the flight deck.
Five nations surround the Caspian Sea, five nations desperate for the vast resources there, and willing to go to war. It will take all of Claudia and Michael's ingenuity to avert disaster. As they discover how right they are for each other, it will take even more to breach the walls they've so carefully built around their hearts…
Find the book at Goodreads and buy the book at Amazon, Barnes and Noble, or iTunes.
About the Author: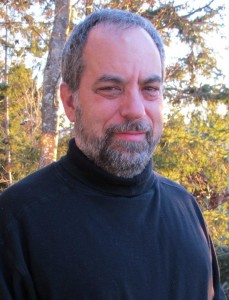 M. L. Buchman has over 25 novels in print. His military romantic suspense books have been named Barnes & Noble and NPR "Top 5 of the year" and Booklist "Top 10 of the Year." In addition to romance, he also writes contemporaries, thrillers, and fantasy and science fiction.
In among his career as a corporate project manager he has: rebuilt and single-handed a fifty-foot sailboat, both flown and jumped out of airplanes, designed and built two houses, and bicycled solo around the world.
He is now a full-time writer, living on the Oregon Coast with his beloved wife. He is constantly amazed at what you can do with a degree in Geophysics. You may keep up with his writing at www.MLBuchman.com.
Website | Goodreads | Facebook | Twitter | YouTube