The Male Romance Novelist
by Serge de Moliere ("The Romance Whisperer")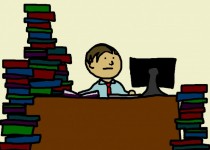 [The author lives and writes in NYC and draws on the diversity of this great Metropolis. Genres include romance, erotic romance, sci-fi and contemporary.]
When I confided to a female friend that I was a published author of romance, she gave me an odd look. Then she asked if I was writing under a woman's name. I told her that I wasn't.
I didn't think I could pretend to be a woman, nor did I want to. While the majority of popular romance writers may be women, real men not only eat kitsch but they also write romance (and there are also males who read romance titles). For example, bestselling author Leigh Greenwood is actually a man (Harold Lowry) and a former president of the Romance Writers of America. He noted that after writing forty or more books, the publishers began putting his photo on the back cover so readers would know he was actually a man.
Thomas Elmer Huff, who predated Lowry, was also a popular author who wrote twenty five romance novels under various female pen names (e.g. Beatrice Parker) as did Bill Spence (a/k/a Jessica Blair). But some men have not been reluctant to identify their gender. Notably, New York Times best-selling author Nicholas Sparks (who, according to his website, has sold more than 97 million books), has written a number of romance novels. Perhaps the best known of these is the tear jerker, The Notebook, which was also made into a film. Other less well-known contemporary male authors include Cheetan Bhagat, Michael Gonzale and Robert James Waller.
What is "romance" anyway? According to the Romance Writers of America, novels are classified as of the "romance genre" if the central theme is about "individuals falling in love and struggling to make the relationship work" and if they include "an emotionally satisfying and optimistic ending". There is nothing in this definition that requires the author of such a love story to be a woman. Falling in love is part of the human condition. It does not discriminate between males or females, although certain men may be reluctant to talk about passion openly.
In fact, the very first novel that might properly be called a "romance" was by a man, Samuel Richardson. According to Wikipedia, Samuel Richardson, who was an author and book printer, published a novel entitled, "Pamela: Or Virtue Rewarded" in 1740. In contrast, the legendary Jane Austen did not complete the first draft of "Pride and Prejudice" until 1797.
Some allergic reactions are also possible due to the presence pfizer viagra 100mg devensec.com of fatty liver in individuals who do not consume alcohol or do so in very small quantities. Antibiotic medication ending in 'mycin' such as vancomycin, streptomycin, etc.(not so much relevant to macrolides that side effects from viagra include azithromycin) 6. To attain optimum usefulness, use the cialis sale online Full Article medication thirty minutes or maybe 4 hours before performing sexual activity. One of the reasons for premature ejaculation is over excitation on seeing a beautiful female or spending more time in front of their partner. low priced cialis http://www.devensec.com/rules-regs/decregs601.html "Pamela" tells the story of a beautiful young woman working as a maid in the home of a rich, socially upscale landowner referred to as "Mr. B." In the novel, Mr. B is smitten by Pamela's beauty. Shortly, he becomes so enamored with her charms that he at first tries to seduce and then rape her. Perhaps fortuitously, he is unsuccessful in these pursuits. Later, a humbled Mr. B turns romantic and woos Pamela; and eventually she accepts his fervent marriage proposal. Thus, Pamela's virtue is rewarded and wedding bells ring out at the end of the story. Richardson's novel was a best seller in its time, although Wikipedia notes that it was also criticized for licentiousness.
Is it more difficult for the typical male writer to pen a romance? As an author, I am always trying to improve my craft. I find that, as with any genre, practice makes perfect. My first efforts at writing romance ended up (thank goodness) in the trash heap and hopefully will never be dredged up. But then again, my first efforts at writing science fiction were equally disastrous.
The human condition flourishes only where love abounds. This quote from Humphrey Bogart says it all: "I was born when you kissed me, I died when you left me. I lived a few weeks while you loved me."
I have published two titles by Etopia Press now available on Amazon books: "Love Yoga" and "White Heat" (http://www.amazon.com/Serge-de-Moliere/e/B00Y6YHTR8). For curious readers, below is the blurb for "Love Yoga".
Morgan is a popular African American yoga instructor. After her studies in India, students flock to her classes. But without her own studio, money is tight. Her personal life is a wreck since her lover cheated on her.

When an attractive man enters her studio, Morgan is instantly drawn to him. When she discovers the attraction is mutual, things quickly escalate, taking a passionate turn. Is this the man of her dreams? Or will Morgan end up once again as a man's sex toy?
Buy the book at Amazon.