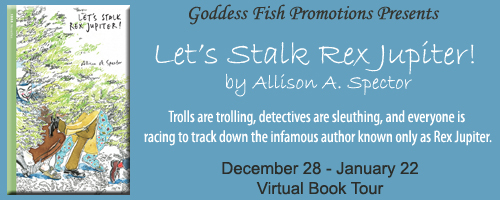 This post is part of a virtual book tour organized by
Goddess Fish Promotions
. Allison Spector will be awarding a signed copy of book with original plot outline notes (loose sheets of paper) inside and additional notes at end or in margins of story (US/Canada only) to a randomly drawn winner via rafflecopter during the tour. Click on the tour banner to see the other stops on the tour.
The Making of Let's Stalk Rex Jupiter (as spoken in the voice of an elderly British narrator)*
*You're totally imagining it, aren't you?
Once upon a time, there was a peculiar little girl with knee-length hair and a thousand-yard stare. She fancied herself as magical elf in a forest of pine, reeds, and windmill giants. Her heroes were Gavroche and Peter Pan. Her imagination was a joyous bonfire, kindled by books, and songs, and fairy tales.
The peculiar little girl lived in a little cottage inside her head. And although she was eager to visit the world outside, not everyone knew how to talk to the whimsical little creature that didn't care a lick for gendered characterizations, or societal expectations. But her brain was deft and sharp, and she cut a fair and proper swath of the world to wrap herself in. It was a lovely swath and it was hers.
Girded in her cloak of "what if's" and "let's try this!," she wandered across reality, growing flowers and toadstools wherever she stepped. She made strange friends along the way. Some stayed forever in her head. Some stayed forever in her heart.
And she and her friends in her wondrous world thrived by circumventing normal routes and routines. Everything always seemed to fall into place for the peculiar girl because even when it didn't—even when life was loud, and rough, and perilous—she kept on walking.
Far, far past the precipice the peculiar little girl would wander. Far past the edge of the cliff. And because no one told her she would fall (she wouldn't have listened anyhow), she kept on walking until her feet caught air and dug into the very clouds.
Winds would blow and strange, cruel hands would reach from below and paw at her ankles. But she hardly even noticed. It was of little consequence. All that mattered were castles to explore, and worlds to conquer, great dreams and ambitions and wonder to pursue.
One day, when the girl had grown into something resembling a woman (although in her head she was still a magical elf) she arrived in a magical land called Bellingham, Washington. The girl built castles of stone, and sand and she frolicked amongst the evergreens. She marveled at how many kindred souls played the amidst the waterfalls and evergreens. She had found her people. She had found her home. She floated with her peculiar little family and times were beautiful and good. A never-ending river of contentment.
But the peculiar girl wasn't content. She had an urge to overturn each log, and chase every star that twinkled in the heavens. She plotted and planned and dreamed and stared off at distant smoke from imagined dragons. So carefully, tepidly, she let her fingers break their grip from the tendril'd vines, and pines, and stringband elves and carried her family over the majestic mountains, and the green magical placed, and landed with an unceremonious thud in the Middle of the Continent.
Now the Middle of the Continent wasn't a bad place, per se. It was a very sensible land, full of sensible people. They balanced their checkbooks, and straightened their ties, and paid their taxes, and raised upstanding children, and went to church every Sunday. And for them the world was a place of predictability and order.
The peculiar girl had a peculiar notion that she might add a few purple lines to the lands of sensible greens and browns. She would add a few polka-dots to the plains and evergreens to the fields. And she would paint golden sun rays around the sleepy eyes of the children.
At first, the peculiar girl she was welcomed the good people of the Middle of the Continent. The marveled at her arms full of brushes and her head full of clouds. They tilted their heads skyward as she built scaffolding from which she would launch balloons in the air. They smiled as she sang songs of juggler and clowns. But soon the sensible people in the sensible shoes began to tire of her whimsy. She made them dizzy as she danced in the sky. She made them nervous as she tunneled below with her novelty spoon. And walls were built at the speed at which she could sprint around. So she patiently sat at the door waiting on go through.
The peculiar girl could feel the flowers in her hair wilting. And though she felt joy that her friends in the Middle of the Continent were calm and content, she felt gray clouds eke raindrops into her skin. So she and her peculiar little family hunkered down and huddled together with their rays of sun buried in her hearts, starring off into the distance horizon—towards the magical land from whence they had come.
Alone in her room, in her comfy chair the peculiar girl summoned all the best memories of her happy times in Bellingham. She recalled the buskers and bohemians and banana slugs (yes, even the slugs) and her heart weighed heavy with sadness. So she sat in her chair and she wrote and she wrote until the words spilled out like tears. Her silly, whimsical, peculiar words reminded her of who she was—and the passion that drove her forward.
Before she knew it, her story had grown and bloomed with flowers and folly and tizzies galore.
And lovely people liked her book, and printed her book.
And she was happy…
Trouble's brewing in the Evergreen Jungle. When controversial author Rex Jupiter plans a visit to a Bellingham bookstore, news of his arrival attracts the attention of the mysterious Paladin, who plans on leading a mob of rioting housewives against him. But the Paladin has competition. Sleuth-extraordinaire Marian Krause has her own bone to pick with Jupiter as she scrambles to solve the death of a woman who has stolen her identity. Rex may think he has the situation under control, but when the wrath of the local Druids is incurred, pitchforks and torches may be the least of his concerns.
Enjoy an excerpt:
Marian's lungs shuddered against the fumes of the organic, locally sourced, native-friendly tobacco as it passed from the long-stemmed cigarette holder through her lips and into her body. It was a dirty, messy habit. And it was hers. The smoke floated in the air, letting forth a wave of guilty pleasure. She carefully measured out her puffs, since theauthorityoneverything.com told her that for every cigarette she smoked she would lose 5.5 minutes of her life.
Thus, she made sure that she only sacrificed 1.375 minutes at a time. She found the pleasure-to-life-lost ratio to be acceptable as everyone knew that all detectives smoked. And they did so in darkened rooms, with shades drawn, and only the light of a low-watt desk-lamp to illuminate the wisp of airborne tobacco trailing off like a faded dream.
Also, it made her feel badass. So, there.
Of course, there were disadvantages to sitting in a darkened room, the greatest of which was that it made her extremely susceptible to her husband's Tokens of Affection, which usually fell into three categories:
(A) Crimes Scenes: composed of stolen police tape, ketchup, and teddy bears
(B) Fan Fiction: of a most Adult variety, written about Marian, and cleverly slipped in between her meticulously organized case files and resumes
(C) Brazen Thievery: which meant that her Second-Most Favorite Fedora would be missing, and she could only retrieve it following an Elaborate Series of Clues
The very thought of his categorical attentions made her want to climb down from her attic office and pay him a Conjugal Visit that instant. She would bring the Special Trench Coat and the magnifying glass and…
She slapped herself on the cheek. Love would have to wait.
About the Author: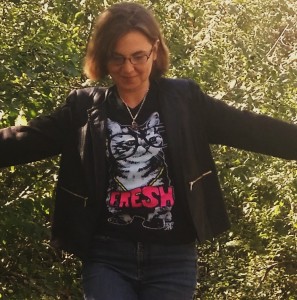 Allison Spector was born and raised in the hedonistic playground of the Jersey Shore, but finds herself oddly allergic to spray tan. She is a proud graduate of Goucher College, and started her environmentally-focused career in Washington DC in 2005. She moved to the Pacific Northwest in 2008, and fell in love with its beauty and people. Allison is currently on a Midwestern Adventure and is determined to live as much life as possible—to accomplish her dreams one at a time—and to nurture her loving family, and blaze a trail of wit, whimsy, and eccentricity wherever she goes.
Twitter | Website
Book available on Amazon.