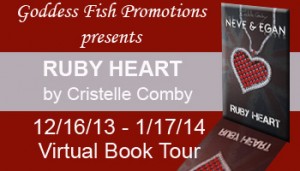 This post is part of a virtual book tour organized by
Goddess Fish Promotions
. Cristelle will be awarding a signed paperback of Ruby Heart plus a signed copy of book 1, Russian Dolls, to a randomly drawn commenter during the tour. (US ONLY) Click on the tour banner to see the other stops on the tour.
The Making of a Crime Writer
Crime writing is no different than any other writing. Sure, you need a good mystery, a lot of tension; life and death situations, high stakes that keep readers turning the pages, and more, but in the end, it is — as any other writing genre is — all about characters.
You have to think up interesting, realistic characters. Create heroes, create co-protagonists and opponents. Give them lives, pain, aches. Make them people like you and me, with qualities – yes, but with flaws too. It's important not to make them perfect. And then it's all about getting your audience to care about them. Making sure that readers will connect with them. That is what will make them turn the page and keep reading.
Your story — whether it's a war story with star-crossed lovers at its centre, or the amazing journey of a space-shuttle crew heading out to Mars — is just a channel for your characters to accomplish their emotional journey. Think of where they were and where you want them to be by the end of the story. Then find things to throw in their path, and indicators to help them know where to turn, and more things to throw in their path, and, slowly, build a story around their journey.
About the Author:
Cristelle Comby was born and raised in the French-speaking area of Switzerland, in Greater Geneva, where she still resides.
Thanks to her insatiable thirst for American and British action films and television dramas, her English is fluent.
She attributes to her origins her ever-peaceful nature and her undying love for chocolate. She has a passion for art, which also includes an interest in drawing and acting.
Ruby Heart is her second new-adult novel, and she's hard at work on the next titles in the Neve & Egan series.
Website ~ Facebook ~ Twitter
When elderly client Doris Hargrave informs private investigator Alexandra Neve that her beloved antique ruby heart necklace has gone missing for the second time in a period of over sixty years, Alexandra knows this is no ordinary jewellery theft. The ruby heart is a family
heirloom and the only thing that connects an ailing Mrs Hargrave to her parents, who were murdered during the Holocaust.

To solve the case, Alexandra and her business partner, blind history professor Ashford Egan, must sift through obscure Holocaust documents to find out the truth. It's that way that they learn of a secret World War II-era love affair which could hold the key to all the answers they are looking for. Meanwhile, Egan is under immense pressure from the university to quit his private investigating business, and Alexandra is afraid that a man she trusts will leave her. Again.

When Alexandra begins to receive anonymous threats and her flat is vandalised, this all becomes personal. Knowing that there is someone out there to hurt her, Alexandra vows to find that elusive ruby heart if it's the last thing she ever does.
Buy the book at Amazon.