This post is part of a virtual book tour organized by the publisher. Enter the Rafflecopter to win one of five handmade Victoria Vane bookmarks.
The Making of a Contemporary Romance Writer
by Victoria Vane
SLOW HAND marks the beginning of a brand new writing journey for me. I began my writing career in 2008 as a creative outlet from a stifling job. As a die-hard, history junkie, horse lover, and a romantic at heart, my first novel combined all of these elements. THE HIGHEST STAKES, written as Emery Lee and published by Sourcebooks in April 2010, is a historical fiction novel featuring star-crossed lovers set in the world of 18th century horseracing. At the time of my debut, I didn't have any "plan" other than writing more books. Since my fist two books had strong romantic elements, I was encouraged by my publisher to move into historical romance.
Fast forward to December 2011, I released my very first steamy historical romance, A BREACH OF PROMISE under a new pen name, Victoria Vane. This hot little novella was very well-received by romance readers and led to eleven more hot historical titles over the next two years. Although I'd developed a loyal following and have even won a number of awards for my books, I realized I was still relatively unknown to most readers and growing increasingly frustrated.
The advice I've always heard is to continue writing good books and readers will eventually find you, but after thirteen titles, that strategy just didn't seem to be working for me. One of my closest friends who is also a book reviewer had been encouraging me for almost two years to write a contemporary romance. I dismissed her suggestion every time she brought it up, as I didn't think I had the right writing voice for it, but after two years of prodding I finally decided to give it a go.
She and I then spent several weeks brainstorming different ideas but none of these ever went anywhere. I was looking to the most popular contemporary romances for inspiration but the billionaire playboy heroes just didn't do it for me. I then asked myself what kind of contemporary hero I related best to, and the answer was easy—cowboys. I've always loved them ever since I was a little girl.
I'd grown up on Westerns – The Lone Ranger, Bonanza, Gun Smoke, The Big Valley, Lonesome Dove and many others. I even read my grandfather's Zane Grey and Louis L'Amour novels. On top of that, even my first crush was a cowboy. (I named my hero in SLOW HAND after him.) They say to write what you know. I also know horses. Putting these two elements together was no difficulty for me. The trick was how to make it work in a contemporary romance.
Interestingly, I took the same approach to my contemporary story as I had taken with all of my historicals—I researched, learning as much as I could about my hero's world which included the cattle industry and all of the challenges facing modern day ranchers. I also deeply explored the rodeo and bull riding worlds by talking with a number of professional cowboys and stock contractors. My research and the real people I met and talked to allowed me to bring my characters to real life. From that point, I just gave their "voices" free rein.
And then magic happened… My story suddenly took off.
I finished SLOW HAND in less than four months and quickly sold it a month later to Sourcebooks as the first title in Hot Cowboy Nights, a steamy contemporary Western series set in Montana and Wyoming. A few months later while attending a romance novel convention in Las Vegas, I was hit once more with inspiration to write a sexy novella series built around a fictional rodeo themed hotel and casino. The first story became Hell on Heels, book #1 in my Hotel Rodeo Series coming in 2016 from Kensington.
How will it all turn out? I'm cautiously optimistic but will just have to wait and see.
In rural Montana… Wade Knowlton is a hardworking lawyer who's torn between his small-town Montana law practice and a struggling family ranch. He's on the brink of exhaustion from trying to save everybody and everything, when gorgeous Nicole Powell walks into his office. She's a damsel in distress and the breath of fresh air he needs.

Even the lawyers wear boots… Nicole Powell is a sassy Southern girl who has officially sworn off cowboys after a spate of bad seeds-until her father's death sends her to Montana and into the arms of a man who seems too good to be true. Her instincts tell her to high tail it out of Montana, but she can't resist a cowboy with a slow hand…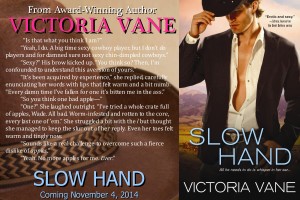 About the Author: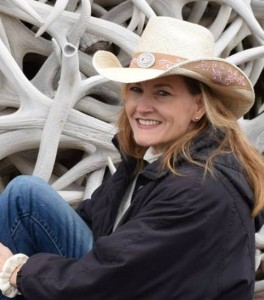 Victoria Vane is an award-winning author of smart and sexy romance. Her works range from historical to contemporary settings and include everything from wild comedic romps to emotionally compelling erotic romance. Her books have received more than twenty reviewer awards and nominations to include the 2014 RONE Award for Treacherous Temptations and Library Journal Best E-Book romance of 2012 for The Devil DeVere series. Look for her hot new contemporary cowboy series coming from Sourcebooks in Fall of 2014.
Website ~ Facebook ~ Twitter ~ Pinterest ~ YouTube Book Videos
Praise for SLOW HAND:
"Historical romance author Vane takes a detour into contemporary settings with this red-hot cowboy tale… Well-paced, scorching scenes and witty banter…" – Publishers Weekly
"For erotic passion and one-liners, the first book in Vane's new series will satisfy… Vane's latest gets a big yee-haw." – RT Book Reviews
"With flirty dialogue, humorous moments, vivid imagery and sexy scenes, SLOW HAND goes into my favorites folder." – Guilty Indulgence
"Pull the fire alarm & stock up on fire extinguishers for this steamy romance!" – Avon Romance