This post is part of a virtual book tour organized by
Goddess Fish Promotions
. M Pepper Langlinais will be awarding a $15 Amazon or Barnes and Noble GC to a randomly drawn winner via rafflecopter during the tour. Click on the tour banner to see the other stops on the tour.
The Long and Winding Way to Writing
M Pepper Langlinais
I came to writing the long way around, which is strange since I always did love to write. Or rather, I loved to tell stories, and I loved to read, and those things add up to being a writer. So perhaps it was inevitable, but it wasn't my first choice.
When I was a kid, along with reading and telling stories, I was really into movies. My dream was to somehow be involved in film or television. My undergraduate degree is in Radio-Television-Film (from the University of Texas at Austin). I love cultural and media studies, and my final project was an X-Files spec script, which probably dates me a bit. (A spec script, by the way, is a sample script you write to showcase your talent.) So there I was—writing. Just not books.
At that time, the only prose I wrote was fan fiction. Just for fun, and again all based in my love of television and movies. I was totally immersed in that world. It was all I wanted out of life.
And then I started working on film sets.
Let me start by saying I loved most of the people I worked with, and the experience was amazing. But so, so stressful. Crazy hours. You never knew when your next job was coming, or if there would be one at all. Piss off the wrong person and you'd never work again.
So when I was offered a chance to leave Austin and go to L.A., I decided to stay and finish my last year at UT instead. At the time I thought that door would always be open, I could go later. Looking back, I do wonder if I made a mistake. My life would have been very different, certainly. Maybe I would be working in film and television, and maybe I'd even be writing screenplays.
But there's no use mourning what could have been, and I'm also not convinced I would have loved the stress levels. So after finishing up at UT, I went on to get a Master's in Writing, Literature and Publishing from Emerson College in Boston. I chose that program because I wanted more than just a Creative Writing degree. Emerson offered things like book design and magazine editing as part of the curriculum. And while it was an expensive thing to do—move to Boston and get another degree—the experience gave me entre into the publishing world. One of my instructors recommended me for an internship at Houghton Mifflin that turning into a full-time job in project management when I graduated. Then I hopped over to Pearson for a few years and worked as an editor.
At that point, I was so immersed in other people's books I could barely think of writing my own. But in 2004 I managed to squeeze out a short story and a couple poems that got picked up by various journals. Not long after, as I awaited the birth of our first child, I came to the conclusion that as long as I worked on everyone else's books I'd never write my own. I left publishing and began to focus on my own work.
My understanding of the publishing industry in general has served me well. Not in writing—I'm not sure where I learned to write except by reading—but in comprehending how the system works. The same goes for my screenwriting, which I also still do. Having worked in film, I have a general idea of how to do things or how they're done. And while I can't say this impacts my actual writing all that much, I've found I'm better received by people in the industry because I understand and, yes, sympathize with the amount of work and effort that is involved.
I'm not saying you have to go get a job on a film set or in publishing to be a good author. I'm only really saying: have some consideration. Be a kind and understanding person. You'll get so much further that way.
Even if you self-publish, which I have done for some of my work, being, for lack of a better word, "softer" makes you much more approachable and appealing as an author.
I can promise you this, just from experience: given a pretty good book by a person who seems friendly and open and a better book by someone who is nearly impossible to work with, they'll sign the first book over the second 98% of the time.
And given an author who is helpful and kind versus one who is demanding and obnoxious, that conference or event will invite the first.
Maybe all the paths in my life led to writing in one way or another. But taking the long road has served me well by giving me a rounder view. I can't lament the "wasted time" (though I still do sometimes). I certainly can't complain about the outcome. And my journey is far from over. I'm still somewhat on the scenic route. In the meantime, I'm enjoying the scenery.
Brynnde Archambault seems able to find matches for everyone but herself. With the help of the handsome and witty Viscount Burbridge, she manages to get his sisters, her brother, and a family friend paired off. But if she doesn't find a match for herself soon, she may be stuck with dull Mr. Dallweather. Can she find a suitor–or has the right match been staring her in the face all along?
Enjoy an Excerpt
She was the first lady to arrive at the lawn but discovered the men had already started. Her brother and Graeme Sommerford were laughingly arguing over a shot one of them had made, and Brynnde reflected they had grown friendly quickly.
As if reading her thoughts, a voice at Brynnde's ear said, "They seem to be fast friends."
Brynnde turned to find Garrick Sommerford—Lord Burbridge, she reminded herself, though the name did not suit him, was far too stuffy—at her shoulder. She frowned, not liking having been snuck up on, nor having her thoughts so openly spoken by someone else. "It would seem so," she agreed.
Garrick raised his eyebrows. "You disapprove?"
"Not at all," said Brynnde. "As a rule, my brother shows good judgement in his choice of friends. If he were laughing with you, I might wonder, but as it stands…" She gave a tiny shrug.
Garrick placed a hand over his heart. "You wound me, Miss Archambault. Are you still angry about yesterday evening? What if I were to swear I almost never suffer such verbal clumsiness? That it must be your stunning beauty that has caused me to trip over my own tongue?"
Brynnde looked hard at him, the angelic halo of his sunlit hair, the twinkle in his slate-colored eyes. He was laughing at her! Again! "Insufferable," she muttered and stepped away to find a free target. She had a sudden and acute need to shoot something.
About the Author: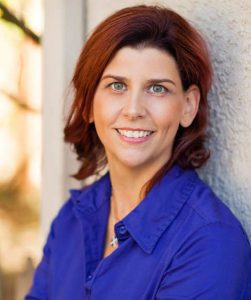 M Pepper Langlinais is an award-winning screenwriter, produced playwright, and published author.
M holds a Master of Arts in Writing, Literature and Publishing and a Bachelor of Science in Radio-Television-Film. She has a love of Shakespeare, having both performed and taught his work, and has also interned on Hollywood film sets. M worked for Houghton Mifflin and Pearson before deciding to devote her full time to her own writing (and occasionally parenting). She lives in Livermore, California with her family, cats, and hamster.
Website | Twitter | Facebook | Amazon Author Page | Goodreads | IMDB
Buy the book at Amazon.