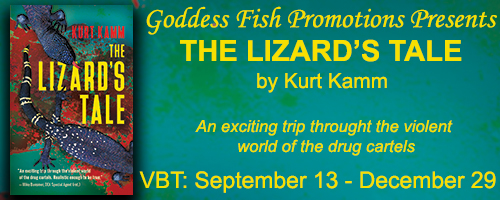 This post is part of a virtual book tour organized by
Goddess Fish Promotions
. One randomly chosen winner via rafflecopter will win a $50 Amazon/BN.com gift card. Click on the tour banner to see the other stops on the tour. Kurt Kamm has stopped by to answer a few questions!
What are your favorite TV shows?
There is certainly nothing on network television worth watching. I watch the Bloomberg financial programs and like many of the BBC series, including Poldark and Downton. Ray Donovan and Homeland are also favorites. Now for a confession. If I am working out in my gym and need a distraction, I turn on Game of Thrones. What a crazy show. I have no idea what the plot is, but I can watch 15 – 20 minutes of any episode from any year and be entertained. None of it makes any sense, but there is always a great sword fight, a poisoning, people speaking strange languages, or a horde of warriors riding horses. Brainless entertainment, but entertainment for sure.
What is your favorite meal?
I'm big on carbohydrates because I exercise a lot. Every meal must have pasta, potatoes, or rice. Also, fresh/raw vegetables—snow peas, artichokes and avocados—are favorites. I don't eat red meat, but seafood, fish or chicken is good. Barbequed lizard is not on the list for obvious reasons. Love desserts. Give me any dessert, I'll eat it.
Is there a writer you idolize? If so who?
There is no author I idolize because of his/her personal life, but James Salter is my favorite author for his ability to write beautiful, simple but elegant prose and create haunting tales. He has been called "an author's author," and I fully agree. I think he's underrated and under-read.
How did you come up for the title of this book?
Part of the book deals with Jorge's (the Mexican orphan) obsession with geckoes. Geckoes and most other lizards can lose their tails and grow them back. This is a defense mechanism to distract predators—the reptile can release its tail, which keeps twitching and draws the predator's attention while the creature escapes. The Guatemalan Beaded Lizard, a much larger reptile, is itself a predator and cannot release its tail. From the very beginning, I liked the tail—tale pun and for a long time the name of the novel was The Tale of the Lizard. My editor shortened it to The Lizard's Tale and it is a perfect name.
What would you like to accomplish in your writing career next year?
I would like to have several major publishing houses bidding on my next book. After signing a seven-figure contract (excluding decimal points), the New York Times Book Review will devote not a single review, but an entire edition to my work. After that, Oprah will select my book and it will be a bigger seller than the Bible…..oh, sorry, I dozed off at my computer and just had a short dream. What would I like to accomplish next year? I have modest ambitions—start a new novel, have fun researching and writing it, and have at least one person tell me how much she liked it.
Kurt Kamm has written a novel that's a literary crime novel, with a strong thread of non-fiction running through it. The Lizard's Tale is a tale of crime—with an a wide-ranging cast of characters.

When the DEA goes up against the Sinaloa Cartel, an orphan and an endangered lizard are caught in the conflict. The action moves from Guatemala to Mexico to Catalina Island off the coast of California.

Alejandro, a middle class Guatemalan, wants his share, and makes a deal with the cartel. Now he's risking his life to deliver the goods.

El Dedo, a brilliant financier, is the Sinaloa Cartel's banker. He worries about what to do with the billions of dollars collecting dust in his underground vault.

Ryan, a DEA Special Agent, needs to make a high profile case to get a promotion. Is the big yacht headed for California carrying a Mexican drug shipment?

Kate, a wildlife officer on Catalina Island, smells smoke. When she heads out in the middle of the night to investigate a fire, she makes an astonishing discovery.

Jorge, an orphan from the streets of Mexico, is abandoned in the United States. Will he find his way back home and track down his mother's killer?
Enjoy an Excerpt:
Dedo was one of the few outsiders at the top of the cartel hierarchy. He came from a different background than most of the drug lords, who had grown up in poor towns in the Sierra Madres where people suffered a hard existence living in hovels made of cinderblocks. Dedo had no poverty to escape. He grew up in Mexico City and lived a blessed childhood. His father owned a small Mexican chemical business that grew large when it began to supply the Cartels with the ingredients used to make methamphetamine. His mother was Swiss, and had worked for a chemical company in Basle when she met his father. Dedo inherited his intellect and business sense from his father. His grey eyes came from his mother.
When his father brought him to the State of Sinaloa for the first time, Dedo stood in the dust and blasting heat and felt the moisture evaporating from his skin. "Those mountain highlands," his father had told him, pointing off into the distance, "are ideal for growing poppies. All they need is sunlight and moisture." Then he turned and pointed in the direction of the Pacific Ocean, and continued, "And out in those valleys between the mountains and the coast, the climate is perfect for growing marijuana." Finally, his father looked at Dedo and told him, "Fortunately for us, sunshine and water don't produce methamphetamine. For that, they need chemicals—a lot of chemicals—and that's why we're here."
About the Author: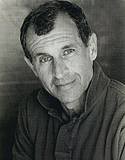 Malibu, California resident Kurt Kamm has written a series of firefighter mystery novels, which have won several literary awards. His newest novel, The Lizard's Tale, provides a unique look inside the activities of the Mexican drug cartels and the men dedicated to stopping them.
Kurt has used his contact with CalFire, Los Angeles County and Ventura County Fire Departments, as well as the ATF and DEA to write fact-based ("faction") novels. He has attended classes at El Camino Fire Academy and trained in wildland firefighting, arson investigation and hazardous materials response. He has also attended the ATF and DEA Citizen's Academies. After graduating from the DEA Citizen's Academy in 2014, he began work on The Lizard's Tale.
Kurt has built an avid fan base among first responders and other readers. A graduate of Brown University and Columbia Law School, Kurt was previously a financial executive and semi-professional bicycle racer. He was also Chairman of the UCLA/Jonsson Comprehensive Cancer Center Foundation for several years.
Website
Buy the book at
Amazon
or
Barnes and Noble
.